Spoilers ahead!
If you're a diehard fan of Ozark and binged through the seven episodes of season 4 part 1 in one day, you might be left feeling shook. As we desperately await the Ozark season 4 part 2, we're left with processing the deaths of a few major characters. Well one in particular that you'll actually mourn as an Ozark's fan. That is Wyatt Langmore, played by Charlie Tahan.
You will be missed Wyatt Langmore!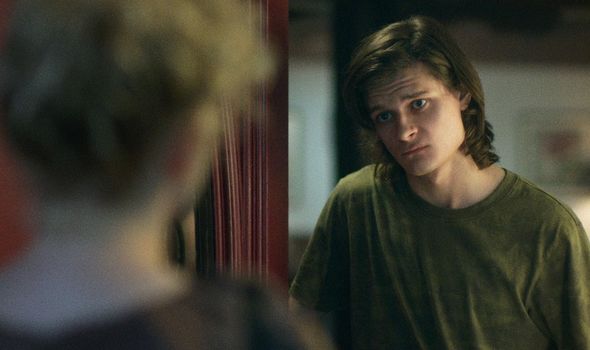 The character of Wyatt Langmore was a fan-favorite because he was actually the only sane and kind one. He never killed anyone and didn't plan to either. We were all worried when he got into a relationship with Darlene Snell (Lisa Emery), a woman who is old enough to be his grandmother. Not only that, but she's a dangerously reckless woman who killed her own husband and doesn't think twice on killing anyone who annoys her in the slightest or comes in her way.
Of course, Wyatt's fate was sealed the moment he decided to stick with Darlene. We see that in Ozark season 4 part 1. Wyatt almost breaks up with Darlene to go run away with his cousin Ruth (Julia Garner) and his brother Three (Carson Holmes). But in the end, he sees a forlorn Darlene who tells him that Social Services are going to take Zeke away. And in that moment, Wyatt decides to marry Darlene and stick around, straining his relationship with Ruth all the while.
Charlie Tahan elaborates on how he thinks Wyatt thinks of Zeke as a purpose in his life:
"Also, who knows what the f*ck would've happened if Wyatt left. Maybe he would've gone to college and stole something that week and got thrown out. That's maybe what's going through his head. I don't know. There's something, sort of sad about it, but there's something almost admirable about just him—taking responsibility and not running away. He had a pattern of running away from his problems. And I think he's like, Look, whatever happens, I started this thing and I'm going to see to it. On paper, that could be admirable at times, even though I think it is born out of his own insecurity, probably."
Charlie Tahan comments on how we don't know what fate Wyatt would have had if he had escaped with Ruth and Three. He was too insecure to explore what he could do on his own, without the support of Darlene.
Moreover, Tahan comments on his relationship with Darlene Snell. It was definitely a huge moment, given the stark age difference between Wyatt and Darlene. Tahan remarks:
"I'd say, me, Charlie, I'm young and don't really know what that looks like and it wouldn't really be my place. When we were filming, I just said that there was love there for whatever reason. I think they each fill a role that the other is missing. And I do think they create a real bond and rapport. They have a mutual respect. While Wyatt was vulnerable, I don't think Darlene starting a relationship with him was something that she had foreseen or planned or anything—no matter how nefarious she may be after that."
Tahan also thinks that Wyatt was not a victim of Darlene. In fact, he thinks that the two had some sort of love happening between them. Moreover, Wyatt was also with Darlene because he got to have his own job and his own place. Something that he could not have gotten anywhere else because Ruth was always protective about Wyatt.
And here is what Charlie Tahan thought of Wyatt's death.
Charlie Tahan tells Esquire about the big moment that put every viewer in shock. In regards to Wyatt's sudden death, Tahan says:
"It felt different filming that scene, even just from a technical perspective from other scenes. They haven't done a lot of tracking shots, where that much information is given. We were just with stunt guys, throwing my head back. That was a very fun scene to film. And it was one of the few times that I looked at the monitor right after we filmed. Everyone's like, 'You've got to see this shot.' … When I was going up to film, I kind of had a different idea of how it was going to be. I thought it was going to be a lot more drawn out. But I really loved the sudden shock of it. It's five seconds. They sit down and that's it."
We are definitely going to miss the entire Ozark cast. Wyatt too, especially when he never got to have that happy ending without grief, sadness and loss. The cast and crew of Ozark are all sad about the show ending. Charlie Tahan shared his thoughts on his departure and Ozark ending. When asked if he'll miss playing Wyatt, he said that he will miss him a lot:
"Oh, a lot. When you're playing a character, it honestly just depends on the day. Sometimes I feel like I don't know what the f*ck I'm doing, other days it'll seem easier. I mean, the stuff that I'll miss the most is just being on set and with my friends. Everyone says it, but we were all together for five years and we did become a family. And I will miss that. I'm going to miss hanging out at the lake where we film. I got this job when I was 18 and a child actor. So, this is the first job where I didn't have to have guardians or do school. I'm 23 now. I did Ozark school."
The showrunner Chris Mundy also had a hard time adding in Wyatt's death in Ozark season 4.
Chris Mundy told TV Line that killing Wyatt off was a very hard decision to make:
"It was so hard. That was something that evolved. It wasn't the original plan. There aren't very many sweet or pure souls on our show. [Laughs] And he is one. Also, I just love [his portrayer] Charlie Tahan. Obviously, you separate the actor from the role, but [my instinct] is to want to protect Wyatt. So [killing him off] was really hard."
But the show runners knew it was going to be an important moment that pushes Ruth to "her most raw". And for Ozark's ending, of course we would want to see moment like that:
"There was a fair amount of debate. But we knew we were writing toward an end, so for us it was like, "You know what? Even though it's a really hard decision, we've got to do the thing that pushes Ruth to [her] most raw." It was the only thing that could lay her bare. So we had to."
Plus, Ruth is going to have her big moment alongside Javi (Alfonso Herrera). Javier 'Javi' Navarro, is Omar Navarro's nephew with a fair bit of anger issues. He and Ruth are going to have a big face-off when the grief-stricken and furious Ruth is going to have her revenge and confront him.
Herrera is already teasing a mind-blowing ending for Ozark season 4 part 2:
"What's going to happen afterward, it's going to be mind-blowing. If you think that Javi is someone that you cannot read and you do not expect how he's going to react, what's going to happen next is that times 20."
We still don't have a release date for Ozark season 4 part 2 but it is coming soon! Stay tuned.
Related: Ozark Season 4 Part 2 Release Date, Plot Line And Everything We Know So Far!