Get ready to embark on a thrilling cinematic journey as we dive into the captivating world of Michael Stuhlbarg movies. Known for his incredible versatility and ability to bring characters to life, Stuhlbarg has graced the silver screen with his impeccable talent and unforgettable performances. From quirky comedies to intense dramas, from sci-fi spectacles to historical epics, the actor has effortlessly traversed a wide range of genres, establishing himself as a force to be reckoned with in the world of entertainment.
In films like A Serious Man, Men in Black 3, Lincoln, Blue Jasmine, Arrival, Call Me by Your Name, The Shape of Water, The Post, Shirley, Trumbo, and many more, Mark Stuhlbarg has showcased his ability to seamlessly embody diverse characters. Whether he's portraying a neurotic physics professor, a mysterious alien diplomat, or a compassionate father figure, The actor's performances are always a delight to watch.
But it doesn't end there! Stuhlbarg's talent also shines on the small screen, where he has delivered remarkable performances in acclaimed TV shows like "Boardwalk Empire", "Fargo", "The Looming Tower", and "The Night Of". His collaborations with the Coen Brothers and his appearances in Oscar-nominated films further highlight his dedication to his craft and his ability to choose exceptional projects.
With a filmography that spans across genres and showcases Stuhlbarg's range as an actor, his movies have something for everyone. From historical dramas to indie gems, from science fiction spectacles to LGBTQ+ narratives, Stuhlbarg's filmography is a testament to his willingness to tackle diverse roles and immerse himself in compelling stories.
So, fasten your seatbelts and get ready for an exciting adventure through Michael Stuhlbarg filmography. With his exceptional talent, charm, and versatility, Stuhlbarg continues to captivate audiences with his memorable performances in drama movies, period pieces, thrilling thrillers, and everything in between.
Michael Stuhlbarg Movies And TV Series: A Fantastic Review Of His Unforgettable Performances
"A Serious Man" (2009):
In this Coen Brothers gem, Michael Stuhlbarg brings his comedic prowess to the forefront as Larry Gopnik, a beleaguered physics professor whose life spirals into absurdity. Set in the 1960s, the film navigates Larry's hilarious misfortunes and existential crises with impeccable timing and wit. Stuhlbarg's portrayal captures the complexities of a man caught in a web of personal and professional challenges, making "A Serious Man" a must-watch for its blend of humor and depth.
"Call Me by Your Name" (2017):
Directed by Luca Guadagnino, this mesmerizing coming-of-age romance features Michael Stuhlbarg in a standout role as Mr.Perlman, an archaeology professor, and loving father. Stuhlbarg's performance is a masterclass in subtlety and emotional depth as he delivers a heartfelt monologue that resonates with audiences long after the credits roll. His portrayal beautifully captures the nuances of paternal love and wisdom, adding a profound layer of emotion to this critically acclaimed film. And this movie is by far one of the best Michael Stuhlbarg movies.
"The Shape of Water" (2017):
Guillermo del Toro's visually stunning fantasy drama becomes even more captivating with Michael Stuhlbarg's nuanced performance as Dr.Robert Hoffstetler. As a conflicted scientist with a hidden agenda, Stuhlbarg imbues his character with a compelling blend of compassion and internal conflict. His ability to navigate the delicate balance between duty and empathy adds depth to the story, further enhancing the magical and captivating world created by del Toro.
"Fargo" (2010-2017 TV series):
In Noah Hawley's brilliant TV adaptation of the Coen Brothers' iconic film, Michael Stuhlbarg shines in his portrayal of Sy Feltz, the right-hand man of a wealthy businessman. Stuhlbarg infuses Sy with a mix of charm and moral ambiguity, creating a character that keeps viewers on the edge of their seats. With his impeccable acting skills, the actor adds an extra layer of intrigue to the gripping narrative, making his presence felt amidst the show's dark humor and suspense.
"Men in Black 3" (2012):
In this sci-fi action comedy, Agent J (played by Will Smith) goes back in time to the 1960s to prevent an alien invasion and save his partner, Agent K (played by Tommy Lee Jones). Michael Stuhlbarg portrays Griffin, an alien with the ability to see different timelines, who aids J in his mission. As they navigate through time and face various challenges, Stuhlbarg's character adds an element of intrigue and humor to the adventure. It is one of the best Michael Stuhlbarg movies out there.
"Lincoln" (2012):
Directed by Steven Spielberg, "Lincoln" focuses on the political maneuvers of President Abraham Lincoln (played by Daniel Day-Lewis) during the final months of the American Civil War. Michael Stuhlbarg portrays George Yeaman, a congressman from Kentucky who plays a crucial role in the passage of the Thirteenth Amendment, which abolished slavery. Stuhlbarg's character adds depth to the film's historical narrative as he engages in debates and negotiations alongside other key figures.
"Blue Jasmine" (2013):
In Woody Allen's tragicomedy, Cate Blanchett portrays Jasmine French, a former New York socialite who falls from grace and struggles to rebuild her life. Michael Stuhlbarg plays Dr. Flicker, a dentist who becomes romantically involved with Jasmine's adopted sister. Stuhlbarg's character provides a humorous and slightly eccentric presence in the film as he navigates the complexities of relationships and adds to the overall dynamic of the story.
"Boardwalk Empire" (2010-2013 TV series):
Set in the Prohibition era, "Boardwalk Empire" follows the life of Nucky Thompson (played by Steve Buscemi), a corrupt politician and bootlegger in Atlantic City. Michael Stuhlbarg portrays Arnold Rothstein, a powerful and cunning gangster known for his involvement in organized crime. Stuhlbarg's character becomes an influential player in the series, navigating the intricate world of crime and power struggles in 1920s America.
"The Looming Tower" (2018 TV miniseries):
Based on true events, "The Looming Tower" delves into the rising threat of Al-Qaeda in the years leading up to the September 11 attacks. Michael Stuhlbarg plays Richard Clarke, a counterterrorism expert who works to gather intelligence and prevent future terrorist attacks. The miniseries explores the complex political landscape and interagency rivalries that hindered efforts to stop the impending tragedy.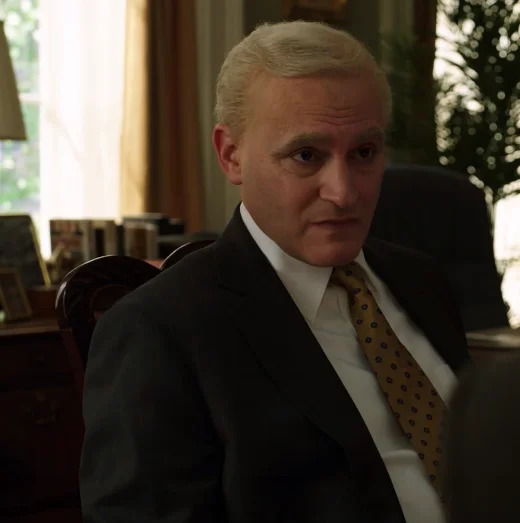 In each of these Michael Stuhlbarg movies, his performances shine brightly, leaving a lasting impact on audiences. Whether he's navigating the eccentricities of the Coen Brothers' universe or delving into the depths of human emotions in heartfelt dramas, Stuhlbarg's versatility and commitment to his craft are undeniable. So, grab some popcorn, sit back, and immerse yourself in the world of Michael Stuhlbarg movies. You're in for a fun and unforgettable cinematic experience.
Related: 10 Best Will Smith Movies List
What else has Michael Stuhlbarg been in?
Stuhlbarg has continued to appear regularly in a number of high-profile films in recent years, including Arrival, Steve Jobs, Blue Jasmine, Hugo, Seven Psychopaths, Men In Black III, Trumbo, Lincoln, Miss Sloane, Doctor Strange, Miles Ahead, and Pawn Sacrifice to name a few.
How old is actor Michael Stuhlbarg?
Michael Stuhlbarg is 54 years old.
Does Michael Stuhlbarg speak Russian?
He was in three of this year's best picture-nominated films, and none of those movies feature superheroes or comic book characters. Quick rundown – in "The Shape Of Water," Michael Stuhlbarg plays a Russian spy. He learned to speak some Russian for that role.
Is Michael Stuhlbarg related to Lilli Kay?
Lilli Kay is not related to Michael Stuhlbarg.
What is Michael Stuhlbarg famous for?
His numerous Off-Broadway credits include the title roles in Hamlet and Richard II with the New York Shakespeare Festival, and David Mamet's adaptation of The Voysey Inheritance, which earned him an OBIE.