Margot Elise Robbie, the Aussie wonder, has taken the film industry by storm. With her charm and talent, she has conquered both big-budget blockbusters and independent gems. Margot Robbie has been showered with a lot of awards and nominations, including nods from the Academy Awards, Golden Globe Awards, and British Academy Film Awards.
Margot Robbie Movies Hailing from sunny Queensland, Robbie kick-started her career on the small screen in 2008, dazzling audiences with her presence on the show Neighbours until 2011.
She then set her sights on America, captivating viewers as the leading lady in the Neighbours (TV series), Pan Am (TV series), Dollface (TV series) and Dreamland, Z for Zachariah, Slaughterhouse Rulez, and Focus movies. But it was in 2013 when she truly broke through, leaving a lasting impression with her wickedly hilarious performance in The Wolf of Wall Street.
Continuing her streak, Robbie took on the challenge of a period film with her role in Babylon (2022). With each role, she proves that she is a force to be reckoned with in the world of cinema.
Best Margot Robbie Movies And TV Shows
The Wolf of Wall Street
Margot Robbie filmography- The Wolf Of Wall Street is a wild and wicked ride that tells the outrageous true story of Jordan Belfort, a stockbroker who took Wall Street by storm. Directed by the legendary Martin Scorsese and based on Belfort's memoir, this biographical black comedy crime film is a rollercoaster of corruption, fraud, and downfall.
Leonardo DiCaprio, who seems to have a Scorsese magnet pulling him in, delivers an electric performance as Belfort, marking his fifth collaboration with the director. Alongside him, Jonah Hill shines as his business partner and pal, Margot Robbie sizzles as his second wife, and Kyle Chandler adds intensity as the FBI agent on their trail.
This film had its fair share of drama behind the scenes too. DiCaprio and Warner Bros. acquired the rights to Belfort's memoir way back in 2007, but production got tangled up in content restrictions. Thankfully, independent production house Red Granite Pictures swooped in to save the day and get the project rolling.
Margot Robbie movies took place in the bustling streets of New York City, capturing the energy and excess of the '90s. It pushed boundaries with its morally ambiguous characters, explicit content, and record-breaking profanity. The film's financing even got mixed up in a real-life corruption scandal, making headlines and raising eyebrows.
Suicide Squad
Hold on tight because the ragtag bunch of supervillains in Margot Robbie's "The Suicide Squad" flicks list is about to upset the superhero genre. Will Smith, Jared Leto, and Margot Robbie as the famous Harley Quinn round out the ensemble cast of this anti-hero spectacular?
They get up with other outcasts to form a covert government organization led by Amanda Waller, played by the strong Viola Davis. To be released, they must collaborate to execute dangerous missions. Although planning for this epic journey began in 2009, it wasn't until David Ayer joined the project in 2014 that things really got going.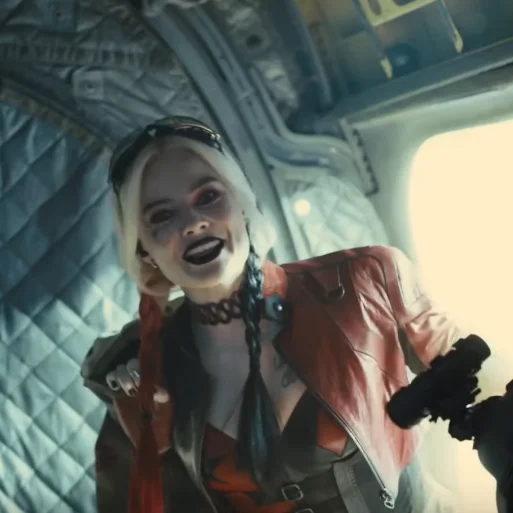 Some praised Margot Robbie's electric performance as Harley Quinn, but the film as a whole took a hit for its plot, dialogue, and direction. Nonetheless, it nabbed an Oscar for Best Makeup and Hairstyling, proving that even villains can have killer looks.
I, Tonya
"I, Tonya" is not your average biographical drama. It takes a humorously unorthodox approach to tell the subject of figure skater Tonya Harding and the infamous attack on her rival Nancy Kerrigan in 1994, directed by Craig Gillespie and written by Steven Rogers.
The video boasts that it is based on "contradictory" and "totally true" interviews with Harding and her ex-husband Jeff Gillooly, hinting that they may not be the most trustworthy narrators. It is up to the viewer to choose what is true and what is Harding's imaginative interpretation.
Using a mockumentary style and breaking the fourth wall, "I, Tonya" combines dark comedy with interviews of the characters set in the modern day. Margot Robbie movies take on the role of Harding, delivering a knockout performance. Sebastian Stan portrays Gillooly, while Allison Janney shines as Harding's no-nonsense mother, LaVona Golden.
The cast also includes Julianne Nicholson, Caitlin Carver, Paul Walter Hauser, and Bobby Cannavale. This offbeat gem earned recognition at prestigious awards shows. And let's not forget the film's success at the British Academy Film Awards, where it earned five nominations and Janney took home the trophy for Best Supporting Actress.
"I, Tonya" flips the script on traditional biopics, giving us a wild and entertaining ride that challenges our perception of truth. So, get ready to lace up your skates and dive into this irreverent take on one of the most memorable scandals in sports history. And it is among best Margot Robbie Movies.
Once Upon a Time in Hollywood
In "Once Upon a Time in…Hollywood" Margot Robbie's character is very strong and takes us on a nostalgic trip back to 1969 when Quentin Tarantino works his magic once again. This star-studded comedy-drama and Margot Robbie on-screen performances is a tribute to the last days of Hollywood's golden age, with a twist of modern fairy tale storytelling.
Leonardo DiCaprio and Brad Pitt shine as the dynamic duo—a fading actor and his trusty stunt double—trying to navigate the ever-changing film industry. As they navigate their way through the glitz and glamour of Los Angeles, they must also face the looming threat of the notorious Tate murders. Talk about drama!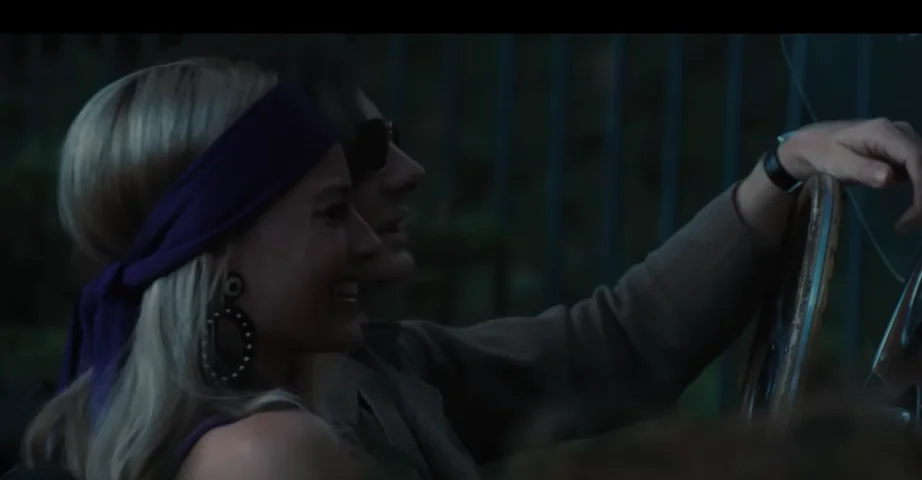 Margot Robbie Movies noted for this distinct narrative technique, weave together numerous storylines to create his own version of a fairy tale set against the backdrop of Hollywood's last years. The picture captures the essence of a bygone age with a brilliant ensemble cast that includes the outstanding Margot Robbie, Zo Bell, Kurt Russell, and others.
Sony Pictures swooped in, meeting Tarantino's demands and securing the distribution rights. Filming took place over several months in and around Los Angeles, with the production sadly marking the final film appearance of the late Luke Perry, to whom the movie is dedicated.
So sit back, relax, and prepare for a wild ride through Tarantino's vision of Hollywood's past, where reality and fantasy blend into one unforgettable tale.
Birds of Prey
In 2020, Warner Bros. unleashed "Birds of Prey (and the Fantabulous Emancipation of One Harley Quinn)" upon the world. Directed by Cathy Yan and written by Christina Hodson, this flick is a wild superhero ride based on the DC Comics team, the Birds of Prey.
Margot Robbie Hollywood films shine as the unhinged Harley Quinn, joined by a kickass cast including Mary Elizabeth Winstead, Jurnee Smollett-Bell, Rosie Perez, and Ewan McGregor. The story revolves around Harley Quinn, who's had enough of her toxic relationship with the Joker.
Trouble comes knocking when Gotham City's big baddie, Roman Sionis, puts a target on Harley's back. Determined to survive, she teams up with Helena Bertinelli, Dinah Lance, and Renee Montoya to form the Birds of Prey and save Cassandra Cain. The idea for this flick was cooked up by Margot Robbie herself, who also served as a producer.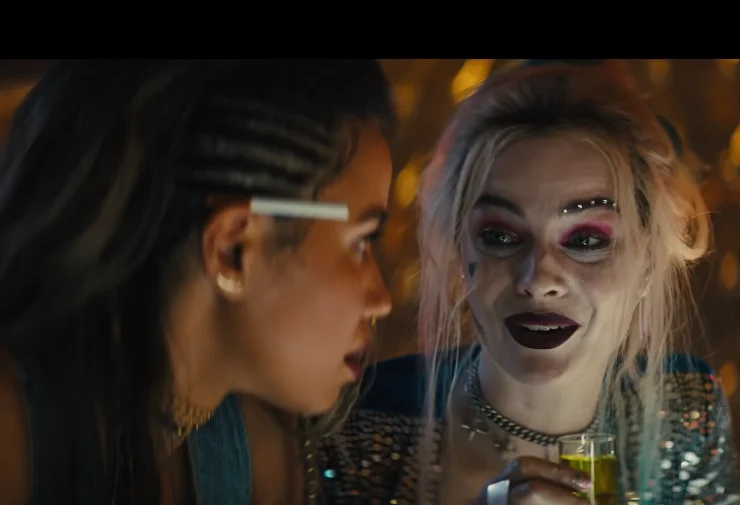 The project took flight in 2016, with Yan stepping in as director in 2018. So buckle up and join Harley Quinn on her fantabulous adventure! Margot Robbie, who portrayed Harley Quinn, also served as a producer for the film one of Margot Robbie blockbuster movies. She pitched the idea for "Birds of Prey" to Warner Bros. in 2015.
This Margot Robbie movie was announced in May 2016, with Christina Hodson hired to write the script in November of the same year. Cathy Yan signed on to direct the Margot Robbie critically acclaimed film in April 2018, and the majority of the cast and crew were confirmed by December 2018.
Principal photography occurred from January to April 2019 in Downtown Los Angeles, parts of the Los Angeles Arts District, and soundstages at Warner Bros. Studios in Burbank, California. Additional filming occurred in September 2019.
The Legend of Tarzan
The director David Yates swung in 2016 "The Legend of Tarzan," a wild adventure inspired by Margot Robbie movies and Margot Robbie's diverse roles. The tale takes us to London, where John Clayton (aka Tarzan) has left his jungle days behind.
But when the charismatic George Washington Williams comes knocking, Tarzan finds himself drawn back into the untamed African wilderness to uncover the truth about slavery. Principal photography kicked off in the UK's Leavesden Studios in June 2014, wrapping up four months later.
The film then swung its way to the Dolby Theatre in Los Angeles for its grand premiere on June 29, 2016, before hitting theaters across the United States on July 1, 2016, in all its 2D, 3D, and IMAX glory courtesy of Warner Bros. Pictures. Prepare to be whisked away on a thrilling jungle ride with Tarzan and his crew. Get ready for heart-pounding action, stunning visuals, and a wild adventure you won't forget!
In short, The Legend of Tarzan is on our list of must-watch Margot Robbie Movies.
Mary Queen of Scots
In 2018, history came alive on the silver screen with "Mary Queen of Scots," a captivating historical drama directed by Josie Rourke. With a screenplay by Beau Willimon, the film draws inspiration from John Guy's biography and stars Saoirse Ronan as the titular queen and Margot Robbie as her cousin, Queen Elizabeth I.
They're joined by a talented ensemble cast including Jack Lowden, Joe Alwyn, David Tennant, and Guy Pearce. Before Margot Robbie Movies, this royal drama premiered Margot Robbie upcoming projects on the final night of AFI Fest in November 2018, before expanding to theaters in the United States in December and the United Kingdom in January 2019.
The reviews were divided, with praise going to the performances (particularly Ronan and Robbie) and the magnificent costumes. However, the storyline and historical authenticity drew some criticism.
While the film received nominations at prestigious award shows like the British Academy Film Awards and the Academy Awards, it was Margot Robbie who truly shined, earning nods for her standout supporting performance.
Prepare for a regal journey through power, betrayal, and intricate politics as "Mary Queen of Scots" takes you back to a fascinating chapter in history. Let the royal drama unfold before your eyes!
Peter Rabbit
In 2018, the mischievous bunny hopped onto the big screen in "Peter Rabbit," a live-action/animated comedy extravaganza. Produced by a whole gang including Columbia Pictures, Sony Pictures Animation, and Animal Logic, this film brings Beatrix Potter's beloved character to life in a wild and witty way.
And let's not forget the Margot Robbie film career star-studded voice cast including Daisy Ridley, Elizabeth Debicki, and Margot Robbie. The story revolves around Peter Rabbit and his furry family, facing a whole new set of challenges when Mr. McGregor's troublemaking nephew enters the picture.
Get ready for laughter, mayhem, and a delightful dose of furry antics. With a global release in the United States, United Kingdom, and Australia, "Peter Rabbit" hopped its way into the hearts of audiences of all ages. And this movie is among the best Margot Robbie movies out there.
Goodbye Christopher Robin
"Goodbye Christopher Robin" introduced spectators inside the fascinating world of Winnie-the-Pooh in 2017. This biographical drama directed by Simon Curtis dives into the life of A. A. Milne, the creator of the popular book series, and his family, with a particular emphasis on his son, Christopher Robin, and Margot Robbie films.
So bid farewell to reality for a while and embark on a heartfelt adventure with "Goodbye Christopher Robin." Discover the origins of a literary masterpiece and the profound impact it had on a family. Get ready to be transported to the magical Hundred-Acre Wood!
Terminal
In 2018, "Terminal" arrived on the scene, offering a twisty neo-noir thriller that left audiences guessing. Penned and directed by Vaughn Stein, this film boasts a star-studded cast led by the talented Margot Robbie. Joining her are Simon Pegg, Dexter Fletcher, Max Irons, and even the ever-mysterious Mike Myers.
Prepare for a rollercoaster ride and Margot Robbie comedy films, "Terminal" weaves together the lives of assassins, a terminally ill teacher, a custodian, and a waitress. The result? A murderous plan that will keep you on the edge of your seat.
This production brought together the creative forces of Ireland and the United States with Margot Robbie movies. Principal photography took place in the vibrant city of Budapest, Hungary, giving the film a visually striking backdrop.
How did Margot Robbie get so famous?
Margot Ronnie's portrayal of figure skater Tonya Harding in the 2017 biopic "I, Tonya" garnered her an Academy Award nomination and significant exposure, and she went on to achieve international fame for her part in Martin Scorsese's "The Wolf of Wall Street" (2013).
Who is Margot Robbie married to?
Robbie is married to Tom Ackerley. He co-founded LuckyChap Entertainment, under which they have produced various films, such as I, Tonya and Promising Young Woman (both 2020), as well as the Hulu series Dollface (2019–2022) and the Netflix miniseries Maid (2021).
How many movies is Margot Robbie in as Harley Quinn?
Margot Robbie has reprised her role as Harley Quinn three times. In 2016, in the film Suicide Squad, the Australian actress portrayed the character for the first time. She reprised her role as Quinn in Birds of Prey (2020) and the James Gunn film (2021).