Daniela Melchior dos Reis Lopes Pereira, the Portuguese firecracker, exploded onto the global stage with her acting prowess. And those of you who missed Daniela Melchior movies performances, well, you guys need to binge-watch some of her most popular projects right now. The actress became an instant sensation as Ratcatcher 2 in The Suicide Squad (2021), leaving audiences begging for more.
Born on November 1, 1996, Daniela conquered the acting scene in her homeland before captivating hearts worldwide. Her transition to English-language cinema was seamless, proving that talent knows no boundaries.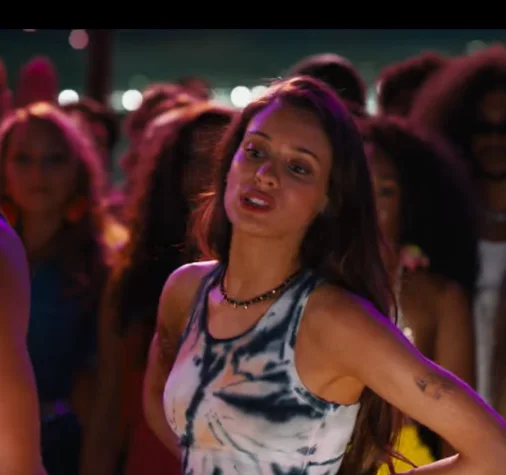 She injected her unique charm and undeniable talent into the DC Extended Universe, stealing scenes and captivating fans with her portrayal of the mischievous Ratcatcher 2. But Daniela's ambitions didn't stop there. She revved up the engines and raced to further acclaim in the adrenaline-fueled world of Fast X.
With her magnetic presence, she left audiences breathless, solidifying her status as a force to be reckoned with in the industry. Daniela Melchior is a name that will echo through cinema history. With every role, she proves that she's more than just a star, she's a celestial supernova illuminating the silver screen with her talent and charisma.
Portuguese Film And Television Career
In 2014, Melchior burst onto the scene like a Portuguese shooting star, Start of Daniela Melchior Filmography career with film and television. From Ouro Verde to A Herdeira, The Black Book to Parque Mayer, she conquered the screen with her captivating performances.
Not stopping at just one dimension, Melchior lent her voice to the Portuguese version of Spider-Man: Into the Spider-Verse, where she flawlessly channeled the spirit of Gwen Stacy, aka Spider-Woman.
While Hailee Steinfeld rocked the original English version, Melchior spun her own web of magic with her impeccable Portuguese rendition. With a career that spans both the small and big screens, Melchior proves time and again that she's a versatile force to be reckoned with. Her talent knows no boundaries, crossing oceans and language barriers effortlessly.
Whether she's painting a vivid picture with her acting or weaving her vocal magic, Melchior leaves a lasting impression on audiences worldwide. She's a rising star who continues to shine brighter, mesmerizing fans with her undeniable charm and talent.
Hollywood Career
Melchior kicked open the doors of English-language cinema in August 2021, strutting her stuff as Ratcatcher 2 in James Gunn's electrifying DCEU flick, The Suicide Squad. Alongside a star-studded cast including Margot Robbie, Idris Elba, John Cena, and Viola Davis, she marked her territory as the first Portuguese actress to grace the DCEU universe.
No biggie. Being hailed as "the heart of the film" by James Gunn himself, Daniela Melchior Films captured hearts and had the second longest screen time. Talk about stealing the show! But she wasn't content with just one blockbuster.
Melchior raced into action with the tenth Fast & Furious installment, Quero-te Tanto, Fast X, rubbing shoulders with the likes of Vin Diesel and her Suicide Squad buddies, John Cena and Michael Rooker. Vroom, vroom!
Daniela Melchior Movies journey from Portugal to Hollywood is nothing short of legendary, and she's just getting started. Buckle up, folks, because this rising star is about to take the world by storm.
Best Daniela Melchior Movies And TV Shows
The Suicide Squad
Hold on tight, because The Suicide Squad is about to rock the superhero world! This 2021 American film is a standalone sequel to the Suicide Squad film and is part of the DC Extended Universe (DCEU).
Daniela Melchior acting career is a rollercoaster of action, with a star-studded cast that includes Margot Robbie, Idris Elba, John Cena, and Viola Davis. Daniela Melchior Film Roles brings together a motley crew of convicts forming the "Suicide Squad". Their mission? To take down the alien baddie Starro the Conqueror on the exotic island of Corto Maltese.
It's a wild ride filled with explosive thrills and hilarious banter. Gunn, known for his work on Guardians of the Galaxy, injects his signature style into this superhero spectacle. Drawing inspiration from war films and the original Suicide Squad comics, he serves up a fresh story with new characters while keeping some familiar faces from the first film.
With jaw-dropping sets and non-stop action, The Suicide Squad is a cinematic experience like no other. Get ready to buckle up and witness the mayhem unfold in this epic adventure Daniela Melchior IMDb movie.
Parque Mayer
Step right up and enter the dazzling world of Parque Mayer, a 2018 Portuguese comedy-drama that's as delightful as a rollercoaster ride. Directed by the talented António-Pedro Vasconcelos, this film stars the charismatic Francisco Froes and the enchanting Daniela Melchior film roles.
Picture this: it's December 6, 2018, and the curtain lifts on this magnificent production. Francisco Froes shines as the talented Mário Pintor, while Daniela Melchior movies steal hearts as the captivating Deolinda. But that's not all!
The star-studded cast includes the dashing Diogo Morgado as Eduardo Gonzaga, the hilarious Miguel Guilherme as José, and the fabulous Alexandra Lencastre as Madame Calado. Joining this merry band are Carla Maciel as Maria Gusmão and Sérgio Praia as the unforgettable Augusto.
With their combined talents, they bring Parque Mayer to life, taking audiences on a whirlwind journey through laughter and drama. So grab your popcorn and settle in for an extraordinary cinematic experience. Parque Mayer is a magical ride you won't want to miss, filled with unforgettable characters and moments that will leave you wanting more.
Fast X
Fast X, the tenth adrenaline-fueled chapter of the Fast & Furious saga is one of the most papular Daniela Melchior Movies, zooms onto the silver screen with style. Director Louis Leterrier takes the wheel, weaving a high-octane tale of vengeance and family ties.
Dom Toretto, played by the indomitable Vin Diesel, faces off against Dante Reyes, fueled by a thirst for revenge and a lost fortune. The lineup continues with Nathalie Emmanuel, Jordana Brewster, Sung Kang, Scott Eastwood, Daniela Melchior, Alan Ritchson, Helen Mirren, Brie Larson, Rita Moreno, Jason Statham, Jason Momoa, and Charlize Theron.
Phew, that's one turbocharged crew! At its thrilling premiere, Fast X enthralled audiences with mind-blowing stunts and heart-pounding races at The Space Cinema in Rome. While praising Jason Momoa's outstanding performance, the critics expressed doubts about the screenplay.
This high-octane spectacle, whose $340 million budget left wallets gasping, rocketed to the third-highest box office position of 2023 after grossing an astounding $715 million globally. Keep an eye out for the sequel that will crash into theaters in 2025 and buckle up for the ride of your life. Move, move!
Road House
Hold onto your seats and prepare for a wild ride because "Road House" is revving up for a comeback! This Daniela Melchior Film projects an upcoming American action flick, a "reimagining" of the 1989 cult classic, which promises to deliver thrills like never before. Director Doug Liman takes the wheel, steering the project with his trademark style.
The screenplay, masterfully crafted by Anthony Bagarozzi and Chuck Mondry, brings new life to the story conceived in collaboration with the original film's writer, David Lee Henry. Brace yourself for a stellar cast, led by the dynamic Jake Gyllenhaal, alongside the talented Daniela Melchior, the fiery Conor McGregor, and the suave Billy Magnussen.
This crew is ready to ignite the screen! Producing the film is the legendary Joel Silver, who also worked on the original. With Amazon Studios in the driver's seat for distribution, "Road House" is ready to hit the road and leave audiences breathless.
So buckle up and get ready for a high-octane thrill-fest, as this reimagined gem is primed to take the action genre by storm. Stay tuned for the release date, and prepare yourself for an adrenaline-pumping journey into the heart of "Road House"!
Ouro Verde
Prepare for a sizzling drama with no boundaries! The Portuguese telenovela "Ouro Verde" (English: Payback) is set to captivate audiences both near and far. This TVI production, written by talented newcomer Maria Joo Costa, takes viewers on an emotional rollercoaster.
"Ouro Verde" doesn't hold back when it comes to delivering breathtaking scenes, with locations spanning Portugal, Brazil, and even Madrid. Daniela Melchior Film Roles coaster ride of love, betrayal, and vengeance that will keep you glued to your screens.
So get your popcorn ready, sit back, and prepare to be transported to a world where passion and intrigue collide. This is not a part of Daniela Melchior Movies List, it is a telenovela that will keep you on the edge of your seat, anticipating each twist and turn.
Allow "Ouro Verde" to cast its spell and transport you to a world of captivating storytelling. Don't miss out on this thrilling ride that will leave you wanting more. It's time to tune in and be enchanted by the Portuguese charm of "Ouro Verde"!
A Herdeira
Prepare for a captivating Portuguese telenovela that will steal your heart! "A Herdeira" (English: The Gypsy Heiress) is a TVI production that will keep you engrossed from beginning to end. This drama, not Daniela Melchior Movies, written by the talented Maria Joo Mira, takes viewers on an emotional roller coaster.
"A Herdeira" made its debut on September 24, 2017, and concluded on September 29, 2018. Unsurprisingly, audiences were glued to their seats thanks to the enticing storyline and compelling characters.
This telenovela works its magic in a variety of settings, including the scenic landscapes of Portugal, the enchanting realms of Galiza, and even the vibrant backdrop of Mexico. Prepare to embark on a global adventure So get ready for a tale of love, family secrets, and unexpected twists.
Allow "A Herdeira" to sweep you off your feet with its charm and irresistible storytelling. Don't miss the chance to immerse yourself in this Portuguese gem that will leave you wanting more. Get comfy, grab some popcorn, and let the drama unfold!
Valor Da Vida
Prepare for a mind-bending Portuguese telenovela that will make you question your very existence! "Valor da Vida" (English: Value of Life) is a TVI sensation that transports viewers to Lebanon, Brazil, and Portugal. This telenovela is an emotional rollercoaster, thanks to its gripping storyline and witty writing by Maria Joo Costa.
"Valor da Vida," which premiered in September, and will keep fans on the edge of their seats until May 20, 2019, explores the fragility of memory and the importance of embracing the present. Prepare for a tale of mystery and self-discovery in which even the characters struggle to discover the truth.
Meet Artur, a man who wakes up in Lebanon with no memories, not even recognizing his own face! As the plot thickens, he discovers he's been declared dead for two decades. But here's the twist: he hasn't aged a single day!
Prepare for jaw-dropping revelations and unexpected turns that will leave you craving more. So buckle up and join Artur on a quest for identity and the elusive value of life. With stunning locations and an unforgettable cast, "Valor da Vida" will keep you guessing until the very end.
Don't miss this captivating journey that challenges our perceptions and reminds us to seize the present moment!
The Black Book
Get ready for a tantalizing Portuguese drama that'll leave you craving for more! "The Black Book" (Portuguese: O caderno negro) is a 2018 film directed by the talented Valeria Sarmiento. With its gripping storyline and stellar cast, this movie is a must-watch.
Sit and join the enchanting Lou de Laâge as Laura/Lelia, along with the captivating Stanislas Merhar as Rufo. Add the charming Niels Schneider as Marquis Lusault, the talented Jenna Thiam as Suzanne Monfort, and the alluring Daniela Melchior as La Fille, and you've got yourself a powerhouse cast.
This cinematic gem made waves, screening in the Contemporary World Cinema section at the 2018 Toronto International Daniela Melchior movies Festival and competing at the prestigious San Sebastián International Film Festival. It's no wonder audiences were captivated by the mysterious allure of "The Black Book."
Prepare to be immersed in a world where secrets unravel and emotions run high. Valeria Sarmiento's direction brings the story to life, creating a truly unforgettable cinematic experience.
So grab your popcorn, dim the lights, and lose yourself in the gripping tale of "The Black Book". And get ready to be swept away by its charm, mystery, and the exceptional performances of its talented cast.
Is Daniela Melchior a good actress?
People have called her "luminous," "wonderfully guileless," and "the film's secret weapon." Melchior, in her debut performance in English, is not only attracting fans' attention but also demonstrating that she has the charisma and talent to succeed in Hollywood.
Who are the parents of Melchior?
Friedrich and Johanna von and zu Panke had a son named Melchior. Up until the unexplained deaths of himself and his parents on April 8, 1914, he led a normal life.
Who is the rat girl in Suicide Squad?
The rat girl in Suicide Squad is Actress Daniela Melchior dos Reis Lopes Pereira, born on November 1, 1996) and is from Portugal.