There's no secret that James Gandolfini holds a special place in the heart of every member of The Sopranos cast. But, he could be a handful sometimes. Like, Lorraine Bracco reveals that Gandolfini used to strip in front of her on The Sopranos set!
Gandolfini would take his clothes off in front of Lorraine Bracco!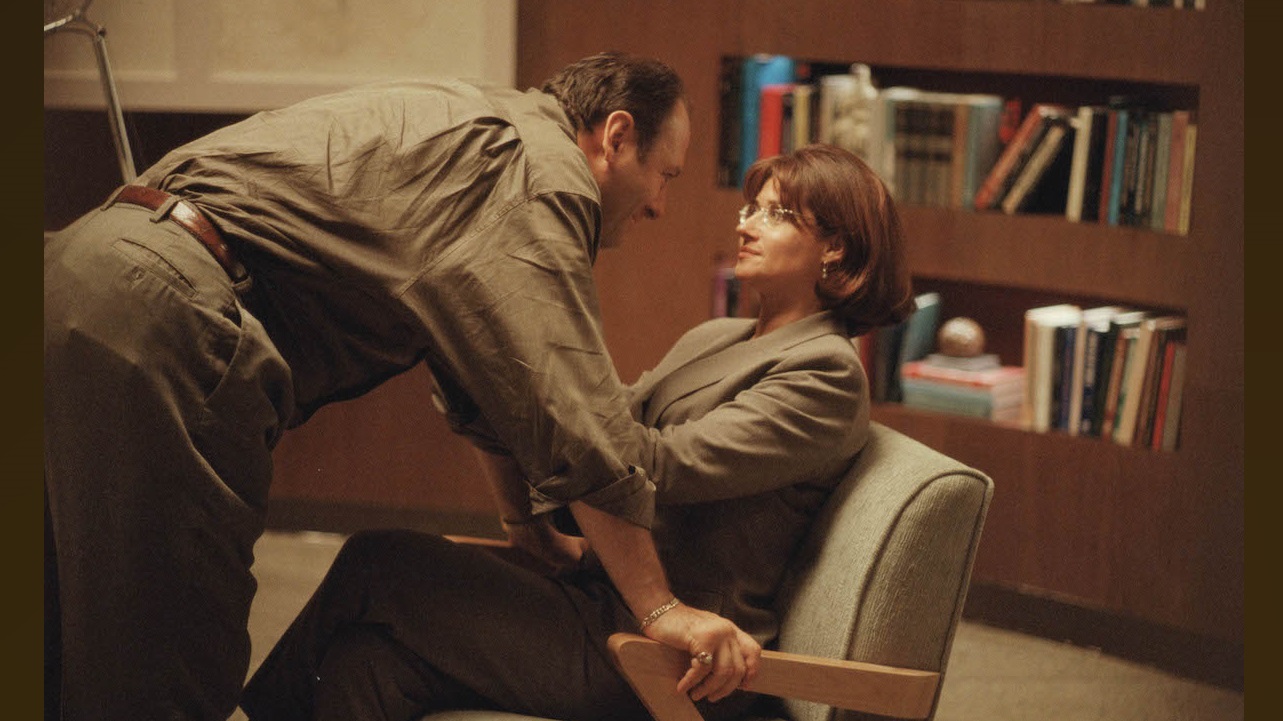 While talking about James Gandolfini on the recent episode of the Talking Sopranos podcast, Lorraine Bracco was all praises for him. But, he could be a real nuisance for Bracco on set. Like, taking his clothes off on set as Bracco shot her scenes! She recalls:
This is where I get to curse him. Okay, so we would always shoot him first because he was the storyteller. So, two cameras, everybody blocked off, dark dark dark everything dark. Uh, everything dark behind me, so that there was no movement or anything like that. And then we would turn around and that b*stard would take his clothes off.
Moreover, good old Jimmy Gandolfini wouldn't just stand there with his clothes off. He'd even perform a mini strip show right in front of Lorraine Bracco, to distract her from her scenes! Bracco said:
He would do lots of things with his hands and tongue and mouth and nobody could see him except for me. It would be like, excuse me, he's doing things. And they were like, oh Lorraine, come on, let's go. Meanwhile, he (Gandolfini) would take his pants off, show me his tooshie… I would be like, put that away, stop it! (laughingly) And I'm the one who always got in trouble.
Lorraine Bracco was practically crying tears of joy while remembering this crazy act by James Gandolfini. But, that's just the kind of fun they had on set of The Sopranos. He was the glue that held all of them together, as made clear by the words they say about him after he passed away.
Good guy James Gandolfini
Other than this incredible strip show, Lorraine Bracco also recalls how his acting left her in awe. She said that many times, Gandolfini would go on these 4 to 5 minutes long takes by himself, and perform his lines in a single monologue. He was so brilliant that she would sometimes go out of character while witnessing his brilliance. Moreover, But, other than that, he was just a great human being. Steven Van Zandt said that if you did a scene with James Gandolfini, you walked away as a better actor.
Other than that, he was just a great human being. He went on strike for his fellow cast members when they didn't receive bonuses from HBO, even though he himself did. Moreover, he even paid every main cast member $33,000 from his own money as well. Whenever his name is brought up, Lorraine Bracco and every other cast member have tears in their eyes. Check out this tribute video for him: