There's one aspect of producing a show that is equally important as the script – casting. The right cast can make an insane piece of art out of a decent script. And when the writing and casting, both are strong, then there's nothing that can stop the show or film from becoming a success. That is what happened with The Sopranos. But, there's an actor on the show that initially blatantly refused to work on the show. And that was Lorraine Bracco, who played Dr. Jennifer Melfi.
Why Lorraine Bracco said no to The Sopranos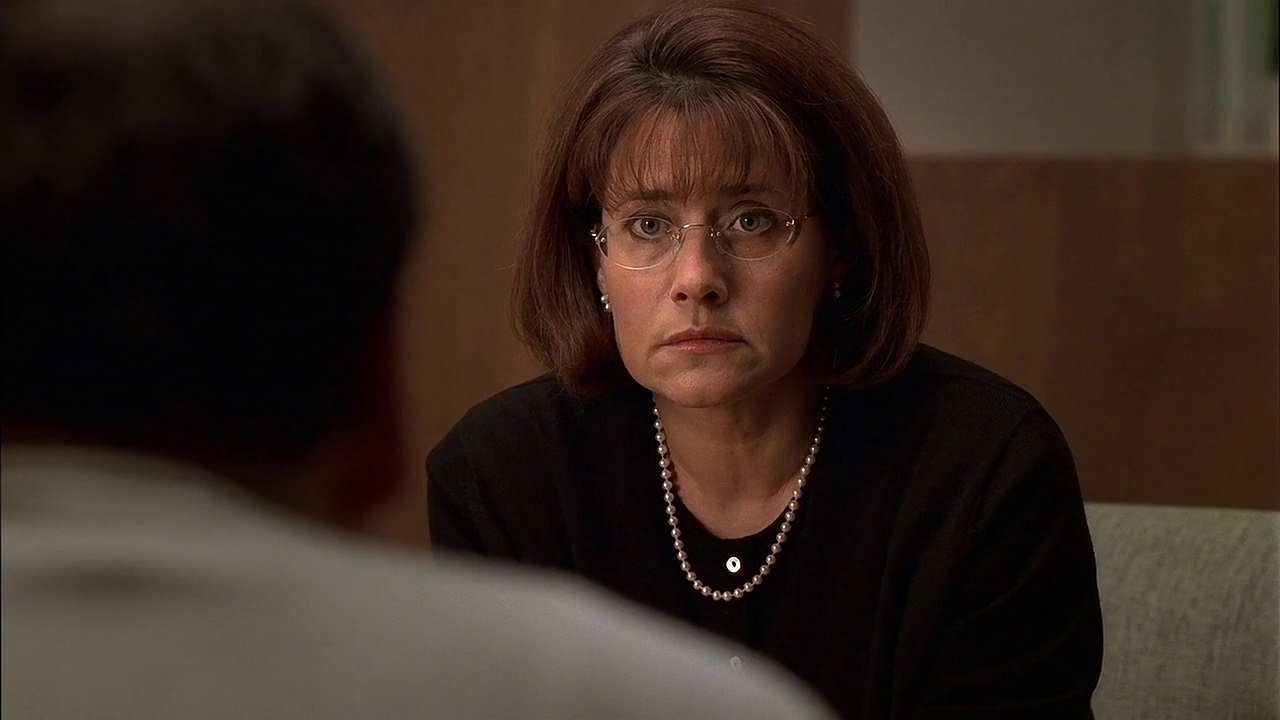 Bracco appeared as a guest on the last episode of the Talking Sopranos podcast. There, she revealed that when David Chase approached her for a role on The Sopranos, she straight away said no! And the reason for that was because she didn't want to be part of a show about the mafia. Bracco said:
Sheila Jaffe sends me the script and it's a mafia thing. I said listen, I have refused for the last 10 years, or whatever it is, every mafia script ever. I don't want to do that.
Lorraine Bracco was quite adamant that she was not going to be a part of a mafia show. She did not want to be typecast at any cost. But, upon the insistence of her friend Jaffe, she gave in and read the script. That's when her opinion changed:
Sheila begged me, 'please please read the script. Please please just meet him, he wants to meet you'. No no no no no and finally, she was like, 'listen, do I have to get on my knees and beg you to read this stupid script?' I said, 'no, I'll read it, okay'. I read it and I was like, whoa! Whoa wait a minute, this is a great script.
And that's how Bracco changed her mind and decided to join the show. But, she was only going to do it on one condition; Bracco was not going to play Carmela Soprano!
How Dr. Melfi was first going to be Carmela Soprano
Lorraine Bracco's agents were thrilled when she finally said yes to The Sopranos. But, she was adamant on not playing Carmela Soprano, as she revealed:
But, I told my agents, I don't wanna play Carmela. They're like, pulling out their hair, what do you mean? I said I don't wanna do that. I wanna play Dr. Melfi. And I remember their words, 'The title is The Sopranos, not Dr. Melfi'… So they begged me to go and meet him, but don't tell him that.
However, Bracco was so sure about not playing Carmela that she dropped the bombshell at the creator when she met them:
I threw the monkey wrench at David when I said I've played Carmela. We're gonna have a hard time doing that again in a different way or a better way or whatever. But, I'm a very different woman now, I wanna play Dr. Melfi.
Moreover, Bracco presented a wonderful reason in front of David Chase. She did not want to play the stereotypical wife of an Italian mob boss. She said:
I'm sure you want a nice, lovely, ethnic person for this role, but you never see an educated Italian woman. And I would like to do that.
And that is how we got Lorraine Bracco as Dr. Jennifer Melfi on The Sopranos. And we have to say, she made the absolute right choice. The therapy sessions she had with Tony Soprano (James Gandolfini) are something that no TV show has better mimicked. It gave us an invaluable insight into Tony and made the show so much more realistic and multi-layered. That was something no one had seen on TV before and revolutionized TV shows forever, triggering the golden era of television.