Lili Reinhart owns our hearts. She's adorably lovely and makes the cutest couple with boyfriend, Cole Sprouse. The Riverdale Star ended the year strong. Many celebrities posted about their favorite moments, such as movies and music from the year 2019. As 2020 started, everyone talked about their best and worst from the last year. Lili Reinhart used her Instagram story to post her 2019 bests. While watching the story, we found out Reinhart's favorite movies from the year.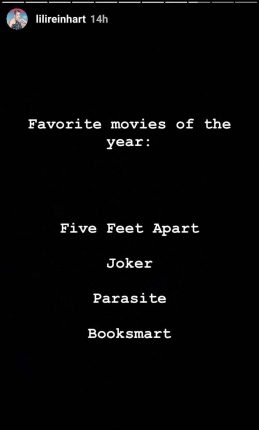 So, here are the plots to Lili Reinhart's 2019 favorite movies
Five feet apart
Two patients with the same sickness get their boundaries put to test when they form an unshakable bond. The movie features Lili's sweetheart Cole Sprouse and Haley Lu Richardson. Not to mention the amazing song – Don't Give Up On Me. It's understood that Lili loves  Five Feet Apart because like, we all do. It's available on DVD and Netflix!
Joker
Gotham City fails to accept comedian Arthur Fleck for his true talent. The man, after losing all hope, turns his thrift for making people laugh into becoming a criminal mastermind – The Joker. The role of the Joker is brilliantly executed by Joaquin Phoenix. The concept is mesmerizing and it's an amazing depiction of "the other side of the story".
Parasite
Here's an interesting take- This movie is Korean! The movie is a comedy-thriller and we believe Lili would've watched it in Dub or with subtitles. Also, the concept seems pretty complex and much needed – The effect of Greed and Class Discrimination on people's lives.
Book Smart
High-school nerds Amy and Molly try to cram 4 years of drama and adventure into one night. The movie sure is to give you a once-over thought on how you've spent your life. It's a light comedy with some teenage drama. More like a fun Girl's Night Movie! Other celebrities such as Ryan Reynolds have expressed their praise for the movie too.
Hustlers
Funnily enough, Lili Reinhart forgot to add a movie in which she starred in herself!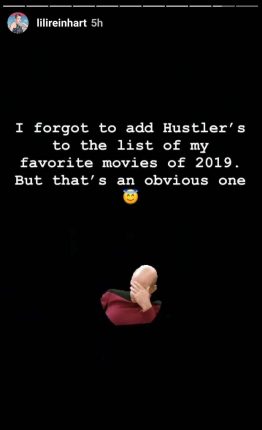 Hustlers is about former strip club employees who try to take revenge from their Wall Street clientele.
Reinhart stars in the movie alongside Jennifer Lopez, Constance Wu, Julia Stiles, Lizzo and Cardi B. The movie follows theme of women empowerment.
So, Do you and Lili have any favorite movies in common? Do let us know in the comments below.