Trolls 2: World Tour will no longer be releasing in theaters due to the coronavirus pandemic. However, that hasn't stopped its lead voice stars from having fun. Recently, Justin Timberlake and Anna Kendrick appeared on BBC Radio 1. During their visit, they were asked to react to some spicy "Unpopular Opinions" including one against worldwide sensation Billie Eilish.
Justin Timberlake Sings for Billie Eilish!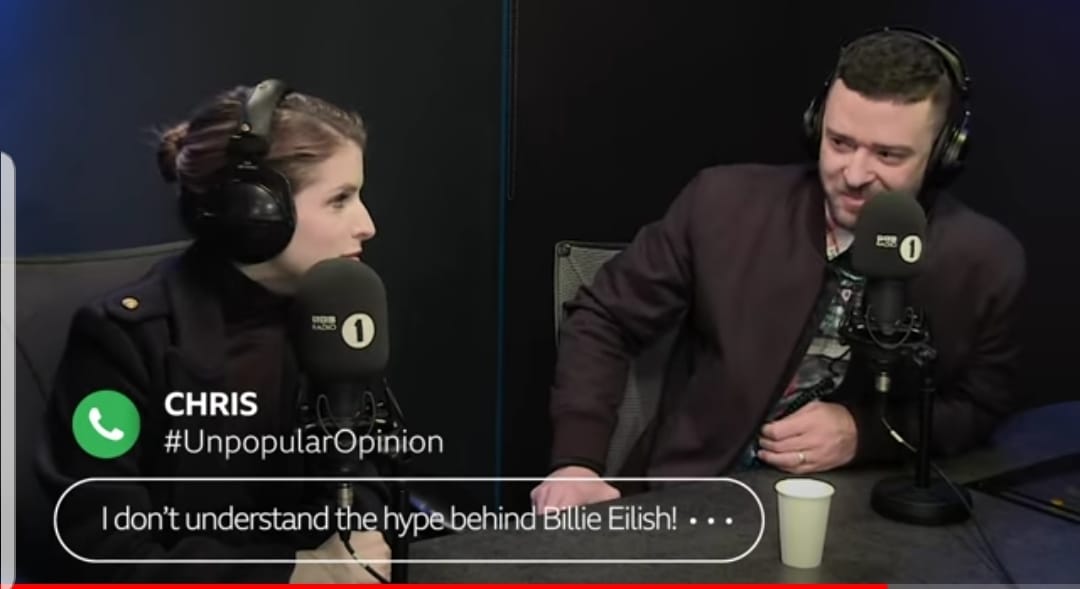 Timberlake and Kendrick reacted to multiple Unpopular Opinions of BBC Radio 1's listeners. One of these opinions was "I don't understand the hype behind Billie Eilish". On hearing this, both celebrities weren't… happy. The "Can't Stop the Feeling!" star corrected the listener by saying "That Ain't Hype".
Anna Kendrick, on the other hand, commended the listener for playing the game well, as such an opinion would certainly evoke a spicy reaction.
Timberlake praised Eilish by calling her a "Real Deal" and appreciated her singing, writing, hair and nail! He even joked about calling the listener a "Bad Guy" (Billie's popular song). What's even surprising is that the In Time star even sung a little for the singer/songwriter and called her "great and fantastic in every way". Kendrick then jumped in to crack a joke at Billie's expense by saying that "she dresses like Kevin Smith".
Anna Kendrick's Own Unpopular Opinion!
After the Trolls 2 stars reacted to different people's opinions, Kendrick brought up one of her own. She revealed that she likes her cereal without milk. That will surely divide the internet! Kendrick also revealed that she isn't a coffee person.
As for Justin Timberlake, he said he couldn't recall any of his unpopular opinions. However, while reacting to an opinion about Barbeques being stupid, he explained how he cooks barbeque at his place to avoid wastage of food.
Were you planning to watch Trolls 2 in theaters this month? Well, it's good news that the movie is getting a digital release! Moreover, we would also like to read your opinions on Billie Eilish!