If you have not seen Kevin Hart: What The Fit then you are wasting your precious quarantined time. If there is something better than all the scripted series, it is Kevin Hart unscripted. The comedy show airs on LOL Network, YouTube, and its season 3 is already running. The episode 5 was recently released. And it has your favorite twin duo of YouTubers, The Dolan Twins. What's Kevin Hart doing with Dolan Twins?

Kevin Hart Vs. Dolan Twins
Many YouTubers are trying to enter the boxing community. Take Paul Brothers, for example. However, Dolan twins Ethan Dolan and Grayson Dolan are not joining them for the time being. They are into wrestling, football, and lacrosse.
And they did join Kevin Hart. The episode starts with Kevin Hart honking the horn at two random ladies, taking them as Dolan brothers.
That's not the Dolan twins. That's just two random girls at the bus stop.
Now, they are identical twins. And Kevin got confused with the introduction, calling Ethan out on wearing gray and confusing him. Grayson should've worn the gray color to go with his name. While talking about the games, Dolan Twins admitted that they took sports pretty seriously. Therefore, Kevin Hart decided to challenge them to compete differently….with ballroom dancing.
The Ballroom dance you do not want to miss
Grayson and Ethan start shading each other with the same phrase "I'm a better dancer". All of them go to a studio to get their upper bodies spray tanned for Abs Definition. Ethan gets his tan done. When Grayson is getting his done, Kevin Hart asks him to imagine what if the tan lady makes a mistake while spraying his body:
It's one of those things when you can't really fix a mistake either. Like, if she makes a 7th ab, or like a third n*pple.
When it comes to Kevin getting the spray tan, he says he does not really need to do it because the tan color is his natural color. And he didn't get it.
Kevin Hart, Dolan Twins, Samba, Tango & The Swing
The boys meet their partners at the academy.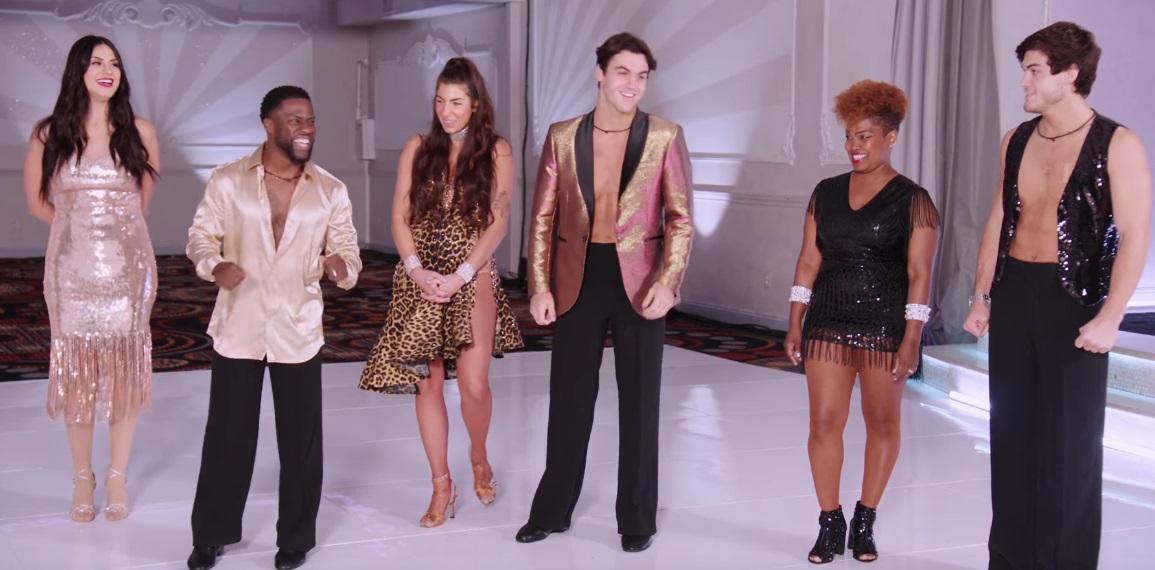 They all learn the Samba moves first, followed by sexy tango. Learning lunges for the tango, Kevin  suddenly starts saying:
something is happening with my pants. My pants definitely in my as*. I'm over here making a mess. I gotta throw these away after this.
Still trying to figure out why the Dolan twins were not having issues with their pants, Kevin asks them if they are wearing drawers. That's the global rule of wearing pants, Kevin.
Lastly, they learn how to swing. Watch here to learn how Ethan wins in the end. If you ask me, Kevin Hart's performance was the best.