Youtuber Jeffree Star took to Twitter and Instagram to announce the launch of his new collection, Pink Religion. The collection was revealed on Friday, July 23rd, 2021. A week ago Jeffree introduced his whole Pink Religion Collection. With 1.6 million views on YouTube, this video describes all the products in this collection. I understand the commercial is divisive, but it is artistic and can I just say Jeffree looks stunning in the video?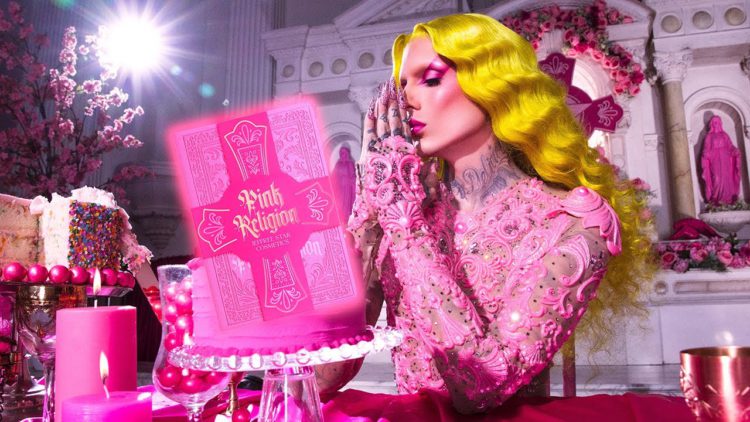 Related: Jeffree Star Unveils New Collection 'Pricked', his second collection of this month!
Products in the Jeffree Star Pink Religion Collection
Pink Religion Palette – 18 shades –>$52.00
Sacred Glass Extreme Frost™ Palette – 3 shades –>$62.00
Velvet Trap – 8 shades –>$18.00
Holy Mist Smoothing Facial Spray – –>$26.00
Hydrating Glitz Lip Balm – 4 shades –>$18.00
Gold & Pink Chrome Cross Hand Mirrors – –>$30
Stained Glass Hand Mirror – –>$30
Hot Pink Leaf Soft Touch Hand Mirror – –>$30
Pink Religion Crocodile Backpack – –>$80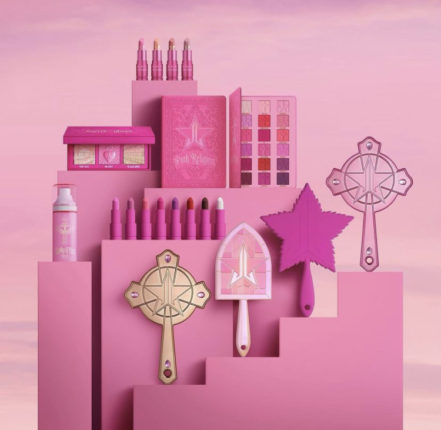 Jeffree Star is up to his old tricks once more! Many people have expressed their thoughts on his new Pink Religion Eyeshadow Palette. This all-Pink makeup palette is the talk of the town right now.
Related: Jeffree Star's New Palette and Accessories from 'Star Ranch' Collection Sold Out
Some Youtubers reviewed the Jeffree Star Pink Religion collection
Received this collection in a PR package. With 30 thousand views, 22 seconds into the video and she say says the collection is so gorgeous and you can not believe how stunning everything looks. In her opinion, these are some of the most pigmented shades Jeffree has ever come out with. On the other hand, she believes there could have been fewer mattes and a few more shimmers/metallics.
Let's see what the talented beauty guru had to say about Jeffree's Pink Religion collection.
"It is pretty and bright, the hottest pink he has ever seen."
At 10:22, Lewis has put up some swatches from the Jeffree Star Pink Religion eyeshadow palette. He has described each shade separately. The beauty guru also thinks some shades look quite similar to each other or to some previous palettes by Jeffree.
If you are curious to know about the palette, Lewis has also done some shade Comparison swatches in the video.
He has also been very candid and opinionated in his YouTube review video about the Jeffree Star Pink Religion collection.
Now we will share some Reddit comments with you so that you can get an idea about what the Jeffree Star fans think about the Pink Religion collection.
Let's just say this collection was a hit and a miss., with comments like these on a Reddit post among its users.
I realize this color scheme isn't exactly groundbreaking, but did anyone else think of the Glamlite Red Velvet Palette when they saw this?
Another fan thinks that the Colourpop Pink Palette has a diversity of colors.
I have Colourpop Pink palettes that have more textural diversity and are less expensive.
One of the fans thought that Pink Religion Palette was Makeup Revolution's product.
At first glance, I mistook this for a makeup revolution.

Now it is definitely up to you if you want to get one product or the entire Pink Religion Collection. But my gaze is fixed on the Sacred Glass Extreme Frost Palette. Which is retailed for $62.
The Sacred Glass Extreme Frost Palette:
This palette has three extremely eye-catching shades.
Pearly Gates: A marbleized effect blending icy white sparkles with soft pink sparkles.

Pink Purity: Pure fuchsia pink sparkles.

The Glass Supper: Effortless melting blend of rose gold sparkles to gold sparkles.

Sacred Glass Extreme Frost Palette
Jeffree Star's Velvet Trap Bullet Lipstick Collection:
Velvet Trap bullet lipstick collection comes in 8 shades. With the pricing of $18 each.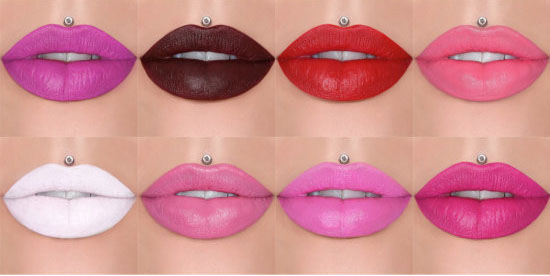 God's Gift: Pure White
Cult of Roses: Soft Watermelon
Pink Religion: Neon Fuchsia
Holy Fashion: Soft Tone Pink
Communion Wine: Deep Wine Red
Confessional: Hot Red
Always Faithful: Purple Pink Berry
Pink Messiah: Bright Doll Pink
Cult of Roses has to be my favorite among all the velvet trap shades in the Pink Religion Collection from Jeffree star. Have you decided what you want? Please let us know what you think in the comments below.