It's no secret that Nicki Minaj is the ultimate boss lady who does not hesitate to shut you down with facts. In a similar move, she called out Jessie J and post the truth on Twitter. During an interview, Jessie took credit for asking Ananconda singer to appear on Bang Bang. However, that is not the real story and now the entire world knows.
Although it has been seven years since the song released, it is still making headlines
During a recent interview, Jessie J recalled the story behind the epic collaboration on Bang Bang. Apart from her, Ariana Grande and Nicki Minaj were part of the track. According to Jessie, she and Ariana Grande were the ones who decided to get together for Bang Bang. However, Nicki Minaj joined in later. While talking about her, she said:
"So Ariana stayed on the second verse, I recorded the first verse, and then Nicki was played it in the studio and was like, 'I've got to jump on this.' We didn't go to her and ask; she wanted to do it."
Furthermore, she recalled her excitement over the news and said:
"I'll never forget: I was in my bedroom in my flat in London, and I got sent the version with Nicki on it. I just sat at the end of my bed holding my phone, staring at the floor, going, 'How the f*** did I land this?' I literally felt like I'd won a competition."
However, Nicki Minaj denied this version of the story and called out I Want Love singer
When Jessie J's interview came out, Nicki Minaj did not approve of it. Instantly after, she decided to present the facts and correct the story. In a Tweet, she tagged Jessie J and wrote:
Babe @JessieJ I didn't hear the song & ask 2get on it. The label asked me2get on it & paid me. How would I have heard the song? chiiille what am I the damn song monitor? Snoopin around for songs chile? This was said by another artist recently as well. Yallgotta stop LoveU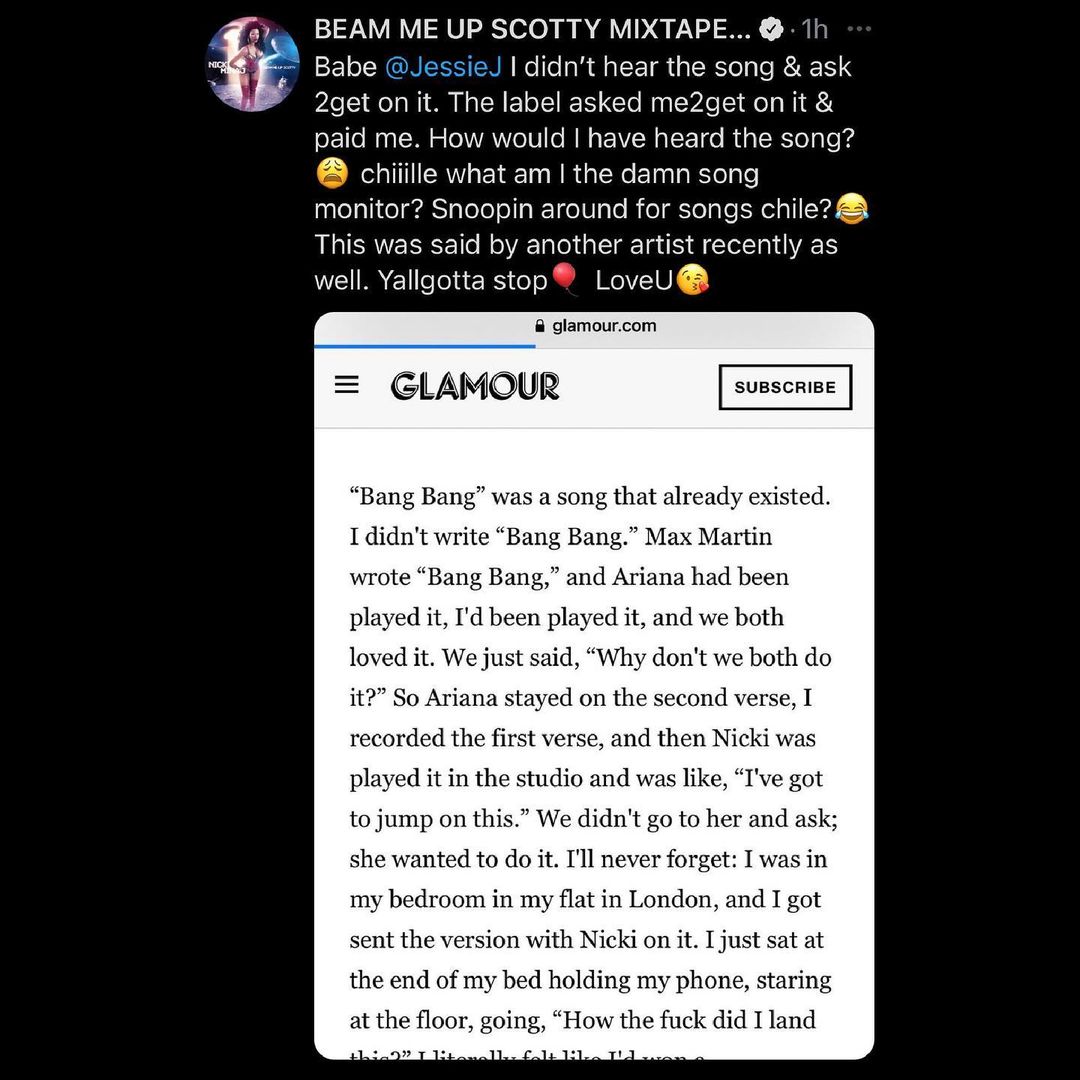 At the same time, she also clarified that she has no beef with Jessie J and actually wanted to collab with her on Do It Like A Dude. In the next tweet, Nicki Minaj wrote:
but the worst part about this is no1EVER asked me2get on "like a dude" & I have been obsessed w|that song since the min I heard it. I was doing promo in the UK & heard it on the radio. My artist Parker co wrote it. I would've gotten on that 1 for some pickle juice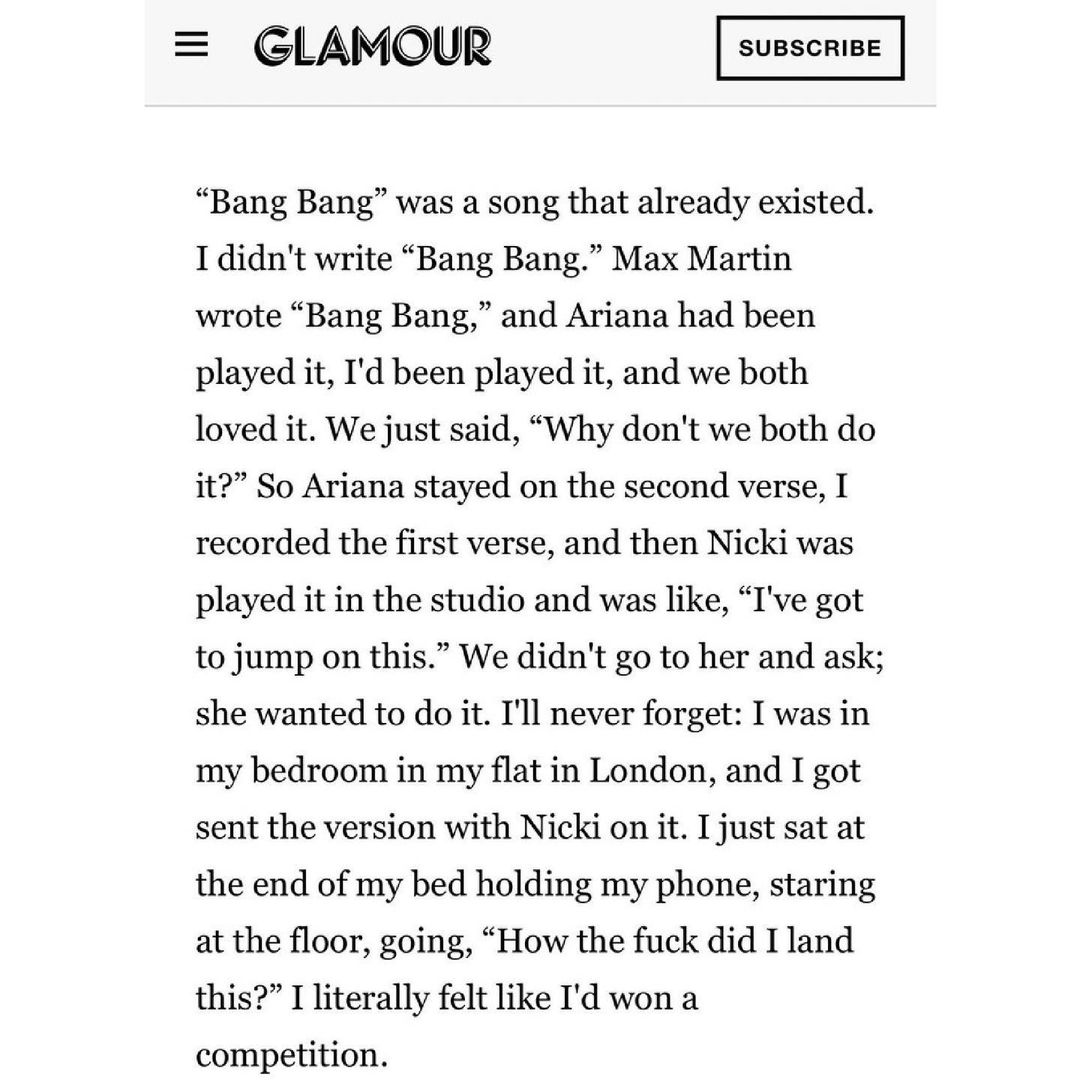 Related: Jessie J Opens Up About Her Painful Throat Condition
After Nicki's response, Twitter did what it does best
Like always, Twitter grabbed the opportunity and produced some epic memes. From Nicki Minaj using Jessie J as a stair railing to her making weird faces on stage, it took a few minutes for the whole incident to be trending. It seemed like everyone came together to take a diss at Jessie J and had fun doing it.
Since then, Jessie J has issued an apology to Nicki Minaj and also poked fun at herself
In an Instagram post, she shared some of her memes and apologized to Nicki Minaj for getting the story wrong. Not only that, but she also appreciated Minaj for being herself publicly. At the same time, Jessie J mocked herself and admitted to forgetting the real story. She also wrote:
If we can't laugh in the lives we have been blessed with. What's the point. It really isn't that deep. From the moment I met you to now I have shown you nothing but love and gratitude for how f***ing blessed I was to have you and @arianagrande who btw wrote Bang Bang with the insanely talented Max Martin which I found out today. Jesus. What a day. Sorry Ari. I never knew. Wild.
Since her apology, Nicki Minaj has not responded. However, it is clear that there is no real feud here and the two artists respect each other equally. Let's hope to see another collaboration in the future. Moreover, Jessie J has also unfollowed Minaj on Instagram.