Jeffree Star revealed the news of his breakup right after moving together in the big & new million-dollar mansion. He explained in his breakup video that it feels really sad to lose the love of your life.
He explained that the breakup left both him and his ex-boyfriend, Nathan Schwandt, in an utter state of shock.
"You know this isn't like an Internet fight. This isn't drama and this isn't Tea. This is my real life. Me and my soul mate are really going through so much the last few years."
He further mentioned:
"So I know a lot of you are really shocked. I am shocked. And I feel like I owe you all an explanation. Because Nathan and I have grown with each other. And I can't believe he is not here right now".
Jeffree Star's Brutally Honest Confession
I guess most of us have gone through this phase. And breaking up with the love of your life is as difficult as telling the whole world about it.
Jeffree Star mentioned in the video that things have been really hard for him lately.
"We fell for each other when we met. And we fell for each other so hard. And I am grateful for him and I will be grateful until the day I die."
He further added:
"This was the only man that was ever confident enough to love me publicly. To love me, for me, fully. He loved me for me and no man has ever had those feelings. I have never loved someone like I have loved him.
I can't even imagine how hard the situation must be for Jeffree Star and his ex-boyfriend Nathan Schwandt. It must be difficult for them to deal with the number of hate people throw on their social media. And how hard they have been trying to get information from both sides.
He further mentions:
"There is no gossip. There is no tea."
Jeffree Star just mentioned, "There Is No Tea".
So Why Is Tea Spill Spewing Poison Rather Than Tea
It feels like this channel is spilling anything but Tea. How can someone have so much hate for someone? Tea Spill just uploaded a video on their YouTube channel in which they're saying weird things about Jeffree Star and his ex-boyfriend.
"Back in 2019, Jeffree uploaded a video titled Surprising My Boyfriend with his dream car. The video showed Jeffree surprising Nathan with an Aston Martin sports car. He mentions he sold Nathan's Bentley and bought him his dream car as a surprise. Jeffree breaks the news to Nathan that he sold his Bentley. And Nathan actually seems pretty chill about the whole thing….

Although after the breakup happened a few months ago, people have been wondering if Nathan would get to keep the car. One fan wrote Wondering if he is going to get to keep the car. A gift is a gift. But I am guessing the car title is in Jeffree's name. Since he [Nathan] had no say or knowledge of the Bentley being sold, my guess it's technically not his car.

It looks like we finally got answers to that question as Jeffree has since changed the title and the description of the video post-breakup Pretending To Surprise My Ex-Boyfriend With His Dream Car.

The description has also changed. What do you guys think about this situation? Did Jeffree change the title just to throw a bit of shade?
You can go see the video on Tea Spill's YouTube Channel.
This Channel Is Spilling Anything But Tea
Their false accusations got me like "Whaaattttttttt *** *****".You guys seriously need to take a break. And leave Jeffree's rich soul alone. He bought a beautiful car for Nathan. And that too from his own money.
He is actually trying to move on. And you guys keep on bringing things from his past. Jeffree and Nathan ended things on a good note.
You guys need to stop digging holes in a steel mine. It can give someone extreme depression, stress, and anxiety.
There is nothing wrong with changing the description of the video. After all, it's his life. He can do whatever he wants with the hard-earned money.
Fans Spill Their Love For Jeffree Star
Fans are always there for the rescue. They spilled a lot of good questions and comments on Tea Spill's video regarding Jeffree Star and his ex-boyfriend Nathan.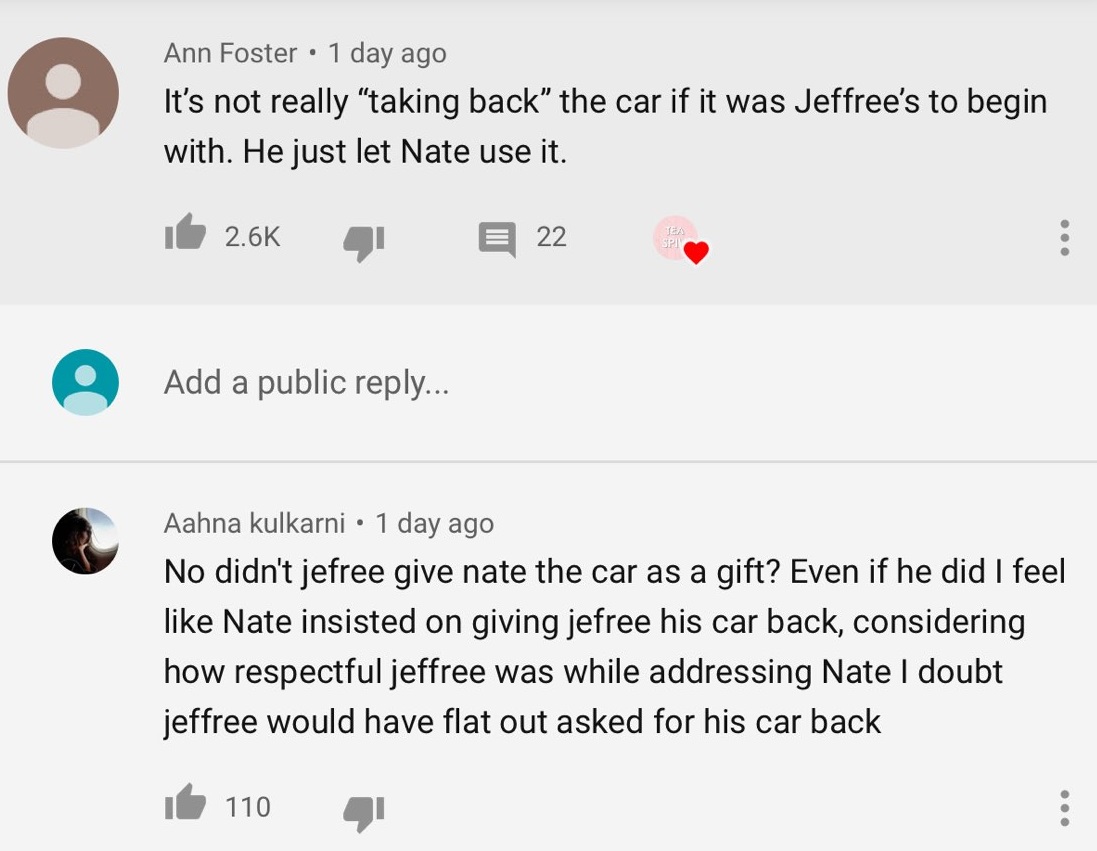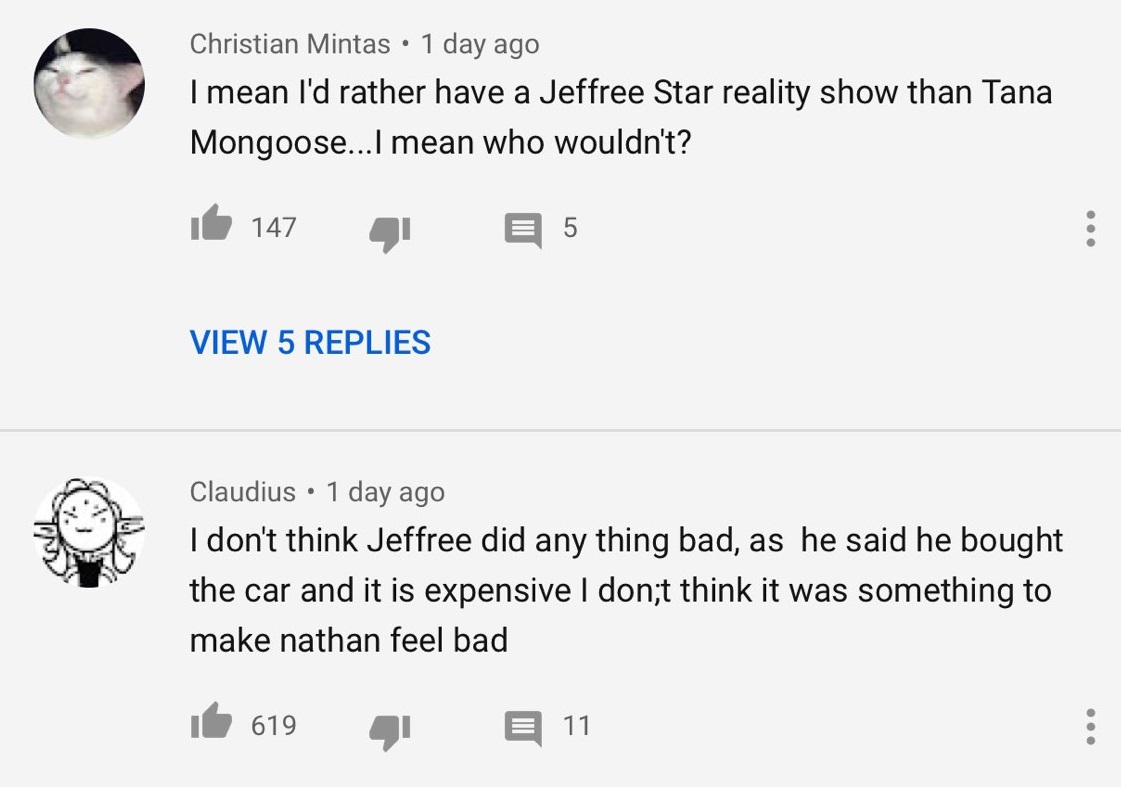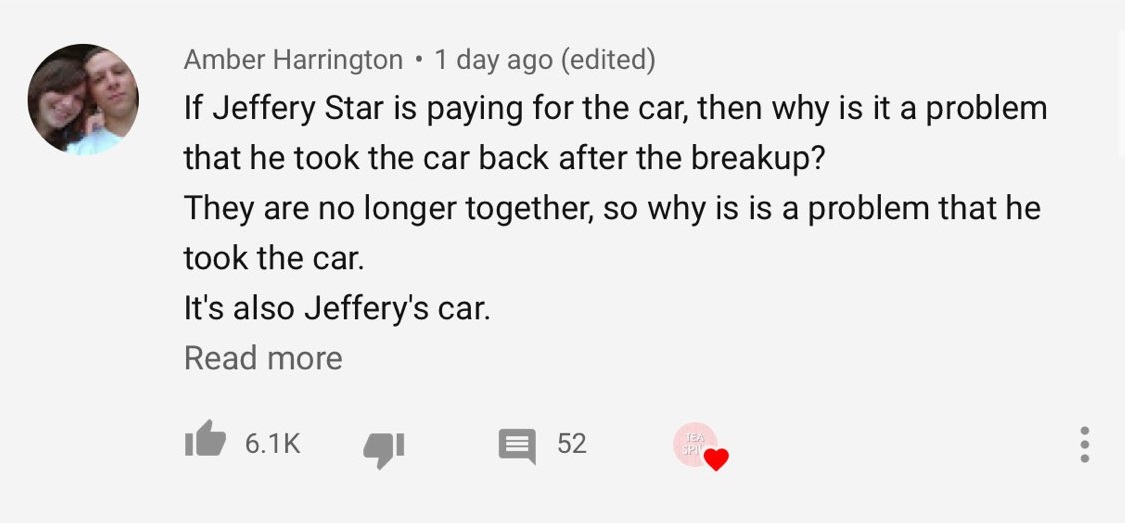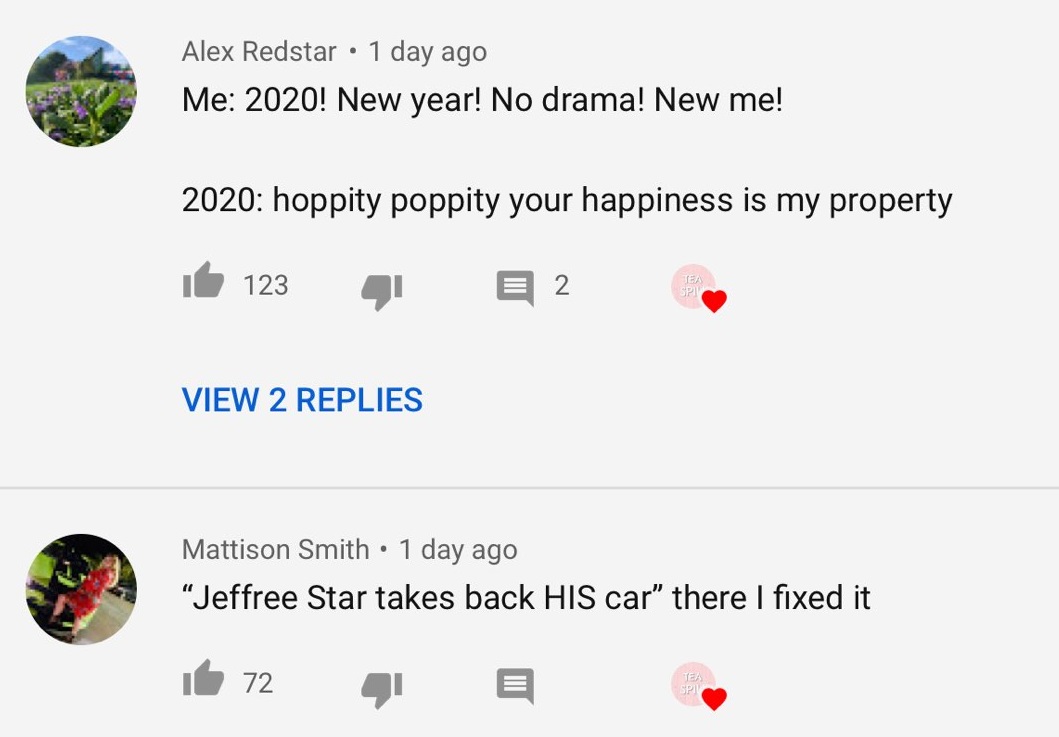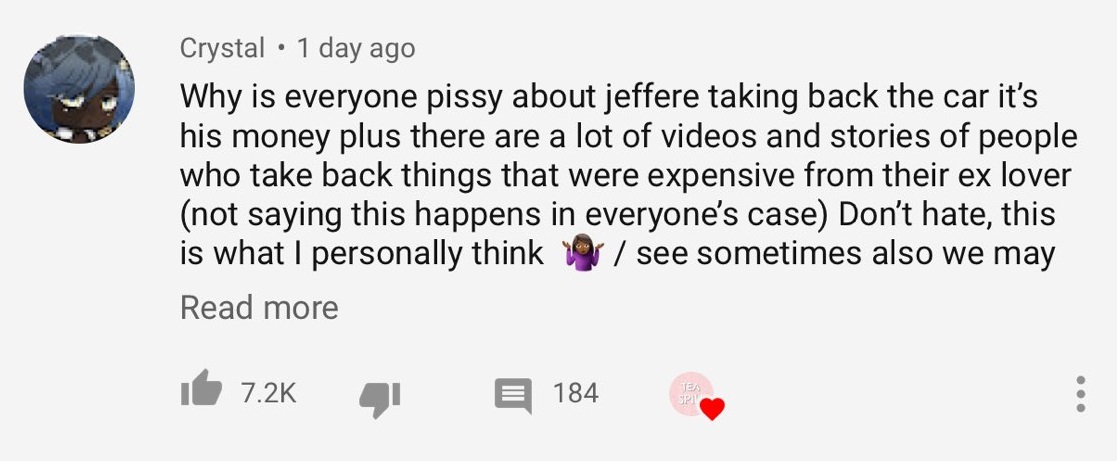 What do you guys think about the whole situation?