This is the moment we were all waiting for. For a long time, it's been pointed out how James Charles is Dua Lipa's' doppelganger. And finally, James has acknowledged it and shared that sometimes he sees it too. He also decided to whip up a fun makeup look by transforming himself into Dua Lipa. This is a video everyone must-see. For those who want to find out how he did it, keep reading.
James Charles turns himself into Dua Lipa
James Charles shared that Dua Lipa is actually his favorite pop-singer. To start off, he popped on a green turtleneck as Dua also wears bright colors. To imitate her eye color, he put on dark brown colored lenses too.
Discussing Dua Lipa's usual makeup look, James thinks she usually adds a pop of color to her eyes but her base is mostly natural and medium coverage. There's always a little bit of blush and glow, but never too much contouring or under-eye brightening.
First up, he used face tapes to help lift his face up. Then he started applying the Fenty Beauty foundation after color-correcting his skin. As Dua is a little tanner than James, he also added a layer of slightly darker foundation on his face.
He then used Tarte Shape Tape concealer, just a little bit of it under his eyes.
The process…
After perfecting his skin, James Charles started contouring using the Anastasia Beverly Hills kit. But he used this very minimally, over the cheekbones and chin just for some definition.
To properly emulate Dua Lipa, James Charles decided not to contour his nose which is usually one of his most important makeup routine step. However, James pointed out that Dua has a more triangular shaped nose whereas his own nose is more round and bulbous. So he added some shadows to make his nose look similar.
Then came the part where James tries to recreate Dua's bushy and unruly eyebrows that he loves. Using the Urban Decay Brow Blade, he started giving his brows a thicker look.
For the eyes, James Charles used his own eyeshadow palette, and the Norvina palette to create a green crease. Then he added a neon shade from the Carnival palette and finally, a green shimmer. To copy a natural, fluttery eye-lash look, he wore the Ardell demi-wispies.
Final Look
The final look came together after James Charles applied a wig that looks very similar to Dua Lipas' usual hairstyle. And Oh, My God.
The resemblance is insane! James completely nailed this transformation.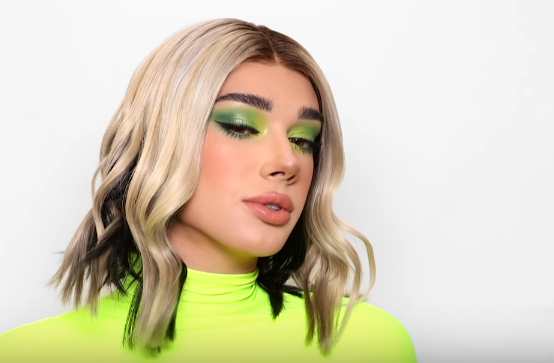 I would be sure this was Dua Lipa if I didn't know it was actually James Charles. So, we'll just repeat once more. They really are doppelgangers.