The 'mugshot trend' is creating a frenzy on social media these days. Some famous personalities like Corinna from the "Vlog Squad", Avani Gregg from the Hype House and James Charles created their own mugshots.
These major influencers are putting their makeup skills in creating bruised eyes and a bloody nose. Which, in result, is drawing a lot of criticism from fans. People are saying the trends looks like it's romanticizing abuse and violence.
How The Mugshot Challenge Started?
The 'mugshot challenge' basically started on Tiktok as a trend. In which TikTok users started posting mugshot videos which they thought were eye-catching. This trend took hype when celebrities and influencers started taking part in this challenge. By creating bruised eyes, a bloody nose and smudging makeup.
And they had to pretend like they are being arrested and take their mugshot photos. The challenge further started trending on other platforms like Twitter and Instagram.
The Mugshot Challenge Has Proven To Be Very Problematic For James Charles
The mugshot challenge was not getting any sort of criticism until the famous beauty influencer James Charles took the challenge. He first posted pictures on his Twitter account and deleted it right after it started circulating as a scandal.
He later posted the same pictures on his Instagram with the caption 'mugshot',
According to a few online sources James Charles explained in a now-deleted-tweet:
"Only I could lazily smudge on some purple eyeshadow and fake blood to recreate a dumb TikTok trend and have it twisted into an actual scandal, lol."
And here is another Tweet which is still there on his account: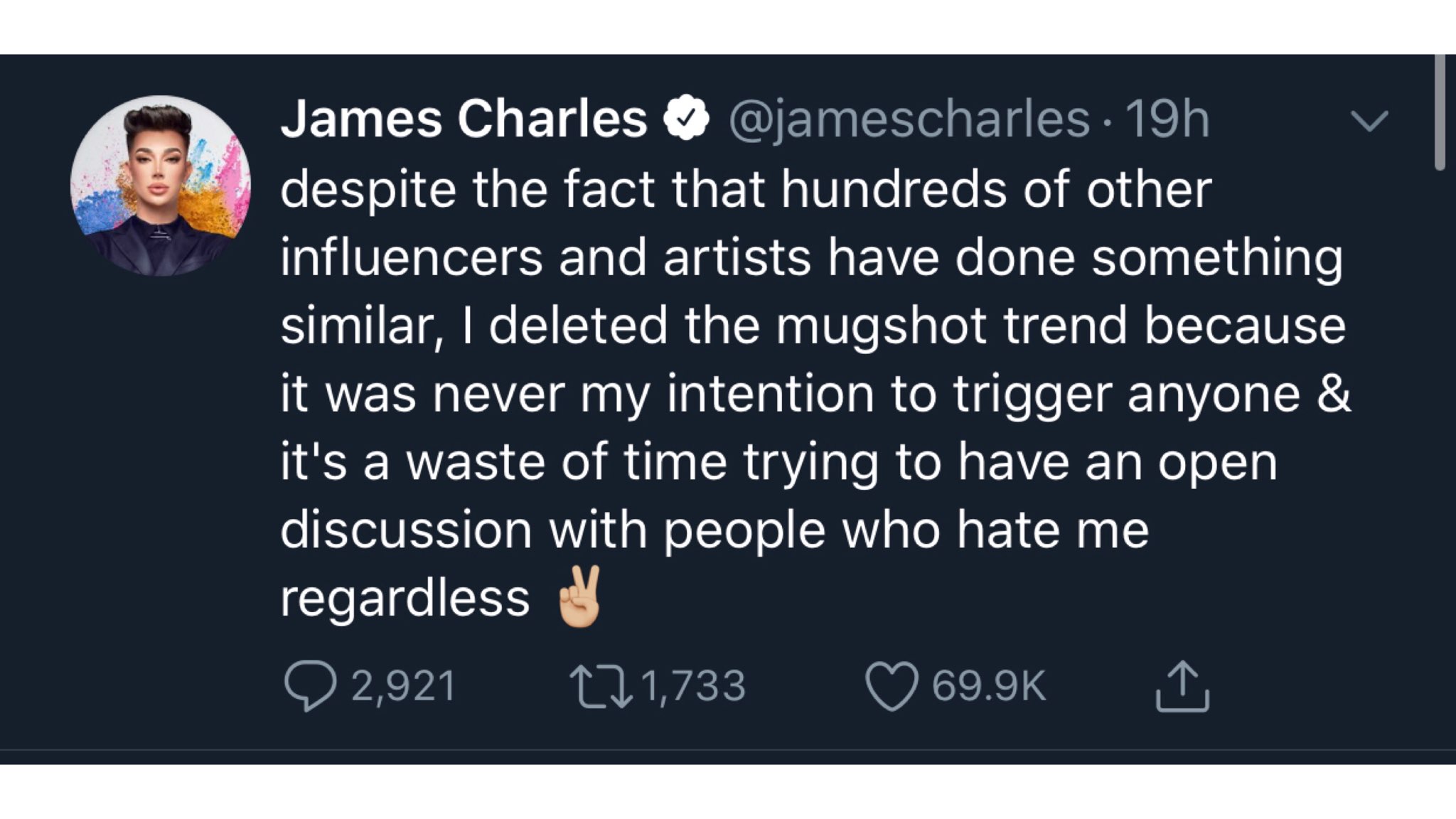 James posted another tweet in which he mentioned that fans are bombarding his Instagram with messages. Some of them don't want to see him on Instagram and Twitter-like at all.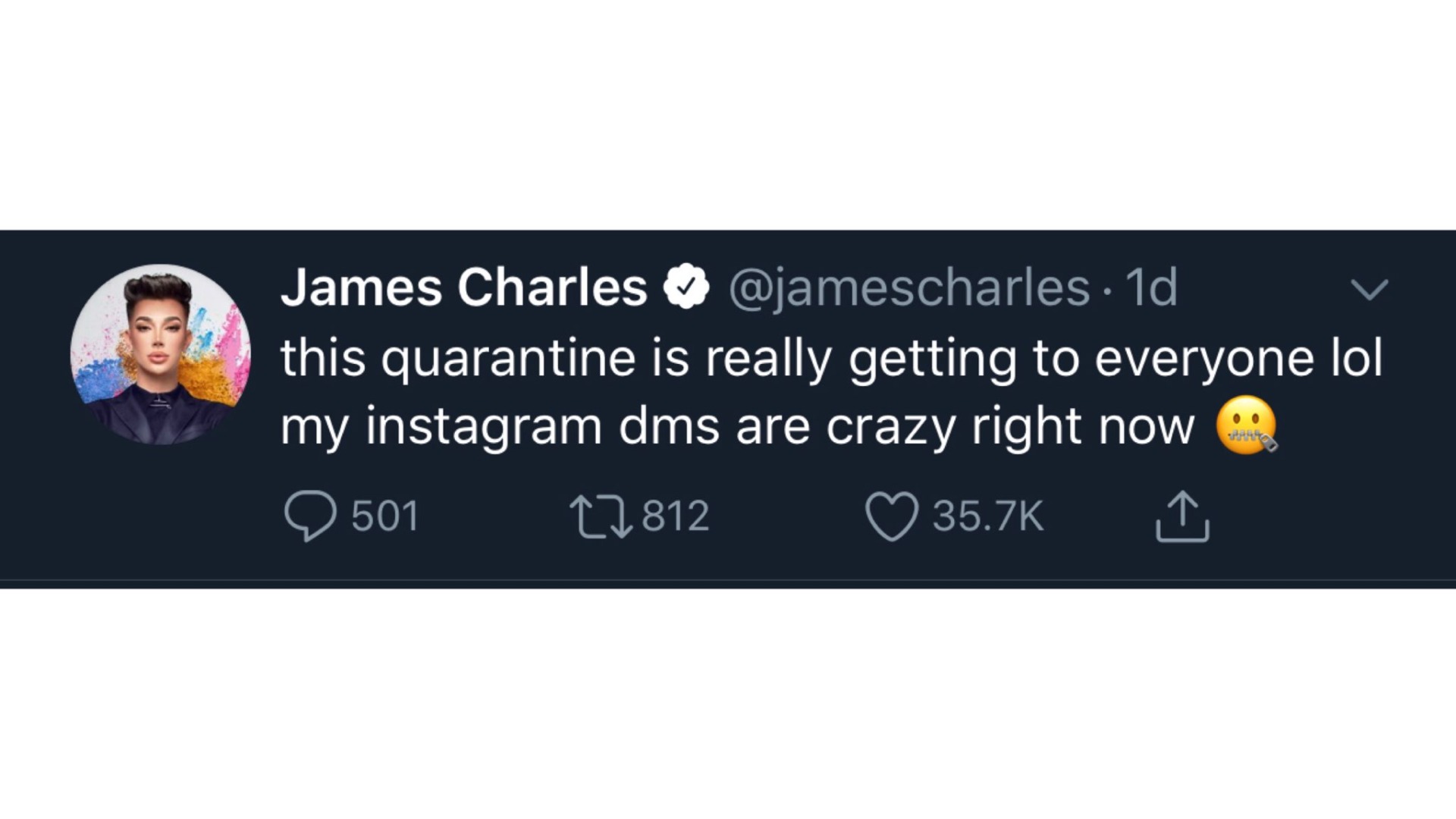 James Charles Receiving Serious Backlash For Glamorizing Domestic Violence And Abuse
James' Twitter And Instagram are on fire these days as fans want him to take down the mugshots from his social media account. A lot of fans are accusing James of glamorizing abuse. Some survivors of domestic violence also have a similar opinion.
He mentioned in a tweet:
"This dumb trend has nothing to do with domestic abuse. What about action movies? Halloween? special effects? simple bloody nose? this is nothing new."
According to a few sources, James referred to The Weeknd's latest album 'After Hours' in which he is supporting a broken and bleeding nose.
The now-deleted-tweet goes like:
"Genuine question, The Weeknd's new album shows him bleeding, with a broken nose, and with bruises. yet I haven't seen a single tweet about him glorifying violence or abuse?  Can someone please explain how it is any different? I am really trying to understand."

A fan tweeted in reply to James:
' Tweet with "All were saying is Abel and Billie BOTh are depicting a STORY.U had NO context but a fake mugshot for some likes and retweets…"
Fans Came To James Charle's Rescue:

Well!! That's so sweet of your Kimberly. We all know that James was just following the trend like other TikTok celebrities. He would never intentionally hurt someone's feelings.
We all know that makeup trends are pretty interesting. But this one got too far and this is one of the reasons why fans are saying a lot of negative stuff about James.
A fan who is a PTSD patient who also happens to be James Charle's fan tweeted: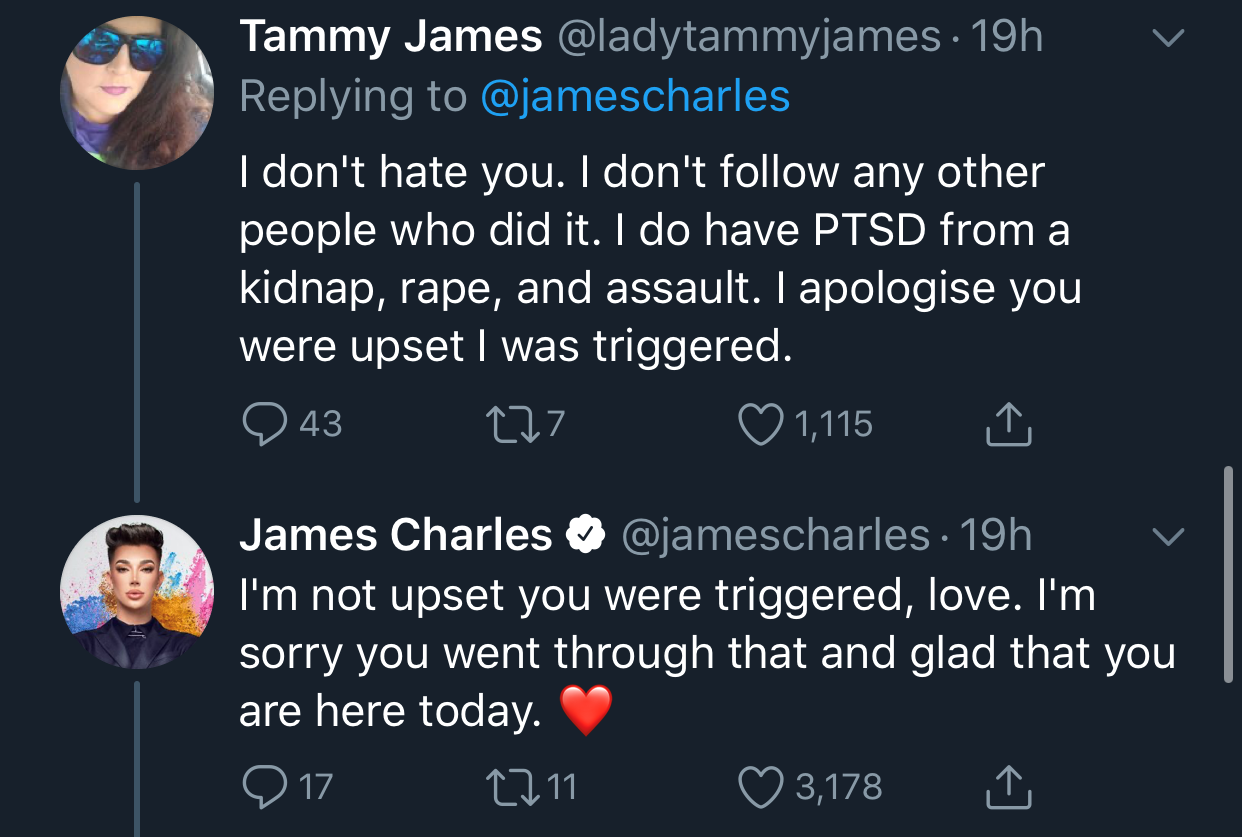 James replied to the tweet with much humbleness:
"I am not upset you were triggered, love. I'm sorry you went through that and glad that you are here today."
A close friend of James, Addison Rae, who also happens to be his best buddy, also came forward in his support.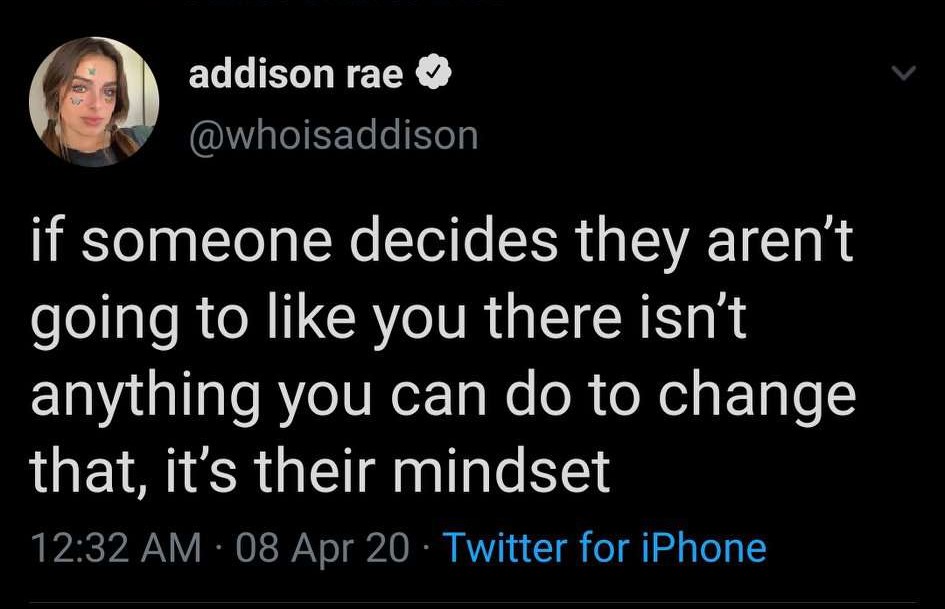 I guess the 'mugshot challenge' came at a very wrong time. A lot of people are under lockdown and being victims of domestic violence. As they are bound to stay home with their abusers.
James has already apologized to his fans. He never wanted to hurt anyone intentionally or unintentionally. I think we should just wait for his response.
He wouldn't do anything for the sake of mere likes and followers.