It's Friday already and we have our new music releases rolling out back to back. However, our entire focus is on Imagine Dragons today. The band is returning with a new music album soon; just like us, they cannot wait for it to come out. Many fan theories are suggesting that the album will be released on June 3, 2021. For now, we have two brand-new tracks to enjoy. The frontman, Dan Reynolds, opened up about the inspiration behind these two newly released tracks: Follow You and Cutthroat.
Related: Imagine Dragons' 'Bones' Music Review
Dan Reynolds, Aja Volkman, and the story of Follow You
Follow You is one of the debut songs from Imagine Dragons' upcoming 5th studio album. The album name has not been announced yet. However, we are sure the name will be out soon. Imagine Dragons started teasing the new releases a couple of days back. The artwork and song titles came out soon. And the titles were pretty shocking when compared to each other.
Follow You is considered the A-side, while Cutthroat is the B-side of the album. The themes of both songs are pretty different. Yet, they reflect the thoughts of a struggling man perfectly. For instance, Follow You holds an extraordinary place in Dan Reynolds's heart. As he confirmed, he wrote this song after a life-changing text he received from his wife, Aja Volkman. He was on his way to sign the divorce papers and Dan was separated from Aja for 7 months back then. However, that single text made him change his path and he ended up having lunch with her, instead of going to the lawyer.
@imaginedragonshave you ever gotten a text that changed your life? ##imaginedragons##followyou♬ Follow You Teaser – Imagine Dragons
Despite all the difficulties Aja and Dan faced, they loved each other tremendously. And They still do. Imagine Dragons' Follow You highlights love, loyalty, and the pain that comes with it.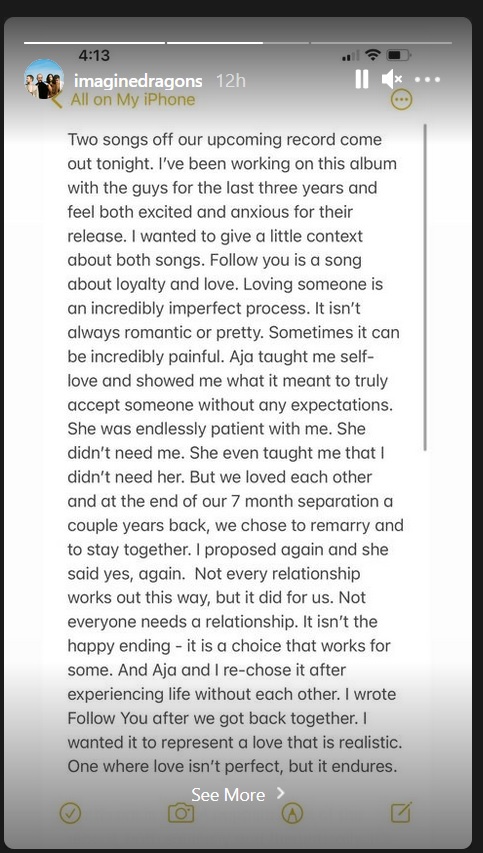 Imagine Dragons haunts with Cutthroat
Even though the second track release of the day from Imagine Dragons, titled Cutthroat, is one's fight with himself. However, many fans are wondering if they can get a horror movie version of it.In Dan Reynolds' words, "it's an exorcism of self-pity".
There is a majority of people who cannot stop questioning themselves or blaming themselves for every bad incident in their life. Self-loathing can lead to depression and anxiety. But at the end of the day, these thoughts are meaningless. And that's what the song Cutthroat is all about. The side of you that prevails at the end of the day, is the one who loves all sides of you, including all the problems and mistakes. Many can connect to the song Cutthroat.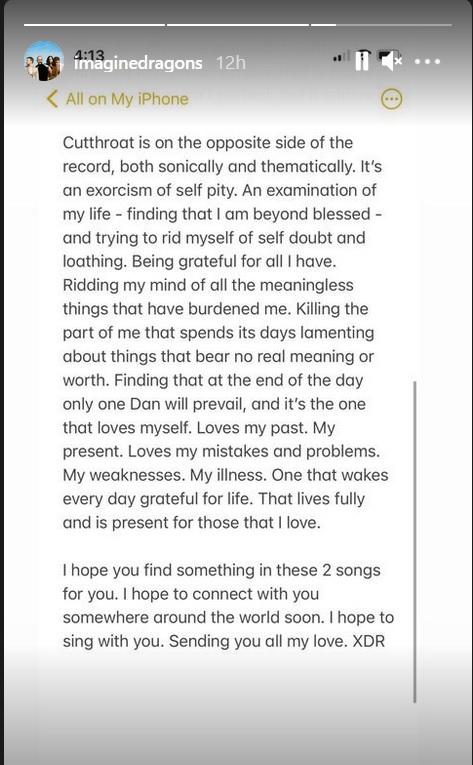 As for the notes, Imagine Dragons has finally tapped into their Hard Rock roots. It's the most experimental song the band has ever made. It's also a beautiful response to all the critics claiming Imagine Dragons is not a "rock band".
Imagine Dragons released their 4th studio album, Origins, on October 3, 2018. The fans have been waiting for the 5th album for more than two years now. June seems so far right now. But it seems like the wait will be totally worth it.
Which one of these tracks is your favorite? Let us know in the comments below.