The Vampire Diaries was full of men who had the potential to break our hearts and turn into putty for them. However, the Salvatore Brothers and their Vampire ways just hit us differently. Over 3 years after the hit CW show wrapped up, we find ourselves keeping tabs on the stars to this day. To say that all of them are working hard and doing well in their careers, would not be wrong. Ian Somerhalder; TVD's Damon Salvatore; has found himself enjoying the simpler things in life. He has not been so active on social media lately. However, in his recent Instagram story, he was asking fans to read a book. Ian Somerhalder is asking fans to read the new and coming "The Hype Machine". We get that his fans are only interested in reading specific kinds of books only *ahem* but here are a few details.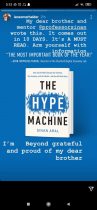 Ian Somerhalder wants you to read The Hype Machine – What is the book about?
Coming out on the 15th of September, the book is a work of MIT professor Sinan Aral. The man is one of the world's leading experts on Social Media. Ian Somerhalder, as a proud and happy friend, is promoting The Hype Machine with him. Here is a snippet of the synopsis of the book.
In mapping out strategies for being more thoughtful consumers of social media, The Hype Machine offers the definitive guide to understanding and harnessing for good the technology that has redefined our world overnight.
The 416-page book seems to be an insightful and wondrous experience. Ian Somerhalder appeals to the businessmen and policymakers of our nations specifically.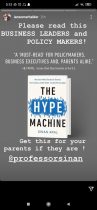 The book is not out yet but is the ultimate insight into the world today and how we are all functioning in the system. Preorder it now to get hands on the book as soon as it comes out.