We all know how grey the characters are in Game of Thrones. Each character has different shades of goodness and sinisterness, making them more relatable and as a result, more likable. However, this trend of morally grey characters did not begin with this show. In fact, it was another HBO original that made anti-heroes the norm in television, and that was The Sopranos. And if you have watched it, you know fairly well that we're talking about Tony Soprano in particular. Now, George RR Martin has also explained what really makes Tony so likable.
Related: The Sopranos Made James Gandolfini Mean, Reveals Show's Director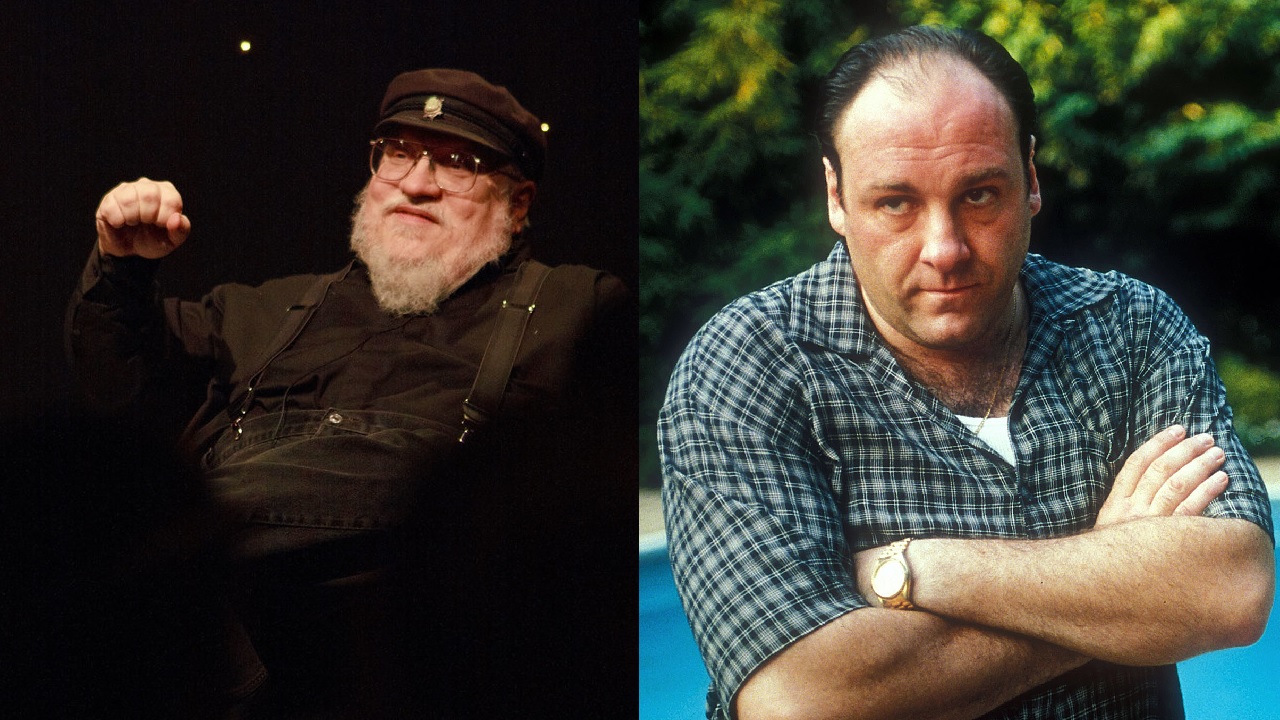 Back in 1999 when The Sopranos first aired, network television had a very specific set of rules by which they made characters. And they were mostly very decent characters that weren't morally ambiguous. However, that all changed with the introduction of Tony Soprano. In episode 4 called College, David Chase actually made Tony (played by James Gandolfini) kill a guy on-screen, which was unheard of back at the time for any main character of a show to do. But, The Sopranos changed all that trend, and now George RR Martin explains why such characters seem so appealing. In a public talk, he said:
Hopefully, it's the characters. I think that's why we go to fiction, and why we watch drama. We form these relationships with the characters. And one of the things that HBO has also proven I think is that the characters don't have to be likable, they just have to be interesting. People who are scumbags can engage our sympathy.
George RR Martin explains what made Tony Soprano so special
Martin also revealed that back then, focus groups would want the characters to be more likable and less controversial, to which he said "give me a break". But, that all changed when the world saw The Sopranos. About Tony, Martin said:
Tony Soprano is an immensely likable guy and he is also a thoroughly scumbag sociopath. In the first episode, you see him feeding the ducks and talking to the psychiatrist about his personal problems, and then he sees a guy who owes him some money and jumps out of a car and starts kicking him after he runs him over. Is this likable? The network would have never gone for that. They would have said 'oh the focus group didn't like it when he jumped out of the car and started kicking that guy, we have to make him more likable'.
How HBO made it possible for characters like Tony Soprano to become the norm
Furthermore, George RR Martin commended HBO for making these characters and making them likable because they were well-written and fascinating. And that helped Martin immensely with his book series A Song of Ice and Fire and the show Game of Thrones. Martin continued, juxtaposing Tony with other characters of the show:
But, HBO has proven that we will follow for years and years some pretty reprehensible characters as long as they're fascinating. And we will like them in some sense. I think that human beings have a great capacity for empathy. It was hard to not feel for Tony. I mean he was really bad at some points, but, you also sort of sympathized with him. Some of the people he was dealing with were a lot worse than he was and that made him more likable by contrast.
In the end, Martin concluded:
You see the people like Ritchie Aprile and Ralphie Cipheratto who were a lot worse than Tony. Tony had a core of decency that was right down there with his sociopathy.
And if you look closely, that is exactly what George RR Martin did with his original characters. Of course, by the end of Game of Thrones, the show had strayed away from such methods, which caused a lot of controversy and outrage. And that is why we hope Martin does justice to his characters in his upcoming books 'The Winds of Winter' and 'A Dream of Spring'.
Related: George R.R. Martin teases that Hodor has different ending in the Books