With the Coronavirus, everyone is advised to be at least six feet away from one another practicing social distancing. By now, many people are sick of staying away from friends and family but the virus does not seem to want to end. COVID-19 coronavirus (SARS-CoV2) has shot down the world. And while all social gatherings are canceled fans of celebrities cannot help but want to meet their favorite stars. Also to say that there is a lot of free time around to watch and catch up on series would be an understatement. So, it is understandable to find yourself loving actors like Daniel Gillies
So, it just so happens that when we're watching TV shows and series we find ourselves getting attached to certain characters and the people who play those characters. One of the most sought-after cast is the cast of The Vampire Diaries and its spin-off, The Originals. Be it Paul Wesley and Ian Somerhalder from The Vampire Diaries or Joseph Morgan for Daniel Gillies from The Originals,  the brother duos are just so swoon-worthy. The four of them play Damon Salvatore, Stephan Salvatore, Niklaus Mikaelson and Elijah Mikaelson.
So it is understandable when a fan says that she wants to hug one of them, that them just so happens to be, Daniel Gillies.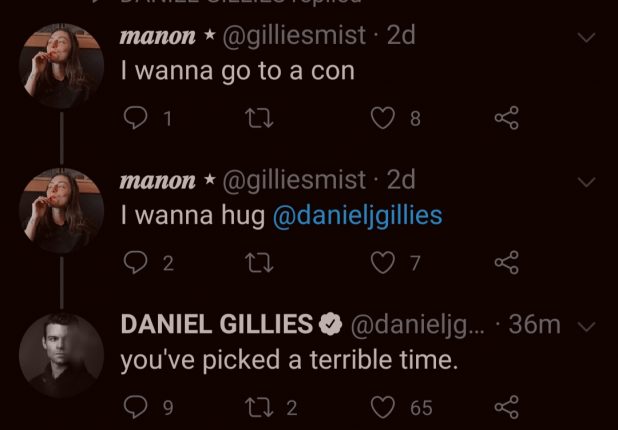 Daniel Gillies responds to his fan wanting a hug
Elijah Mikaelson, on the shows, is known as the noble brother. The Noble brother than does right by everyone. But, he cannot come to kill his Hybrid brother. Daniel Gillies is the perfect fit for the role we love every second of the way he talks.
Typically, you find the cast of the supernatural show on Comic-con. So, the fan, first tweets,
I wanna go to a con
Probably out of the boredom that has fallen upon us all being Quarantined in our homes. Then, she tweets again, saying;
I wanna hug @Danieljgillies
Don't we all? To this, Daniel responds saying;
you've picked a terrible time.

— DANIEL GILLIES (@danieljgillies) March 30, 2020
The fan does not respond beyond that but oh my imagine getting a reply like that. Seems like Daniel is all for social distancing. To be fair, so should everyone else. Let's stay at home and safe so we can be rid of the virus soon. Then we can all go hug our favorite stars and loved ones!