Beauty with brains, Nikita Dragun, is winning hearts once again with her two new products. Fans are loving the Dragun Fire Colour Correctors in the shade of Lavender and Orange. And a few of them are also complaining about the shipment restrictions to some areas. Which kind of explains that the products are a super hit.
Anyways, as we all know that fans totally ship Nikita with Oscar Utierre her best friend/custom dress designer/side chick. But, Nikita doesn't want to convert their friendship into something else. But it's not like she doesn't want to have some fun. Mama Dragun has recently been seen with a hottie on social media. And no, this hottie is not at all 'Tony Lopez'.
Who Is Nikita Dragun's New Mystery Man?
So Nikita just shared a few pictures on her social media in which she is getting really cozy with this man whose face can't be seen. Mainly because she doesn't want it to be seen. Or maybe, she just wants her fans to use their stalking skills and find the mystery man who is more like a mean machine.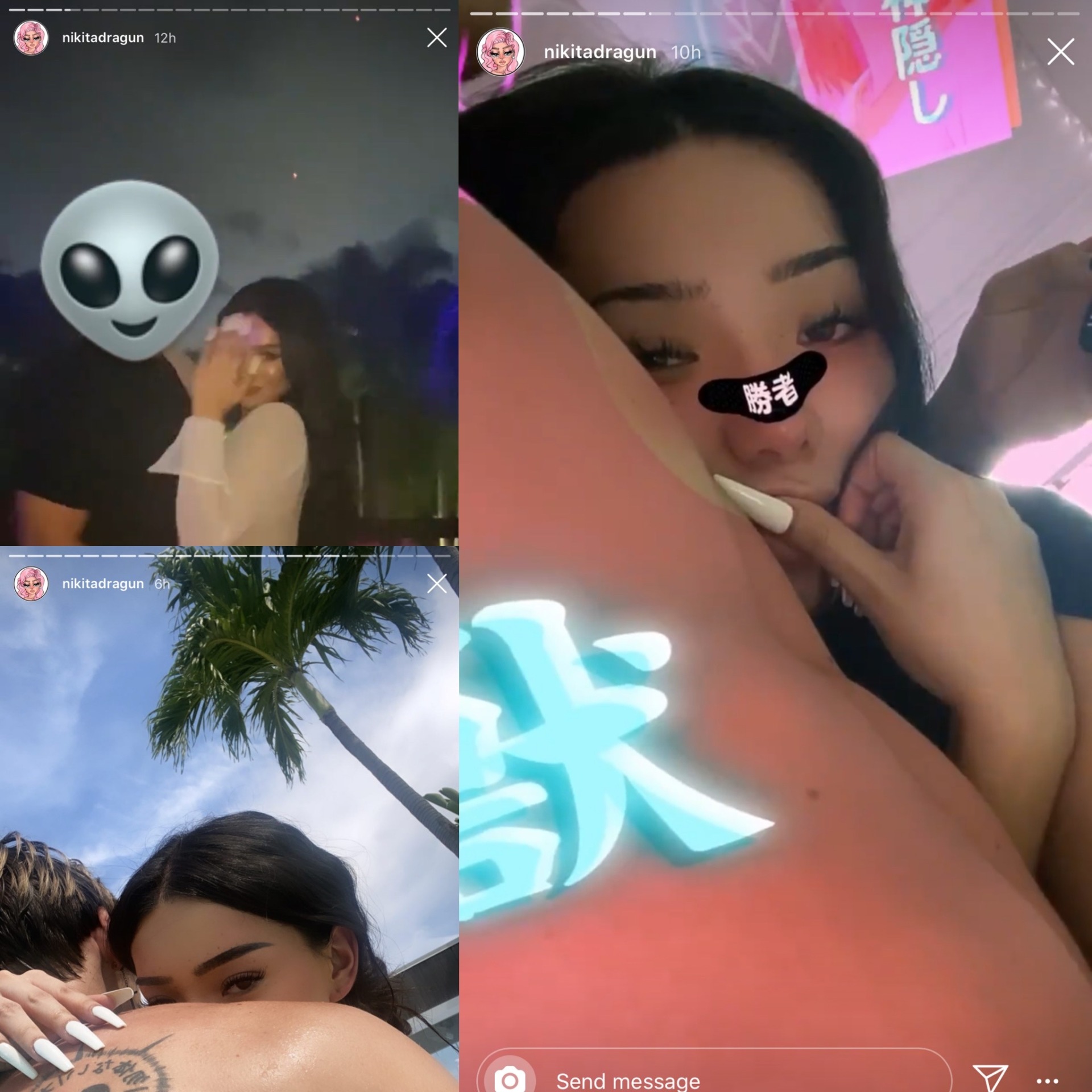 Omg! This tattoo is proof that the guy in Nikita's Insta Story and the one posing on the right side is pretty much the same. I want to get a tattoo on my lower back now. (hehehe)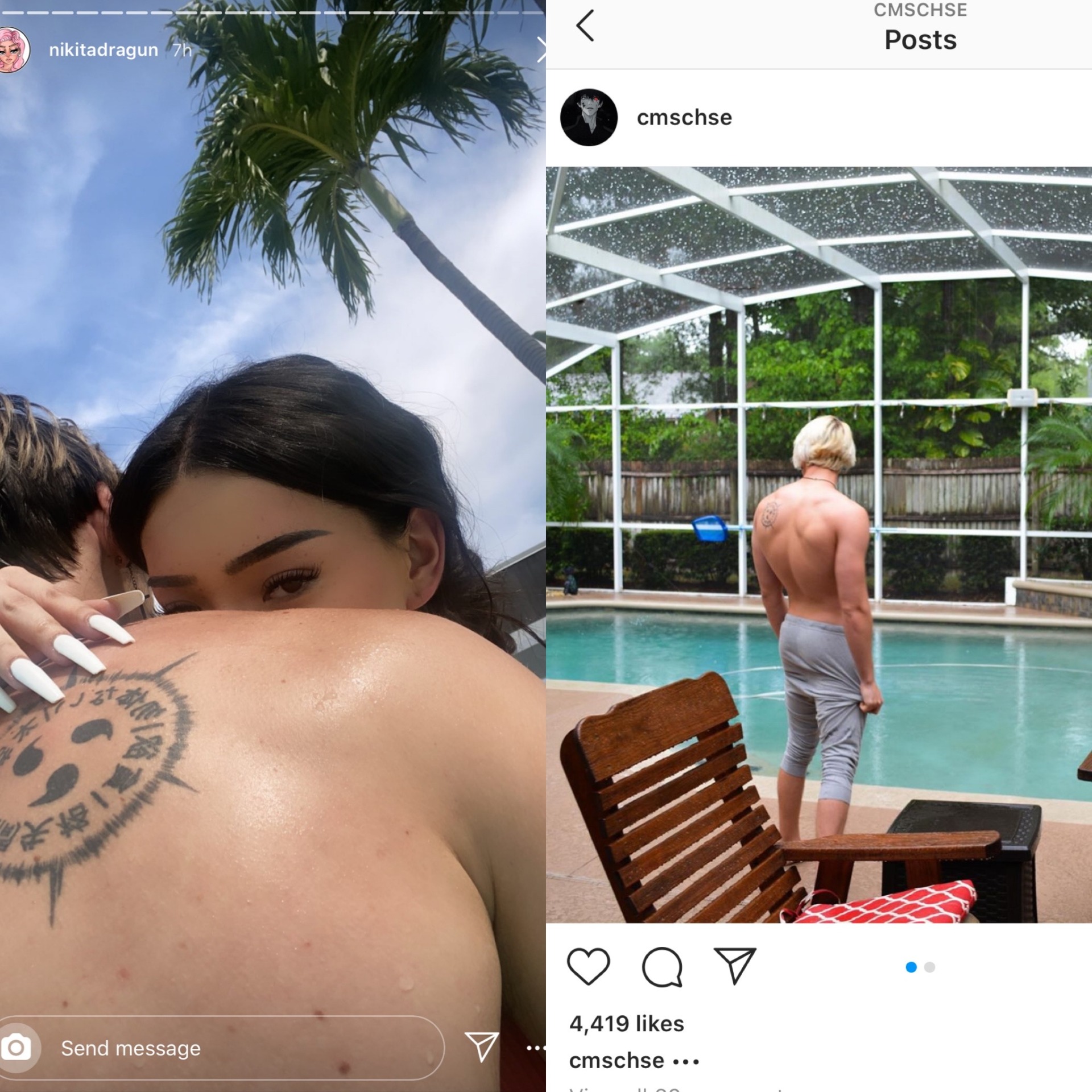 I am literally drooling. Somebody, please stop me.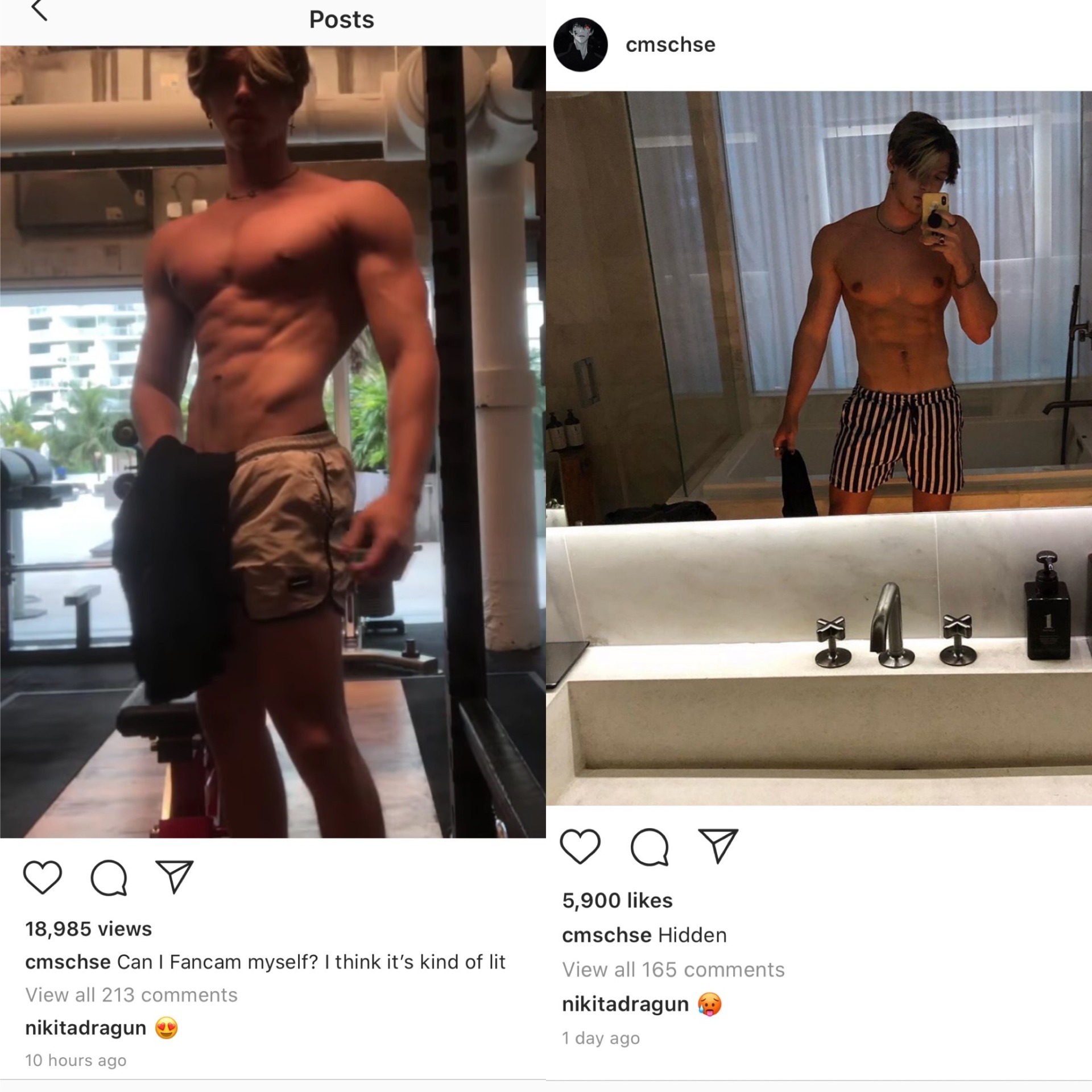 Long story short, Nikita's new man Chase Stobbe is a TikTok star with 410 videos and 3 million views. This is not it. He is a super hot gym freak who likes to eat healthy and stay fit.
Chase and Nikita even celebrated the 4th of July together in Miami. I mean the whole situation is so dreamy. Dancing under the stars, seeing fireworks, and later getting cozy in bed together, that's all a girl needs in her life.
Why Were Fans Shipping Nikita Dragun With Tony Lopez?
Well, the reason is very obvious. They look super cute together.  A couple of weeks ago Nikita posted a picture with Tony on her Instagram. And captioned it as:
"I just wanted to r*de the helicopter."
https://www.instagram.com/p/CBqvghmFKZ2/?igshid=2pidazzyfofv
Girl, stop. He only sees you as a good friend just like you see Oscar Utierre. However, both of them have posted very cozy pictures together. And made some weird comments. But anyway, you guys should stop shipping Nikita with her friends because she has finally got herself a new boo.
What Is Dragun Mama Up to These Days?
Nikita just posted a video on her Instagram in which you can clearly see the very best performance of her Assets on 'Girls in the Hood by Megan Thee Stallion'. This girl can literally give all the pro dancers a run for their money.
And this is just not it. She actually has a choreographer who is trying to bring the best dance moves out of her. Isn't it great? Maybe we will be seeing Nikita in some upcoming videos of some singers. Or maybe she will just come up with a song by herself and do all these crazy dance moves in it.
Apart from that, Nikita just launched a few new products on her website. And she is living her best life by spending time with her family and friends. This girl surely knows how to prioritize. So maybe all the people out there who spew venom on her social media, they should learn this from her. Spend time with your family and friends and mind your own business.
Stay tuned for more updates on Nikita's Love Life.