Roberto Aguirre-Sacasa is the man behind both highly grossing teen mysteries. 'Riverdale' and 'The Chilling Adventures of Sabrina.' Fans have anticipated a crossover episode for both shows. The only question was how and when the Archie comic-based series would intersect. The Chilling Adventures of Sabrina was initially planned for The CW. In addition, the creators had promised a proper crossover on the network. Later, however, the series shifted to Netflix for its original airing, bringing the crossover plans to a halt. But now the wait is finally over! Although Sacasa had not planned a complete overlap of both his presentations. He instead introduced a demised figure from Riverdale in his new Sabrina run.
Riverdale Meets Greendale
Besides locations or background, there is nothing similar between these two shows. The CW's 'Riverdale' is set in the town of Riverdale, while 'The Chilling Adventures of Sabrina' dwells in its neighboring town of Greendale. Respecting the geographical limitations, it was challenging to introduce a comprehensive crossover. But Robert is an extra-sharp of creativity. Instead of merging two entirely different plots, he raised one from his previous series into the Greendale settings. Albeit in a cameo role.
Ben Button Enters The Chilling Adventures Of Sabrina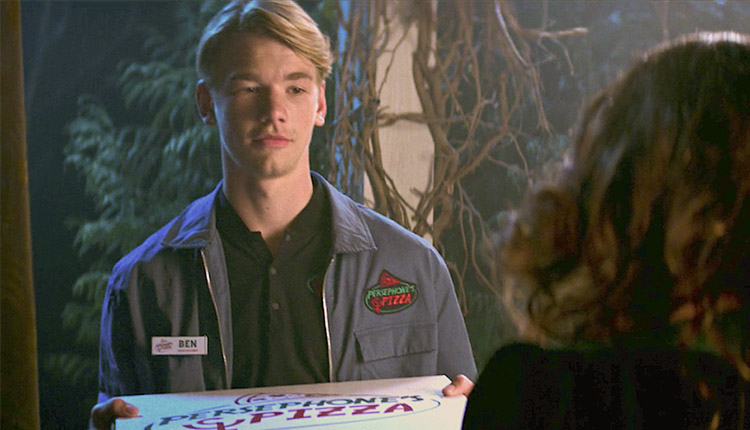 Any guesses about who this character is? YES, it's none other than Ben Button! Ben (Moses Thiessen) was the boy who threw himself out the hospital window in the second episode of Riverdale's season 3.This young player of Gryphons and Gargoyles, had initially survived a lethal challenge that had eventually come out of the inauspicious game. However, he ultimately threw himself out of his hospital window and died. Only to "rise up" to the Gargoyle King.
Who Was Ben Button
Ben was a signature face of Riverdale. He had appeared on all three seasons of The CW series. In the first season, he was an employee of Twilight Drive-In. In season 2, he became Miss Grundy's piano student in Greendale. And finally, in season three, he was seen playing the Gryphons and Gargoyles before eventually committing suicide by throwing himself out of the hospital window.
But Isn't Ben Dead?
Viewers would have welcomed this entry if they had found Ben alive on his maiden show. However, they became confused with their queries instead. Ben had killed himself in Riverdale, so how did the makers demonstrate his entry into Greendale? Roberto Aguirre-Sacasa –The executive producer on both shows, has not clearly explained this reincarnation.
What Does Roberto Aguirre Sacasa Have To Say
While talking to 'The Entertainment', he stated,
"That's a good question, and that depends. It suggests a very deep, deep mythology where time and space bend. I love that kid. I'm sad that he keeps turning up and horrible things keep happening to him."
Fans are anxiously waiting for episode seven of 'The Chilling Adventures of Sabrina' to watch the lackluster Ben Button again. He will enter the show as a Pizza delivery boy to deliver a Thanksgiving pizza to Miss Wardwell.
The executive creator further ambiguously explained this cameo entry,
"It seemed like it was pretty final, but yet there he is in Greendale. But in Greendale, everyone pops up. The dead don't stay dead long in Greendale."
Especially if they're human beings.
Possible Explanation For A Human Appearance
In Riverdale season 3, Ben died shortly after Labor Day, which was in September. And Thanksgiving arrives three months after Labor Day. The Chilling Adventures of Sabrina is explicitly said to take place in "This Year,." So the only possibility that would allow Ben to deliver a pizza on Thanksgiving and die around Labor Day is if Season 3 of Riverdale takes place the year after Season 1 of Sabrina, in 2019. But we do not think that this will be the case. Instead, we can expect a much more extra-terrestrially oriented explanation.