On Monday, Halsey released a new music video for her song 'Without Me'. The video documents the toxicity of a couple's relationship. The intensely emotional video depicts Halsey in distress after the guy "takes advantage of her" even though she's the one who "put him back on his feet".
The song 'Without Me' was released at the start of October. Fans have been desperately waiting for a visual to accompany it. Now that it's here, it seems like the guy in Halsey's new video is G-Eazy's doppelganger! This just adds fuel to the claims fans have been making about the song being about G-Eazy and his relationship with Halsey.
'Without Me' Video
The video starts off with Halsey sitting on the floor in a bathroom. She is trying to comfort her man, who has his head in the toilet. The visual then flashes back to the couple out at a bar together, drinking and dancing. Later, we see them arguing after her man stumbles out of the bar. It's apparent that the guy in the story is an alcoholic and the relationship he has with her is abusive. We also understand their relationship by the song's lyrics in the background. Halsey sings about giving more to him than she got back.
As the video continues, we are shown more of the highs and lows in the couple's relationship. It ends with the male partner in handcuffs and Halsey walking away from it all, leaving him behind.
Unmistakable Similarity to G-Eazy
The video is already pretty emotional. But it's made stranger by the fact that the male lead looks freakishly like Halsey's very recent ex, G-Eazy. Here are a few screenshots for reference.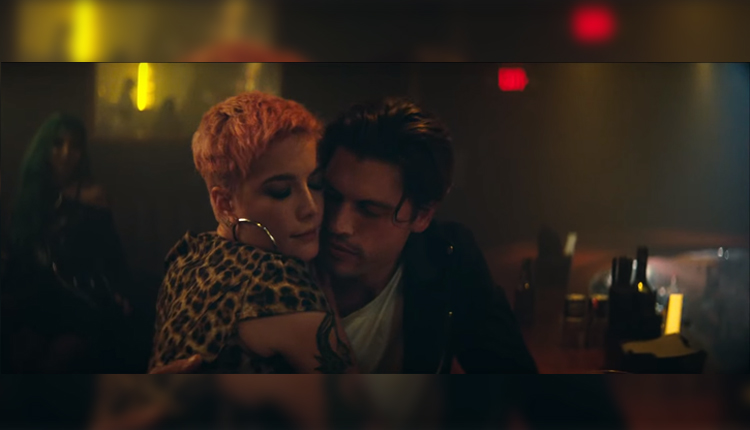 It can't be denied that the black slicked-back hair, the edgy style complete with leather jackets, and even the guy's height is a lot like what G-Eazy looks like in real life. Nevertheless, these are just musings and it may very well have been a huge coincidence (yeah, right!).
Halsey & G-Eazy
Reports say Halsey and G-Eazy split up again after rekindling their romance this summer. According to what a source told E! News: "G-Eazy and Halsey were doing well until a couple of days ago when G-Eazy performed at the Karma International party in Los Angeles on Saturday and was flirting with several girls in public," the source said. "G-Eazy was telling everyone that he was single and that he and Halsey are always 'on-and-off' but they are currently split."
As soon as the song 'Without Me' came out, fans immediately assumed it was about G-Eazy and the time the couple had spent apart this past summer. Even though the track came out after Halsey and G-Eazy had gotten back together, they have since broken up (again). This makes the whole G-Eazy look-alike situation seem a bit too convenient to be a coincidence.
Sequel to 'Him & I'?
Apart from all that, the video's theme makes it seem a lot like it is a sequel to Halsey's music video with G-Eazy for the song, 'Him & I'. The song, 'Him & I' was a beautiful, modern-day depiction of their love story. The stars perfectly portrayed what an ideal present-day relationship would look like. Not only that, but the song and video made fans ship the couple hardcore. Everyone loved the power duo!
Subsequently, after their split, fans were quick to associate Halsey's song 'Without Me' with their relationship. It may not be based on Halsey's real-life relationship with G-Eazy, but there definitely seems to be a correlation. And it seems to be a continuation of the story we saw in 'Him & I'. The scenes of them stumbling on the streets seem a lot similar to Halsey and G-Eazy walking around in the streets of New York City crazy in love in 'Him & I'. Moreover, the 'Without Me' scene of the G-Eazy look-alike sitting at a bar drinking himself away has a sharp similarity to the 'Him & I' scene where Halsey and G-Eazy sit together at a bar confessing their love to each other in the lyrics.
Halsey's Outlook on the 'Without Me' Video
Despite that, the song isn't all just about G-Eazy! After releasing the video, Halsey told fans about the story of the music video. She said it stemmed from various different relationships she has had in her life. She also gave some kind words of advice to her followers, telling them that they deserve more than they think.