Fans are going crazy over reunion of Bradisson. Yes, Bradisson is back but they are still telling people they are a couple of besties. Bryce Hall and Addison Rae broke up a few weeks back. They took a break from their relationship and stayed away from each other. At least in front of the cameras. On her birthday, Bryce Hall sent her flowers and that rekindled their friendship apparently. Just this weekend, Bryce and Addison were spotted at a dinner together. And now we already have a vlog by Addison, featuring Bryce Hall. That's not all, there is also a tiktok collaboration between the two. And fans noted Bryce staring at a particular spot.
Bryce Hall caught staring at Addison Rae's booty
Addison Rae is an athletic person. She has been doing her routine workouts with Kourtney Kardashian as well as Hailey Bieber. Addison stays in shape, and her healthy routine is hot. The fans love her, no doubt on that. However, turns out Bryce Hall is pretty much in awe of her as well.
Addison Rae posted a dance collab tiktok with Bryce Hall for the trending song, New Thang remix by Redfoo. The lyrics go like:
shake your body baby girl

make it go side to side

earthquake, earthquake

wow, you blow my mind
Wow, Bradisson literally blew our minds. In the tiktok, Addison Rae is at the front while Bryce Hall is standing at the back. While Addison Rae made her body go side to side, we could all see Bryce staring at her booty.
Addison Rae used the tiktok to tease her fans and make them go & checkout her YouTube video. The video only features a few moments of Addison and Bryce working out together.
Fans react
The fans loved to see them back again, and they want social media to stay out of Bryce Hall and Addison Rae's personal life this time. They also pointed out that Bryce Hall was staring right at "it" without any hesitation.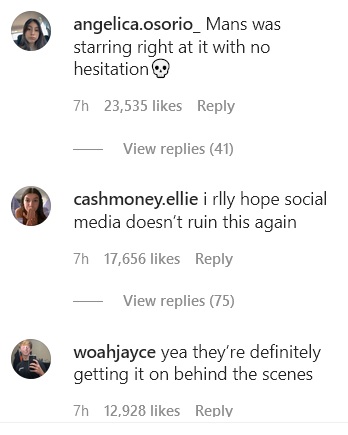 As per the famous tiktokroom on Instagram, this tiktok was posted and deleted by Addison Rae. However, it is still there on her profile.
We are glad to see them together. Hopefully, they will stick around each other longer this time. As couple of besties, for now.