Natalie Portman is one of the most recognizable faces of Hollywood. And that is in part because of her amazing performances in some of the most iconic films in Hollywood. So, it's not hyperbole when we say that she is one of the finest actresses of her generation. Moreover, her recasting in the MCU has brought her back into the limelight. So, we decided to make a list of her top ten best performances in movies! And believe me, after compiling this list does one realize how versatile an actress Natalie Portman really is.
Top 10 best performances in movies by Natalie Portman
Just to be clear, this isn't a list of Natalie Portman's most popular films. Instead, we're rating her performances, which definitely includes some movies that many among our readers might not have heard of. So, in case you haven't watched any of these movies, make sure that you do!
10. Celeste, Vox Lux (2018)
Vox Lux truly encapsulates how versatile Natalie Portman is as an actor. She portrayed a pop superstar Celeste, who is confident, cool, in control of herself, but unapproachable. Due to her stature, she is quite out of touch with normal people. However, in private, Celeste is insecure, a drug-addicted wreck. And Portman plays these two personas quite brilliantly in this movie. This role is in stark contrast to her performance in Black Swan, in which her character Nina is timid, unsure, and lacks confidence. That shows the versatility of Natalie Portman and the director Brady Corbet truly got an amazing performance out of her.
9. Anne, The Other Boleyn Girl (2000)
In Justin Chadwick's The Other Boleyn Girl, Natalie Portman played one of her first real-life historical figures in a movie. Starring alongside Scarlett Johannson, Portman pretty much owned the show playing Anne Boleyn. She had to portray a character that had to compete with her sister for arguably the most wanted suiter in England, King Henry VIII (Eric Bana). As the two sisters compete with each other, they have to take into account the changing political landscape in Europe and their own family's ambition.
8. Ann August, Anywhere but Here (1999)
This movie is a big-screen adaptation of Mona Simpson's acclaimed novel of the same name. In it, Natalie Portman and Oscar-winner Susan Sarandon play one of the best on-screen mother-daughter relationships that Hollywood has seen in years.
In Wayne Wang's Anywhere But Here, Adele (Sarandon) ditches her family and her husband to start a fresh new chapter of her life in Beverly Hills. Moreover, she takes her daughter Ann (Portman) with her, hoping to turn her into a child star in Hollywood. Even though the two are at odds throughout the trip, their bond strengthens as time and the movie progresses.
7. Evey Hammond, V for Vendetta (2005)
This movie requires little introduction. James McTeigue's V for Vendetta gave life to a revolutionary in all of us when we saw it in theatres. The dialogues of the protagonist V are just breathtaking and so is the plot. But, Natalie Portman's performance as Evey is also unforgettable. She perfectly demonstrated Evey's journey from being orphaned in a future dystopian England. She tries to become a prostitute to earn money but ends up being saved by V. V then uses her to mount a plot to overthrow the dictatorship, which also sees Evey's journey from trying to make ends meet to becoming a true revolutionary who falls in love with V, both the man and the idea.
6. Lena, Annihilation (2018)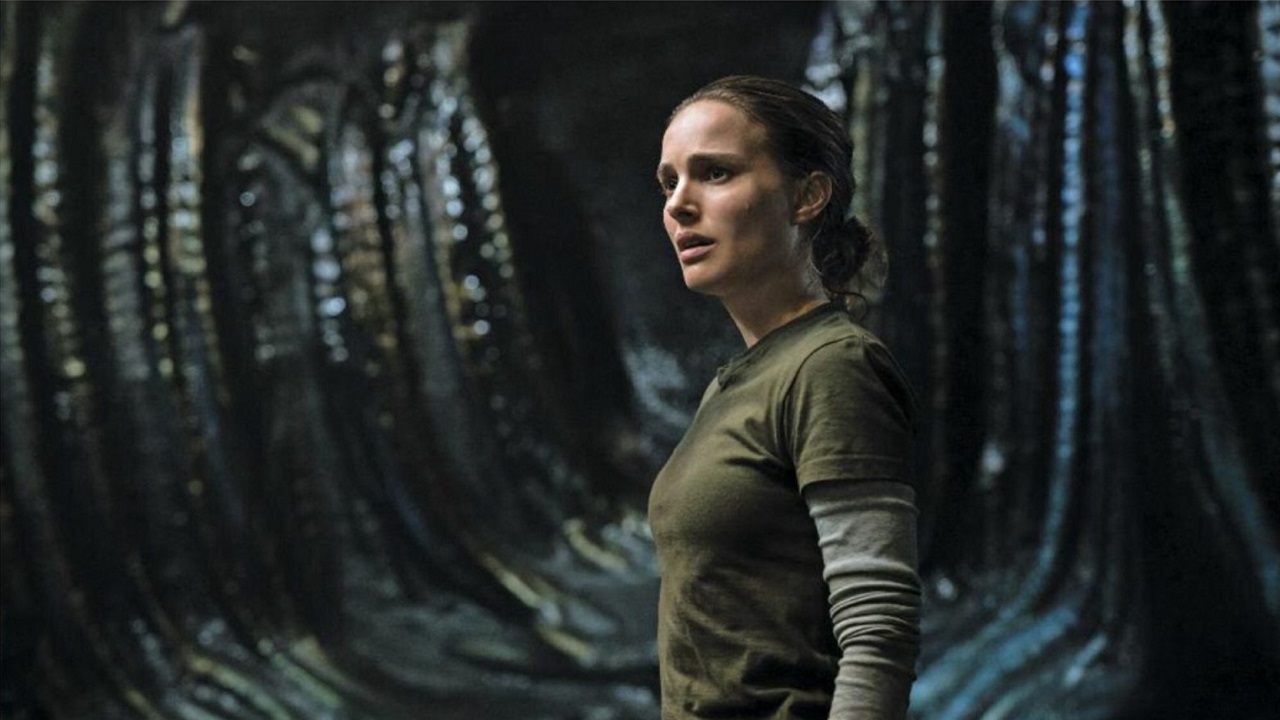 Natalie Portman hasn't starred in many sci-fi horror films. But, when she has, she gave some iconic performances, as she did in Annihilation. In Alex Garland's trippy and insane sci-fi horror movie, Portman portrays Lena, who is a biologist trying to find her husband Kane (Oscar Isaac) by risking her life and going into an ecological disaster area. Lena is accompanied by a team of female scientists, who have to journey through a gravity-defying environment where the laws of physics go haywire. In the end, Lena has to make a difficult decision to reunite with her husband once again.
5. Sam, Garden State (2004)
There's no denying that apart from being a great actor, Natalie Portman is extremely beautiful as well. But, if you watch Garden State, you will truly end up giving your heart to her. In this acclaimed rom-com by Zach Braff, struggling L.A. actor Andrew (Braff) returns home to bury his dead mother. However, on his way to the hospital, he meets a very cute and adorable epileptic patient Sam (Portman). As the two meet and hang out with each other, they realize how they both complete each other's already hurting souls.
4. Alice, Closer (2004)
This is the role that earned Natalie Portman her first Oscar nomination and her only nomination as Best Supporting Actress. In Mike Nichols' Closer, there's a lot of infidelities involved between two handsome couples. In between them, Alice (Portman) gets the chance to show her sexy side as a waiter-turned-stripper. Other than Natalie Portman and her incredible performance, this movie also stars Jude Law, Julia Roberts, and Clive Owen in leading roles.
3. Jackie Kennedy, Jackie (2016)
There are few performances by Natalie Portman that can top the one she made as Jacqueline Kennedy in Jackie. Arguably, playing the role of the grieving first lady after her husband, President John F. Kennedy passed away was a role made for Portman. Despite critical acclaim, her performance in this movie is criminally overlooked.
Pablo Larrain's Jackie focuses on the life of the former first lady after the shocking and tragic assassination of her husband, which isn't as discussed in the public as the shooting in Dallas. It very aptly explores the emotions and mental state that Jackie Kennedy went through after this traumatic incident. And no actor could have played this role better than Natalie Portman herself. The best performances that Portman has given throughout her career have been those where her characters have to maintain a cold facade while dealing with a flurry of emotions and pain deep inside. Instead of deifying Jackie, Portman's performance makes the audience truly empathize with people suffering from immense grief. That alone is proof enough that she did incredibly well in this role. That and the fact that this role also got her an Oscar nomination as Best Leading Actress.
2. Mathilda, Leon: The Professional (1994)
This is the movie that introduced the world to Natalie Portman. Her debut on-screen performance as a 12-year-old child star is one of her best. That's how good she was from a very young age. But, her first movie can also be categorized as her most controversial one.
Leon: The Professional revolves around a hitman Leon (Jean Leno). 12-year-old Mathilda sees her family get slaughtered by a drug dealer, which is why she seeks shelter in Leon's apartment. As time passes, Leon teaches Mathilda the tricks and trade of surviving in this world, gradually falling in love with her along the way. That is of course controversial, as the movie hints at romanticizing pedophilia. In today's world, many cringe over those scenes, as many predators are outed every day who sexually abuse young girls. However, putting that controversy aside, Portman truly shined in this movie with her acting. As Mathilda Lando, Portman expressed emotions and maturity that many older actors fail to deliver. This role truly set Portman's career towards a trajectory that would only take her to more success.
1. Nina Sayers, Black Swan (2010)
This is one ranking that every fan of Natalie Portman cannot dispute. Only edge lords would put any other of her performances above the one she gave in Black Swan. This is the ultimate Natalie Portman character, where she creates a cold and stoic facade, while internally suffering through immense grief and pain; the pain of achieving perfection which an artist always strives for.
In Darren Aronofsky's Black Swan, Portman plays Nina Sayers, who is a highly stressed and overly uptight ballet dancer that is given a leading role of Swan Queen in her theatre's production Black Swan. However, due to her strive for perfection, Nina slowly becomes the Black Swan herself, with the character overpowering her actual personality, just like title ballet. This film well and truly earned Natalie Portman her first Oscar as Best Leading Actress.
So, this is our list of the top ten best performances by Natalie Portman in movies. But, her career is far from over, as she is about to make a comeback in the MCU with Thor: Love and Thunder. Do you think that Thor 4 will be able to break through our list of her best performances? Let us know in the comments below.