When we think of comedy, Breaking Bad isn't the first show that pops into everyone's minds. After all, it was a pretty gruesome show for the most part. But, that's not how Aaron Paul remembers the show. For him, his most favorite scene was actually one of the funniest on the show!
What is Aaron Paul's favorite scene from Breaking Bad?
The hilarious scene which Paul loves from Breaking Bad is one we're all familiar with. It was when Walter White (Bryan Cranston) invited Jesse Pinkman over for a family dinner with his wife, Skyler White (Anna Gunn).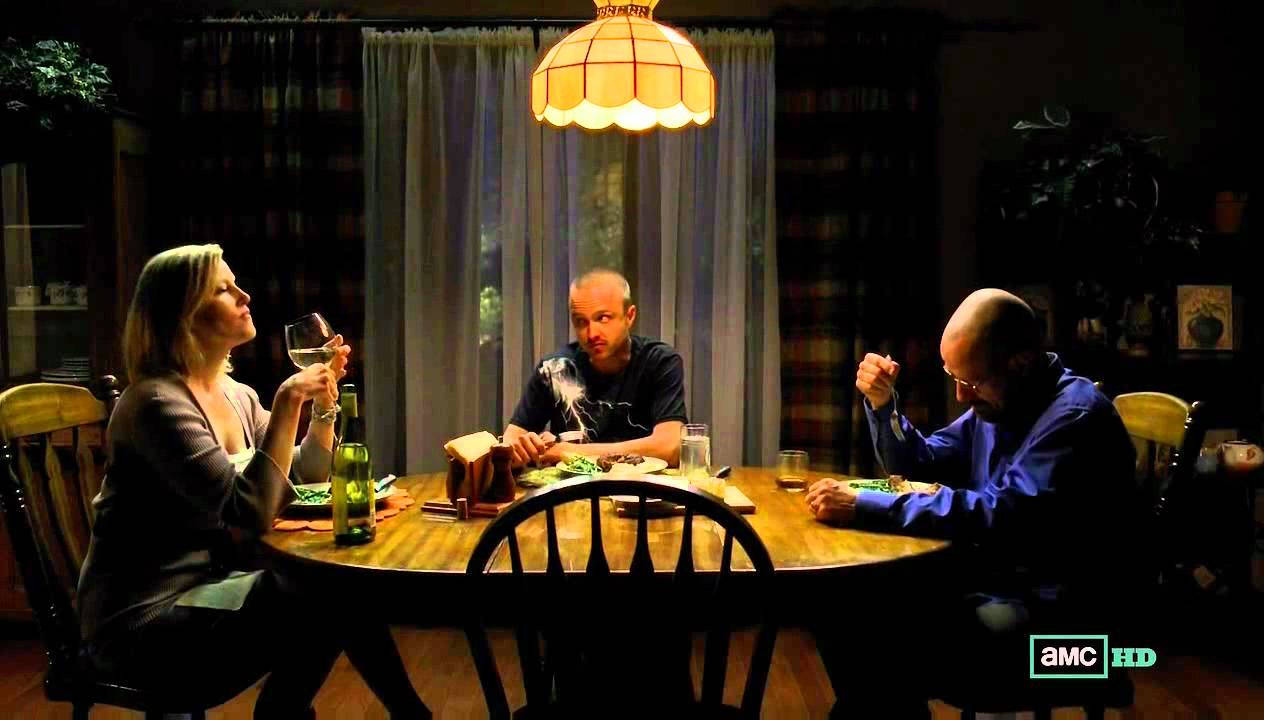 This scene is just so awkward and hilarious because Walter never invited Jesse just for a hot meal. He only did so to get back at his wife Skyler. He knows full well the evening will be super awkward considering Skyler knows of Walter and Jesse's little "business" ventures. And that's what Aaron Paul loves about this scene. It is these cringe-inducing moments at the dinner that Paul just loves.
While talking to Entertainment Weekly, Aaron Paul talked about how much he loved that scene. The tension in the room, the absurdity of the idea, and Walt's scheme of getting back at Skyler. It was a pressure cooker waiting to explode! Paul said:
"I think that really stands out — just Jesse holding onto his glass of water as if it's his security blanket. He's kind of hiding behind his glass of water watching this marriage sort of just fall apart in front of his eyes. When Skyler says, 'Did he also tell you about my affair?'— I've seen that scene so many times and I laugh each time, just at the absurdity of it all."
This scene just shows the kind of person Walter White was. He could go to great lengths to manipulate anyone, be it his wife or his protégé. And that was his ultimate undoing.
Vince Gilligan loved that scene too
Other than Aaron Paul, Vince Gilligan loves this scene too. While talking to Vulture, the creator of Breaking Bad talked about how much he loved this scene. And especially so because it just shows how vile of a person was Walter White. Gilligan said:
"We wanted worlds to collide, characters who didn't really belong together being forced to spend time with each other by the monstrous behavior of Walter White. You could see the gears turning in Walt's head, couldn't you? When he says, 'Hey, why don't we have dinner together?', he clearly just wants to torture the two people who in his mind have betrayed him. It's nasty, nasty stuff. Totally childish."
This scene is also a testament to the brilliance of Aaron Paul, Bryan Cranston, and Anna Gunn as actors. But, would we get to see more of them in Season 6 of Better Call Saul? We hope that they make an appearance. It will truly be an amazing Easter Egg for the fans!