Many people often debate about which platform they prefer. The meteoric rise of TikTok has sometimes pitted it against YouTube. But, the content creators on both these platforms decided to decide it once and for all in a series of boxing matches. The YouTubers Vs TikTokers boxing matches got a lot of hype over the weeks, and now we finally have the results. Check them out!
Related: Noah Beck thought Bryce Hall would win against Austin McBroom in YouTubers Vs. TikTokers event
Results of YouTubers vs TikTokers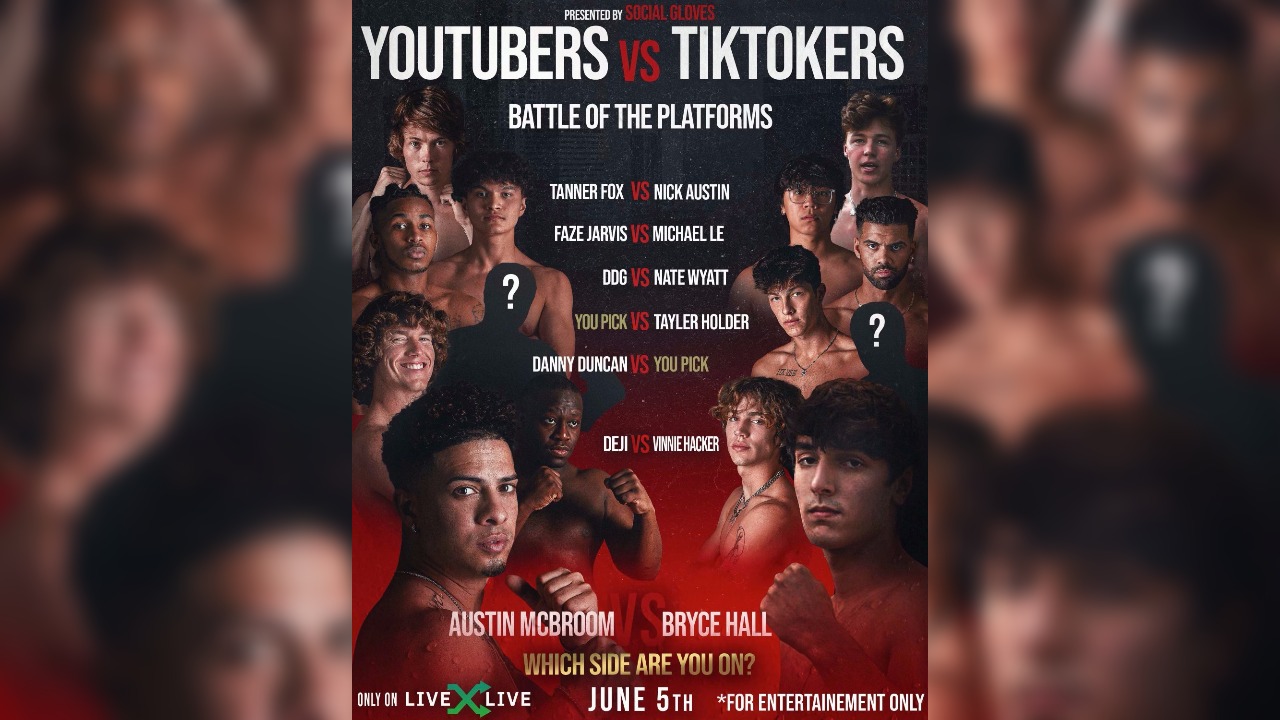 In case you want to watch the entirtiy of the fights by yourself, you can do it with PPV on Social Live for $49.99. But, if you're lazy and would just want to know the results, we've got you covered. Moreover, the fights also attracted a lot of social media hype and trash talk.
1. Austin McBroom vs Bryce Hall: McBroom wins!
The main event of the entire night in YouTubers vs TikTokers went to McBroom, by KO right at the end of the third round.
2. AnEsonGib vs. Taylor Holder: Ends in a Draw
Many fans believed that Gib was robbed as he convincingly defeated Holder. However, the judges were not as convinced and they gave the scores 49-46, 49-46, and 50-46. So, in the end, this fight belonged to neither YouTube nor TikTok.
3. Deji vs Vinnie Hacker: Hacker wins!
This battle belonged to Hacker, who knocked out Deji in the third round and put TikTok back to 1-1 against YouTube.
4. DDG vs Nate Wyatt: DDG won by unanimous decision!
It was quite a tough fight between DDG and Wyatt, going to the distance. But, in the end, DDG came out on top convincingly enough for the judges to rule it in his favor. And so, another fight went into YouTube's column in YouTubers vs TikTokers.
5. Faze Jarvis vs Michael Le: Jarvis wins by KO!
With a third round knock out, Jarvis defeated Michael Le, and put another win in YouTube's column.
6 Tanner Fox vs Ryland Storms — cancelled due to 18 pound weight difference
7. Landon McBroom vs Ben Azelart: McBroom wins through third round stoppage
8. Ryan Johnston vs Cale Saurage: Johnston wins via fifth round TKO
Lastly, Ryan Johnston defeated Saurage with a fifth round technical knockout, putting YouTube firmly in command of the night.
In the end, YouTubers vs TikTokers ended with a YouTube win, taking five out of the seven matches played at the end of the night. In case you can't read through the entire piece, here's a summary of all the results.
Summary:
Ryan Johnston (YouTube) def. Cale Saurage (TikTok)
Landon McBroom (YouTube) def. Ben Azelart (TikTok)
Faze Jarvis (YouTube) def. Michael Le (TikTok)
Vinnie Hacker (TikTok) def. Deji (YouTube)
AnEsonGib (YouTube) vs.Taylor Holder (TikTok) – Majority draw
Austin McBroom (YouTube) def. Bryce Hall (TikTok)
Related: YouTubers Vs. TikTokers Event may not happen after TikTok owner files cease and desist letter