Travis Scott's Astroworld officially releases on Friday. But he has already given out the cover art for his elusive third album.
The image is designed by David LaChapelle, the famous artist/photographer/videographer popular for his work with Whitney Houston, Elton John, and Mariah Carey. The artwork is a colorful display of two children enjoying Travis Scott's Astroworld carnival. The entry for the amusement park is a golden Travis Scott head. It has a high resemblance to the replica that was placed on the roof of Amoeba Records this weekend in LA.
Related: Travis Scott Heading To Fortnite To Release New Song
Regarding the golden head of Travis Scott, an Amoeba employee revealed that since the album was supposed to come out this year, it was used as an awareness campaign by Scott's label. The employee further added that they did not know much about it. But there is online information available, either. It is primarily a fun promo type of stunt.
Travis Scott gave out the release date of the album Astroworld on Twitter. Along with it, he even shared a two-minute-long trailer.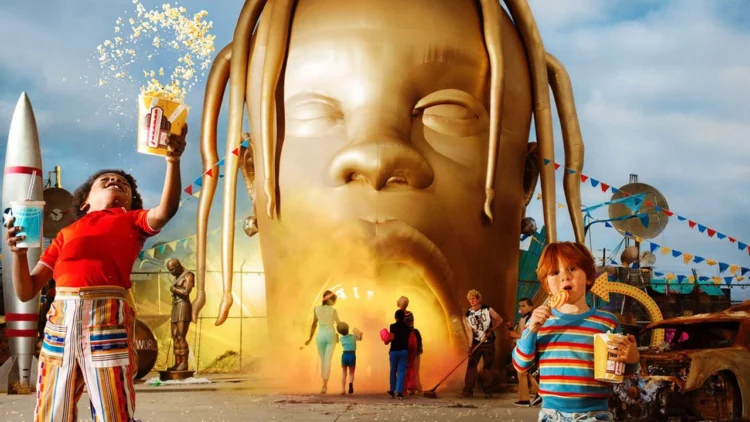 Later, the rapper even gave out a second cover on Twitter.
Mike Dean- the executive producer for this upcoming album, has shared his thoughts. During an Instagram live session, he exclaimed that people would be excited when they heard it. Sonny Digital, WondaGurl, Wheezy, NAV, Amir "Cash" Esmailian, Frank Dukes, Gunna, Don Toliver, Sheck Wes, and Allen Ritter have all come together to help Travis Scott add the final touches to his album.
Fans are excited for Travis Scott's Astroworld to come out.
Travis Scott's third studio album, Astroworld, will release in 2018 and was named after the now-defunct amusement park in Houston, Texas, which was a beloved landmark for Scott during his childhood. The album features a mix of hip-hop, trap, and psychedelic sound. The soundtrack includes 'Stargazing', 'Sicko Mode,' and 'R.I.P. Screw'.
In addition to its musical variety, the album's artwork and merchandise is highly praised for their creative and visually striking designs.
It was supposed to come out at midnight on 3rd August. Twitter has been bombarded with fans waiting for it to drop.
Let's hope the rapper doesn't disappoint the millions of people waiting for Astroworld to drop.