Everyone knows how crazy Fantasy Football can get in our offices, homes, and with our friends. And NBC's famous sitcom 'The Office' was no different. In fact, a lot of the cast and crew members were involved in fantasy football. And at one point, the craze got so bad that it wreaked havoc on the show!
As it turns out, not only actors but writers were involved in fantasy football on 'The Office'. And all of them were really competitive as well. So much so that it interrupted the very shooting of scenes too. And the fact that the cast had working computers with internet access on the set of Dunder Mifflin did not help at all.
How 'The Office' cast and crew would jeopardize shooting for fantasy football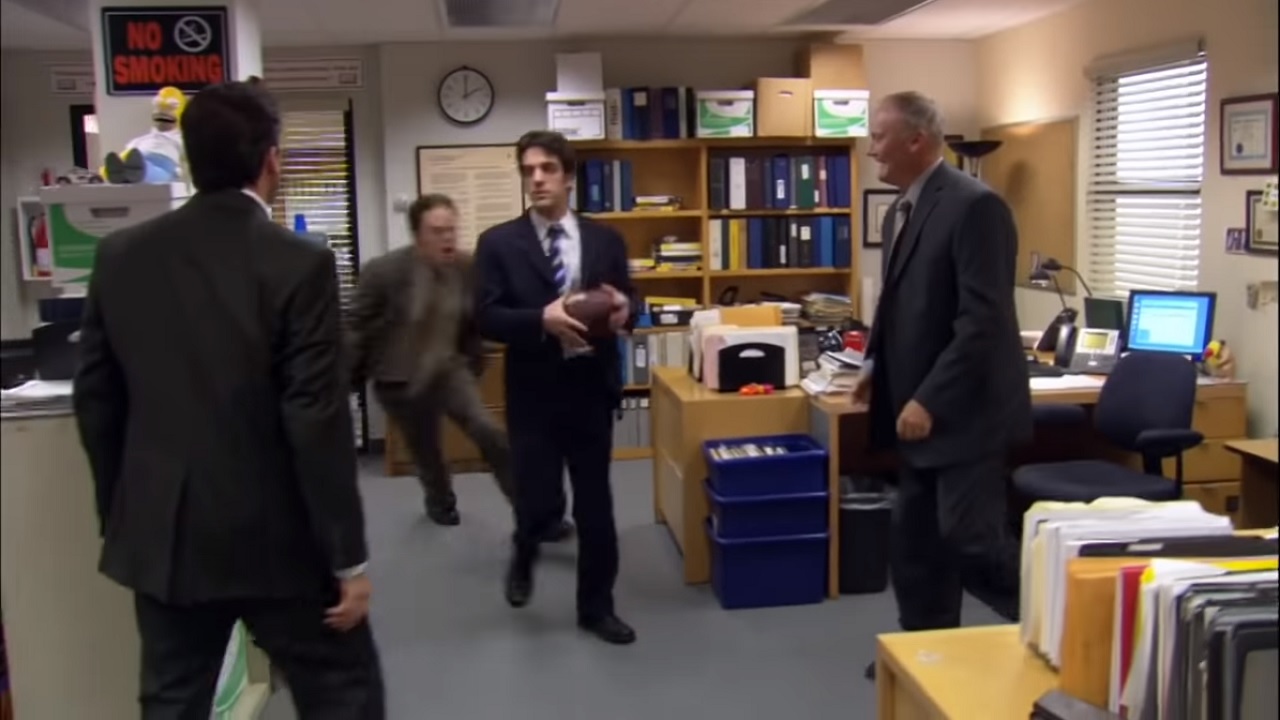 While they were shooting a scene on 'The Office', actors in the backgrounds with their computers would often check the NFL news. Even if they had to risk a scolding! And that was especially risky if the camera was facing them as they worked on beating the others in fantasy football. Actor Stephen Saux, who was a stand-in on 'The Office' for 8 years told Yahoo Sports, detailing how they would all play fantasy football:
"So many times during football season the directors would say, 'Guys, you've got to turn your screens off.' They would get a little upset about fantasy football sometimes. They'd be like, 'We're trying to make a TV show here.' "
And it was pretty hard for the directors and producers of 'The Office' to make sure the cast didn't create a lot of chaos on set for their fantasy football league. After all, some major cast members like John Krasinski were a part of it too. Everyone would pick their team names for their own funny reasons, and also how they used to draft. They would circulate notes in the actual office of the show, giving them some time to pick. Remember, this was the old days without smartphones, so you had to do some labor to play fantasy football. That too secretly on the set of 'The Office'.
One cast member was kicked out after just one season!
Funnily enough, Ed Helms was kicked out after just playing one season of the fantasy football. That was because he just wasn't into football. Mike Bertolina, a longtime crew member of 'The Office' who handled props recalled:
"(Ed Helms) would have an injured quarterback as his starter for weeks. We were like, 'What are you doing? It's deteriorating the league! You've got to get into it!' He didn't care the way the rest of us did."
Even though it's been years since 'The Office' has ended, and everyone is off doing their own thing now, half of the original participants cast members still play fantasy football league for the 16th consecutive year. This just shows how they made friendships on 'The Office' that lasted longer than the show itself. You can read more details on Yahoo Sports here.