It seems like Nessa Barrett is shading ex-boyfriend Josh Richards after their messy post-break-up phase. To recap, Nessa was allegedly on a break with Josh Richards to focus on her mental health and it seemed like they would get back together. But during this time, Nessa ended up in a relationship with Josh Richards' best friend Jaden Hossler, who she collaborated with for her new song 'la di die'.
Related: The la di die lyric 'i'll be dead at 27' has a personal meaning to Nessa Barrett & Jaden Hossler
How did Nessa Barrett shade Josh Richards?
She posted a TikTok mouthing off lyrics to a song 'Illusions' by Cypress Hill. It seems like she was hinting at some shade to her ex-boyfriend Josh Richards.
can't wait for my ep to drop and everyone will know the truth since people want to act so innocent
Many are believing that Nessa Barrett plans to tell her side of the events leading up to her break-up with Josh Richards and her getting into a relationship with Jaden Hossler. She's hinting that in her new music EP, she will be telling the 'truth'. A day after the TikTok was posted, Nessa deleted the TikTok.
It has been confirmed that Nessa and Jaden were both single and had broken up with their respective partners, Nessa with Josh and Jaden with Mads Lewis. But people were still calling out Nessa and Jaden for betraying Josh Richards and getting together behind his back.
Related: Nessa Barrett shades Josh Richards while performing in DTS Sound Space, says he doesn't love her
Jaden did talk about the situation on a live stream and said that he deeply cared for Josh and wouldn't intentionally hurt him. He also mentioned how he went to jail for Josh Richards because he was so close with Josh. Meanwhile, Nessa didn't badmouth anyone at that point but did say that everyone doesn't know the full story and would probably never know it:
"I don't need to pity myself. i know the decision i made. y'all don't know the whole story and probably never will because the truth hurts and it shouldn't be online. night."
Perhaps Nessa Barrett wanted to reveal how Josh Richards 'acting so innocent' wasn't a reality of the situation. Moreover, it could also imply that she was talking about Mads Lewis. We'll get to that in a minute but before that it must be noted that Nessa has unfollowed Josh Richards on Instagram.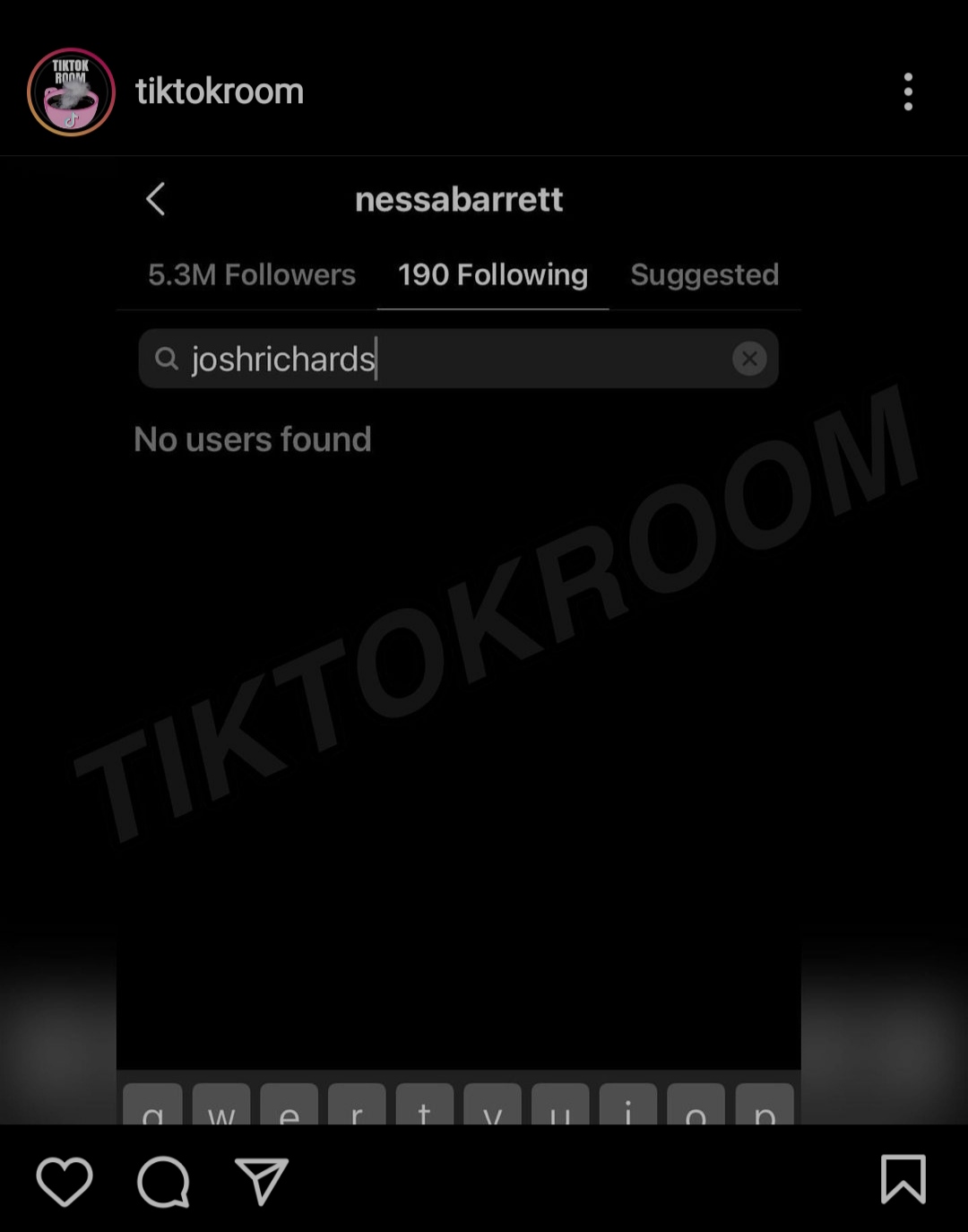 It also must be noted that when Josh Richards talked about the Nessa and Jaden situation on his BFFs podcast with Dave Portnoy he repeatedly mentioned that he had no ill will against Nessa or Jaden. He still didn't appreciate the fact that Mads Lewis brought the drama online.
I kind of knew that they liked each other . We broke up then they became a thing , it's like whatever, I'm moving on from it, they're moving on from it their way and for me, I just wish them the best. That's that. I dont think anything they tried to do was malicious against me I think that it's just like we're all 19-year olds, young as f**k just trying to figure sh*t out. And I made a bunch of mistakes during my relationship with Nessa too. I just hate seeing this turning into "Team this" and "Team that". I don't want it to become a thing where we sh*t on each other.
So, was she shading Mads Lewis?
This whole drama started off because when Nessa Barrett and Jaden Hossler were busy promoting their song 'la di die' on talk shows, Mads posted a TikTok claiming that Nessa had 'stolen' Jaden from her. It was at the time when Nessa was on a break with Josh and Jaden had broken up with Mads. At the time, Josh Richards reacted to the news saying that Mads broke up with Jaden because she didn't like Nessa and also called Mads crazy. She immediately deleted the TikTok but a few days later, she appeared as a guest on Alexandra Cooper's 'Call my Daddy' Podcast and talked about everything in detail.
In the podcast, she said that she was never 'jealous' of Nessa:
I was never jealous of a song nor jealous of her. I know Ness better than anyone and she knows exactly why I posted this video and that's all that matters.
She also apologized to both Jaden and Josh and said she loved them both, at different points in the podcast:
I love Jaden. I wish him the absolute f*cking best, I want him happy. So, if him being happy is being with Nessa, then be with f*cking Nessa. If you being happy is being with somebody else, then be with them – I just want to say… a big apology to Josh. I f*cking love Josh. The fact that he called me crazy, I don't blame him at all.
However, Mads did share some stories of how Nessa had hurt her in the past as well. Nessa and Mads became really close friends at one point and even lived together for a few months. But when Mads asked if she could go with her to the Hype House, Nessa reportedly said this to her:
No, nobody wants you here. Nobody likes you.
Mads also added another shocking incident saying that she covered for both Nessa and Chase Hudson aka Lil Huddy when they were together in bed. Mads had told Jaden, and the news reached Josh. At that time, Nessa called Mads and asked her to take the blame for it because:
your relationship with Jaden is not gonna work out. So you better take the blame for me. You better say you got with Chase. That wasn't me.
This incident occurred last year when there was another drama involving Nessa Barrett being hit on by Chase Hudson who was in a relationship with Charli D'Amelio.
Nessa could be shading her former best friend, Mads Lewis as well. But it's not clear who she was talking about and whether she would be revealing more information on the matter.
Related: Nessa Barrett's songs highlight betrayal in her relationship