Nessa Barrett has just dropped another bomb of a music video and boy, is that massive improvement or what? In her first music video for debut song Pain, Nessa was visually restricting herself from opening herself in front of the audience. However, her second song is on another level. And if you have not seen it yet, you are missing out. The song If You Love Me has a very deep meaning behind the lyrics. And Nessa has blown our mind away with the music video. She is definitely not just a TikToker any more. And if there are a few TikTokers-turned-musicians with bright musical career ahead, she is definitely one of them.
Nessa Barrett releases new track and music video
I guess two songs are enough for me to declare that Nessa is going to be a big hit within a year. While most people are probably ignoring her music just because of the past controversies related to her name, as well as her association with the controversial Sway House. It is time to move on from the past and let everyone do what they are best at.
Nessa Barrett is still close friends with her ex-boyfriend Josh Richards, and the Sway House boys. However, this song is probably not about Josh Richards. If you start looking at the comments under the video, you'll realize that you are not the only one who initially thought the dead boy in the video is Josh Richards. Nessa Barrett has set the tone for Halloween this month. As her music video for If You Love Me is kinda spooky and filled with some artistically drafted blo*d lookalike liquid.
The crew
Credit also goes to Emma Sydney Menzies, the music video director, and the crew for creating a creepy music video that'd definitely remind you of YOU season 2.
And to answer your question, the dead boy in the music video is not Josh Richards. It is Slater Davis.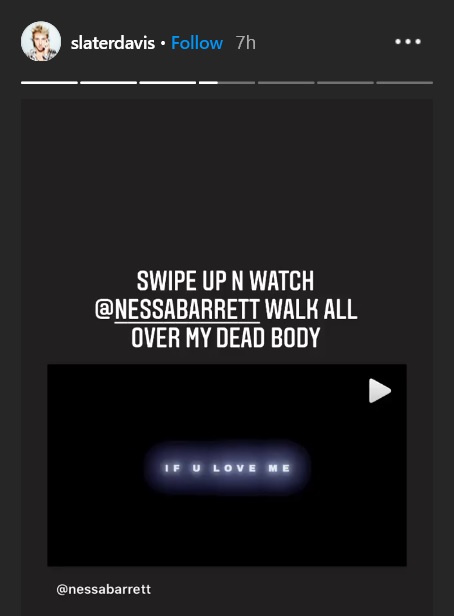 Lyrics & MV
Nessa Barrett has not just upped the game of her music. She has also challenged other singers out there by coming up with a movie-like music video.
The more you hear her, the more you are able to identify her voice. Her singing style might resemble Billie Eilish, but she has a unique vocal quality which many confuse it as auto-tuning. That just proves they have not heard her singing LIVE.
Coming to the song If You Love Me, the song is definitely about a past relationship. Something Nessa Barrett has learnt from, and now she is moving on after learning her lesson.
Now I know the ways
All the other ways that they can hurt me
I won't be the same
It won't be the same
Won't be as easy
Nessa tries to warn the other guy that he does not know what she is able to do when her heart goes cold. She holds her demons close and let them guide her.
'Cause what you don't know
When my heart goes cold
I hold my demons close
And I don't let go
The song is filled with warnings for her lover, who is shown as a dead guy in the music video of If You Love Me. Did she kill him? Watch the video and let us know your thoughts in the comments below.
Nessa Barrett celebrates the release
Meanwhile, have a look at Nessa Barrett celebrating her new song release: