Miley Cyrus is not a stranger to tattoos. She has a wide collection of tattoos on her body, each signifying things important to her life. If you start searching the internet, you will find a whole timeline of Miley's inked art. These range from honoring her dad, mom, different artists to getting simple symbols on various parts of her body. She recently showed off her new tattoos, and one of these is in honor of her Cyrus siblings.
Miley Cyrus Gets A Siblings Tattoo
Miley Cyrus loves her family and the tattoos are proof of it. To honor her sisters Brandi Cyrus, Noah Cyrus, and the brothers Braison Cyrus, Trace Cyrus, Miley got a new tattoo inked on her left arm. The tattoo is designed in a similar pattern of cardinal points. Though Miley has not shared the tattoo on her Instagram through posts yet. However, she posted it on her Instagram Stories, tagging all of her siblings and the tattoo artist: Winter Stone.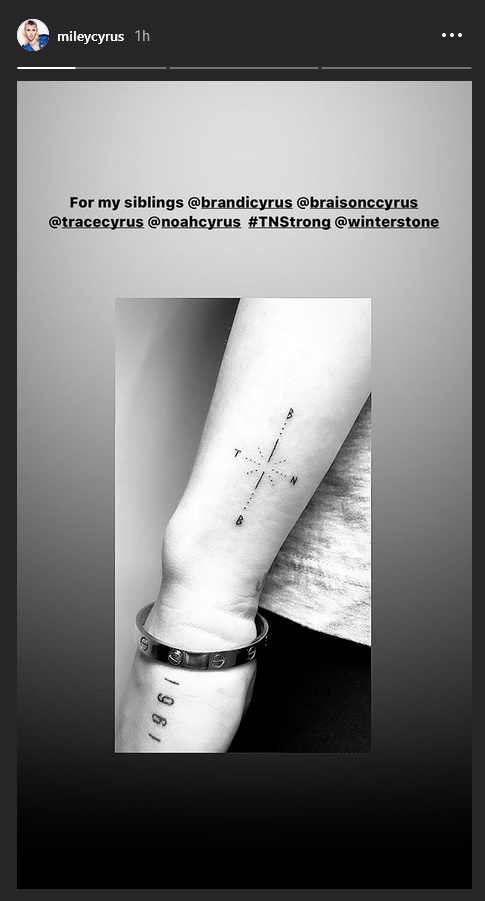 The siblings' tattoo is near her 1961 tattoo, which honors her father Billy Ray Cyrus's year of birth.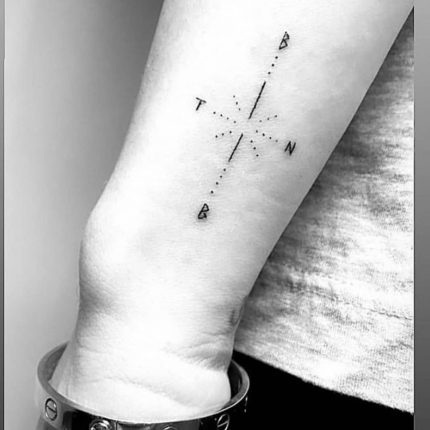 The timing to get this tattoo holds a special place in Miley's heart and personal life. Her hometown, Nashville Tennessee, was recently affected by tornadoes. The two tornadoes damaged everything on their way. The death toll has reached 24 reportedly.
In fact, before sharing the tattoo, Miley Cyrus shared a heartbreaking post for the Nashville victims and affected ones.
https://www.instagram.com/p/B9R_yivJO-s/?utm_source=ig_web_copy_link
Other New Tattoos
Just a couple of days ago, Miley and her boyfriend Cody Simpson got matching tattoos for Cody's upcoming book: Prince Neptune.
https://www.instagram.com/p/B9R2elwhl75/?utm_source=ig_web_copy_link
Nico Bassill is the artist behind the matching tattoos. That's not the only tattoo she got. In addition to the Prince Neptune tattoo, Miley Cyrus also got creative with an artistic tattoo. Nico Bassill also inked a special tattoo on Miley's arm.
https://www.instagram.com/p/B9PU563hrem/?utm_source=ig_web_copy_link
In fact, this piece of art honors French artist, Henri Matisse. The caption says it all. And the title of the art is Le Nu aux Oranges. Basically, the original lithograph art piece has oranges in it too. But apparently. Miley just wanted the lady in the middle to be inked on her arm.
Miley Cyrus leaves for Bushfire Relief Concert, Australia soon. Don't miss it if you are in Australia.