Some of you might not know what went down between Mike Majlak and his girlfriend Lana Rhoades. They were one of the hottest couples on social media. And also had a crazy amount of followers on their 'Night Shift' show on YouTube. But then things started going down the hill in the first week of October.
What went down between Mike and Lana
A video started making rounds on the internet in which Bryce Hall was getting touchy with Mike's girlfriend Lana Rhoades. Later, Mike posted a receipt of his chat with Bryce in which he was telling Bryce to keep his hands to himself.
At the same time, some old pictures of Mike started circulating on the internet in which he was hugging a girl. Then Mike and Lana unfollowed each other on social media for a couple of hours. Later, they referred to the whole cheating situation in one of the Night Shift's vlogs. It seemed like things were okay between them.
But then three weeks later, Mike posted a video on his YouTube channel and titled it 'We Broke Up'. Long story short, Lana wanted a long-lasting relationship and Mike wasn't ready for it. So he decided to part ways with her. And now fans are really confused about how Mike got back together with Lana after two weeks of announcing the breakup. As he was very certain of his choice.
Mike Majlak bagged $13,535 from break-up video with Lana Rhoades
So we all know that Mike Majlak announced his breakup with girlfriend Lana Rhoades in a vlog "We Broke Up". In it, Mike explained in detail the reason behind breaking up with Lana. He said Lana wants to settle down with him. But, on the other hand, he just couldn't see himself settling down with Lana or any other person in a long run.
Mike further mentioned that he was leading Lana towards this idea that they are going to have this magical life together. So he had to step up and make this heartbreaking announcement that he is splitting up with her. The breakup was entirely his decision.
Now let's move back to this past week when Mike posted an Instagram story in which a girl was sitting right beside him. But her face was not in the video. So a lot of fans started speculating that Mike has moved on pretty quickly. But then a couple of days later, 'The Hollywood Fix' got a hold of Mike while he was out for dinner with Lana.
And when Fletcher (news reporter) from The Hollywood Fix asks Lana if she and Mike are back together, she replies with a 'yes'. Then Fletcher and a couple of other news reporters congratulate Mike. Though, Mike on the other hand didn't give a chance to the Paparazzi to ask him any questions about the patch up. But he made sure to apologize to the love of his life and his fans.
"I am gonna say this really quickly. I acted pre-maturely, I put up a break-up video and fu*k the stupid. And I am sorry to the world, I am sorry to everyone. Most of all, I am sorry to you (Lana) baby."
And then Def Noodles also shared a screenshot on his Twitter account in which a follower asked Mike about how much money did he make through the breakup video. Mike replied with 5 big figures in return.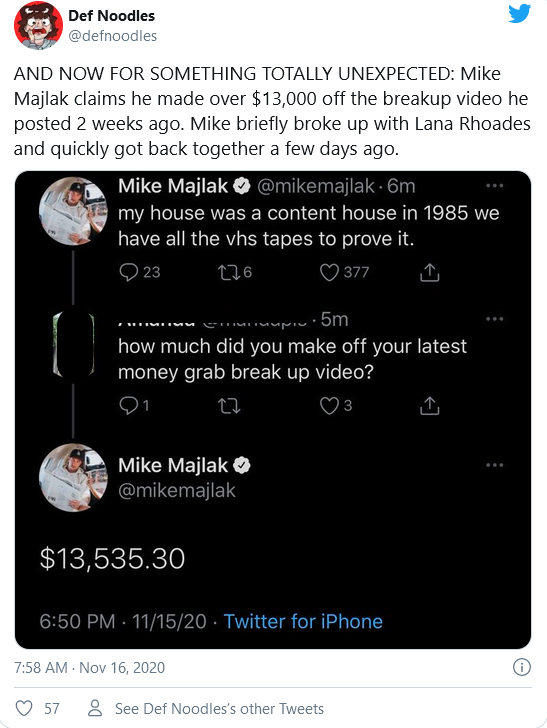 Now a lot of fans are also speculating that Mike Majlak made the breakup video just for the sake of views, followers, and money. While others are just happy about his patch-up with Lana. Let us know in the comments down below what's your take on this matter?