Yes!! Once again we have a piece of really good news for you guys and that's Kylie Jenner's new collection launch. This launch is not just any ordinary launch. As the beauty queen just turned 24. And keeping the Birthday Collection tradition alive and floating, she just launched another birthday bundle. And that's none other than the very much needed 24K Birthday Collection. Now, what comes to your mind when you think about the word "24k"? Well, $24k in your pockets or 24K gold in your hands.
Uhh well!! I don't know what do I have to do in order to earn $24k in a couple of hours. And I can't even afford to buy 24k gold. But what I can definitely buy is Kylie Jenner's 24k Birthday Collection. That too loaded with a lot of glitter. There is a saying, 'All that glitters is not Gold'. But we disagree with this aphorism. Because if we look at the Kylie Cosmetics 24k Birthday Collection, it is loaded with all things glitter.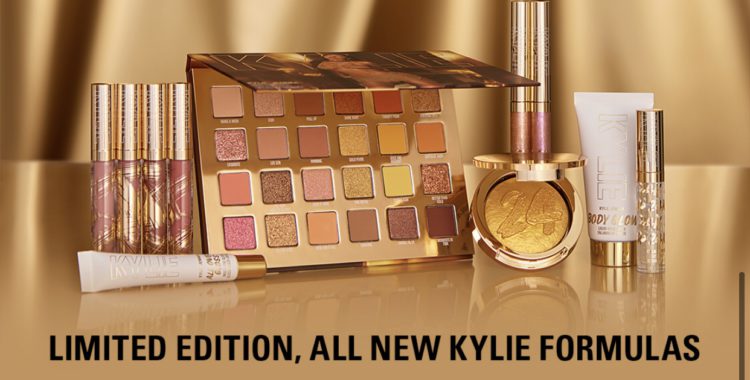 Product Breakdown Of Kylie Jenner 24k Birthday Collection
Alright guys, fasten your seat-belts because we are here to give you all a crazy makeup guide. If you're into glittery makeup products, then Kylie's 24k Birthday Collection is a must-have product for you. Though it's a limited-time collection. But it is still going to be a part of my "the things I want before the end of this year' list.
Pressed Powder Palette
You guys might think this Pressed Powder Palette contains pressed powder in different shades to settle the makeup foundation. Well, that's what I thought too. But we are wrong as this Pressed Powder Palette is the much-awaited Eye-shadow Palette from Kylie's 24k Birthday Collection. Starting from some matte shades in neutral and cool colors to some glittery and metallic ones. This palette is surely what you need to create all sorts of sultry looks.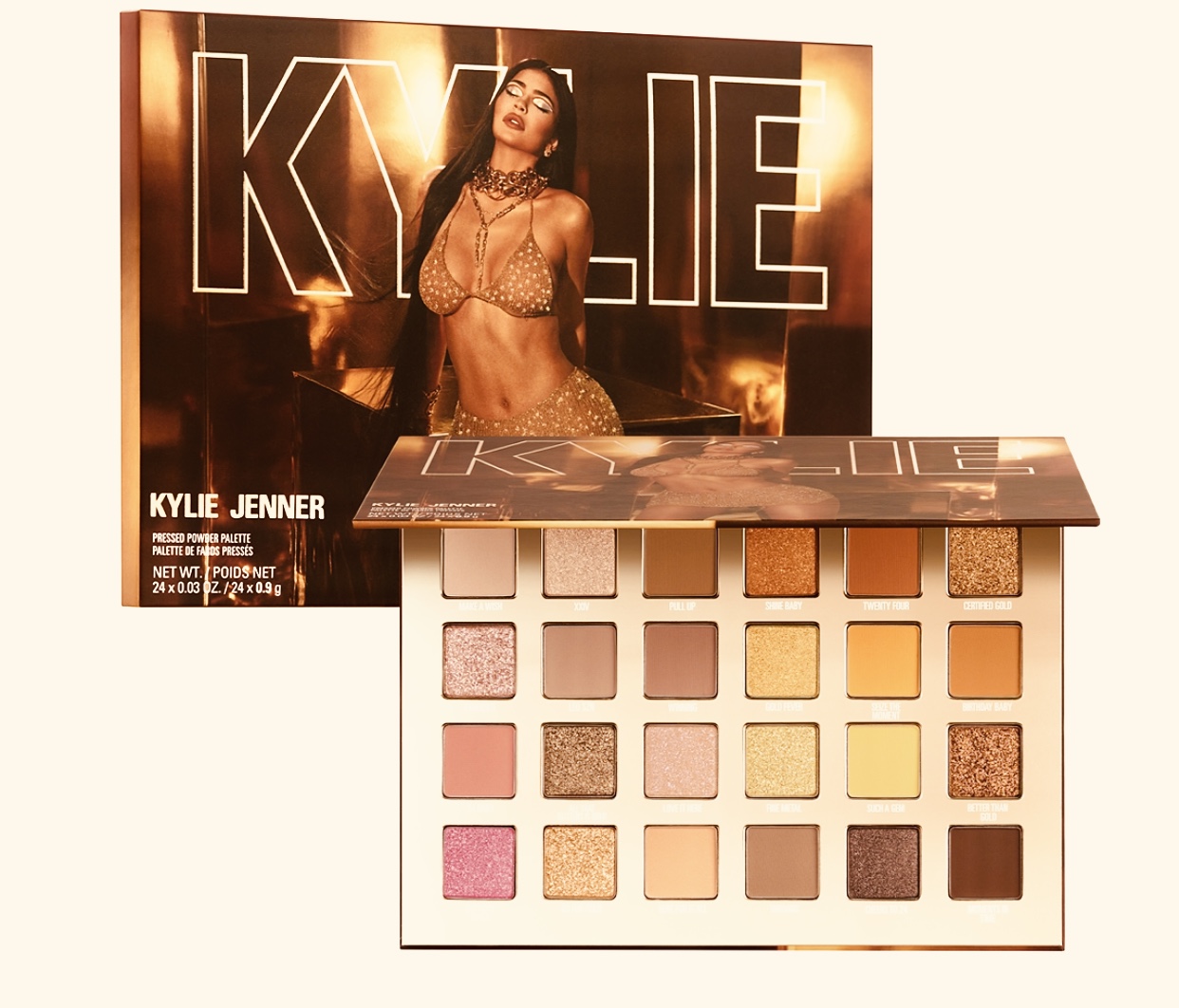 So this pressed palette has 24 eye-shade colors, which explains why it's part of the special 24K Birthday Collection. And we will share the names of some of our favorites with you all.
Certified Gold.
Better Than Gold.
Moments In Time.
Gold Fever
Shine Baby.
All That Glistens Is Gold.
Go For Gold.
Pull Up.
Exquisite.
Leo SZN.
We are also going to give you guys a sneak peek of how these cool colors are going to look on your skin.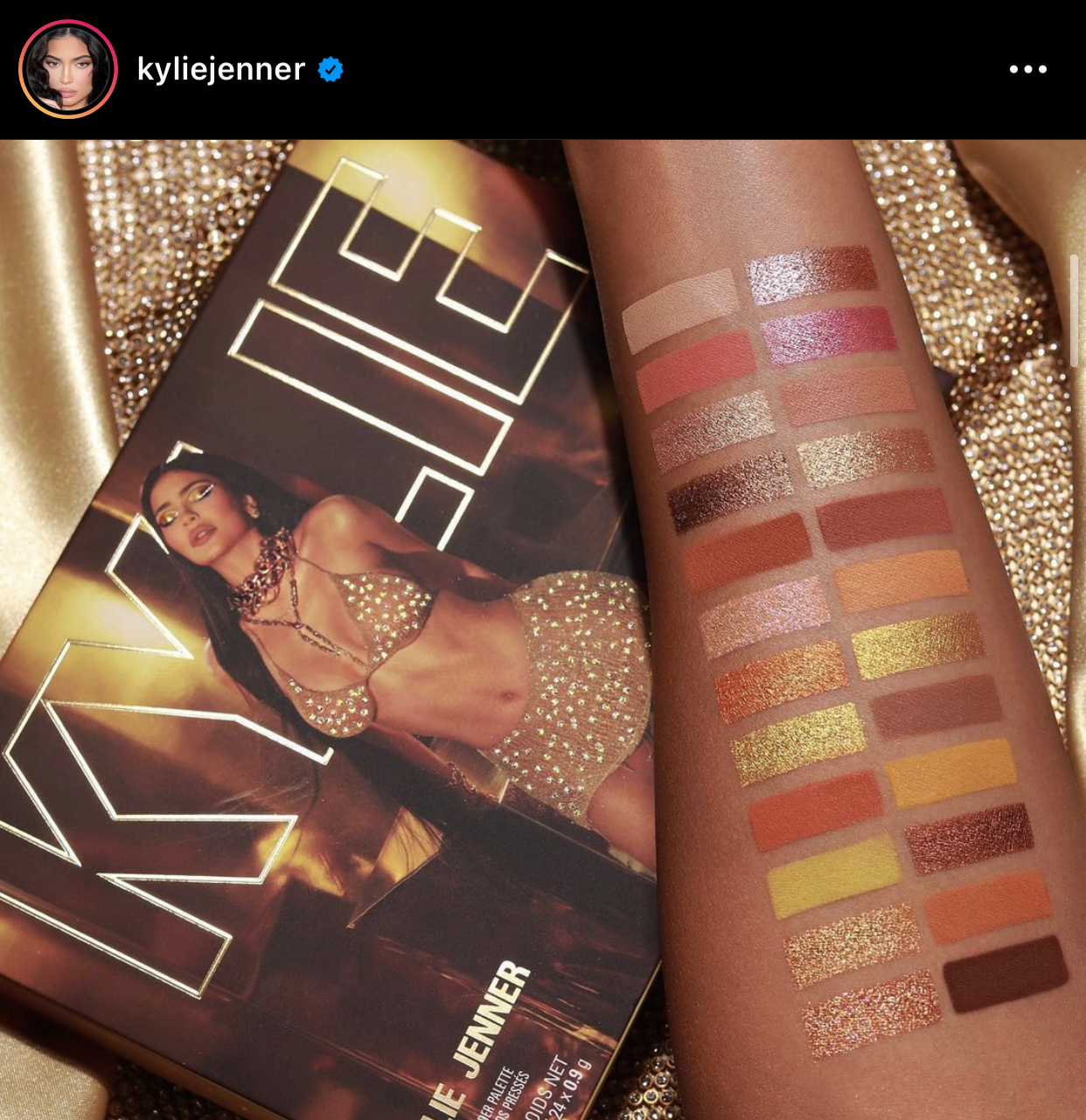 Liquid Eyeliner Duo
Alright!! So what do we all do after applying the eye-shades on our eyes? We go for the eyeliners. Kylie Jenner's 24k Birthday Collection s providing limited Eyeliner Duos in shades of gold with pink, green and blue hues.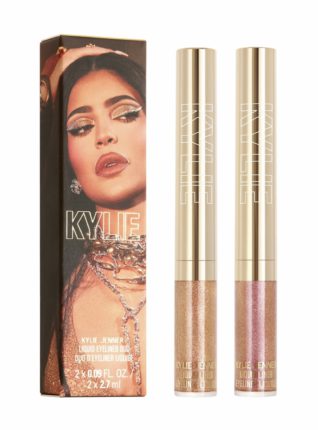 Kylie looks amazing with the shiny winged cat-style eyeliner, doesn't she?
Lip Shine Lacquer Set
The next product which we are going to introduce to you guys is the Lip Shine Lacquer Set from Kylie's 24k Birthday Collection. If you guys love cream-based lip color formulas, then you should definitely grab a hold of this one. As it consists of four shiny Lip Lacquers which you can use in every day to night soft look glam. Or you can also apply these Lip Shine Lacquers on top of any bold lip colors as well, to give a bold yet shiny effect.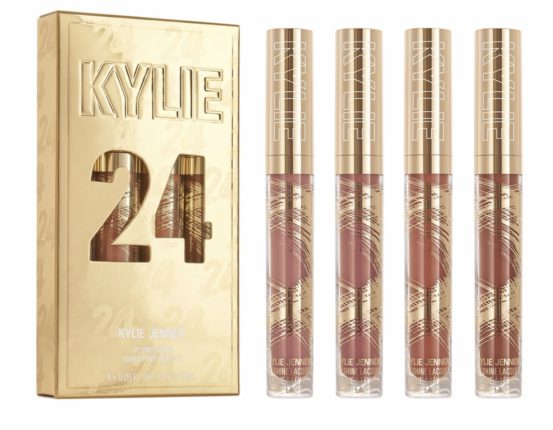 We are also attaching a swatch-test of the 24k Birthday Collection Set for you guys. So that you can take a closer look and find out if these colors would work for you or not.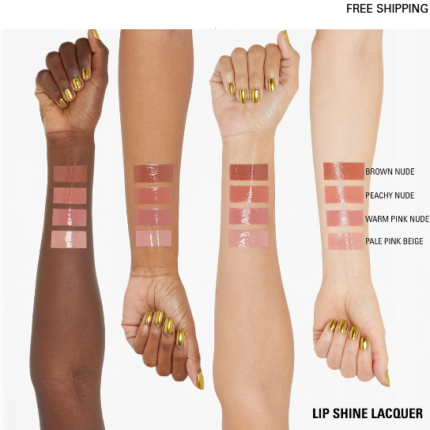 My favorite shade from the 24k Birthday Collection Lacquer set is Brown Nude. Because of course, it is n*de, "wink-wink".
Lip Serum
Can I just say this Lip Serum is one of my favorites from the whole 24k Birthday Collection? It not only moisturizes your lips but also gives a glistening effect. You can simply apply it on your lips as it is. Or you can also apply it on top of any of your favorite lip colors.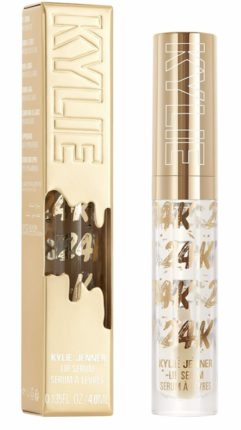 Now you guys must be thinking what makes this lip serum different from the others. Oh well, it also has a surprise ingredient in it and that is tiny 24k gold flakes.
Body Glow
I don't know about you guys, but I always use a lot of highlighter on my collarbone, neck area, and on the top and side of my shoulders. And that's one of the reasons why my highlighter palette usually finishes before the eye-shades palette. So if you want to invest in a good body highlighter, then you should definitely pick Kylie's 24k Birthday Collection's, Body Glow.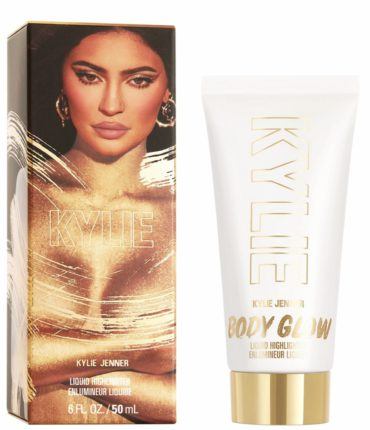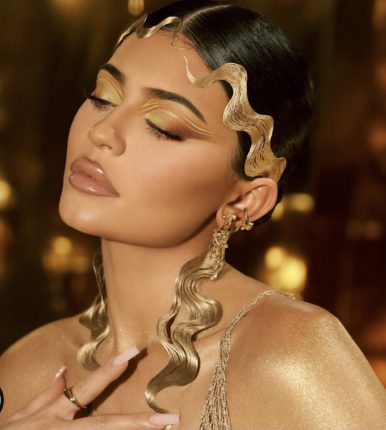 Wow!! Look at all this glitter. It looks amazing and sultry. And Kylie looks like a Cleopatra of the modern world.
Kylie Jenner's 24k Birthday Collection All Over Gloss
Next, we have is the All Over Gloss on the 24k Birthday Collection. Sadly, it's also a limited-time product and only the lucky ones can get a hold of it before it runs out of stock.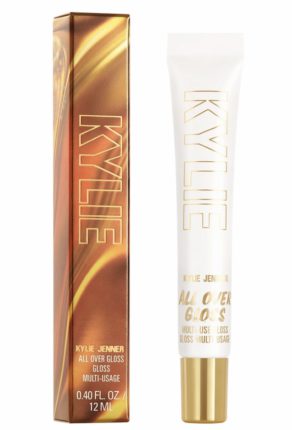 This All Over Gloss can be used on lips, eyes, cheeks, or even on the body. And it leaves a very glistening effect on the body.
Kylie Jenner's 24k Birthday Collection Good As Gold Highlighter
And the last product which we have on the list is Kylie's 24k Birthday Collection's Good As Gold Highlighter. First of all, I just love the packaging of this compact highlighter. And you want to be a diva covered in glittery gold highlighter. Then you should definitely add this bright yellowish gold highlighter in your must haves list..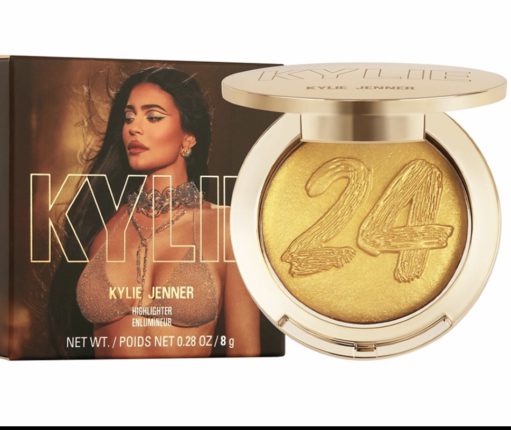 Let us know in the comments down below if you're in love with the Kylie Jenner's 24k Birthday Collection.