If you didn't know Jake Johnson and Justin Long were co-stars on the show 'New Girl'. While Long only guest starred in a few episodes, the two became good friends. In fact, Justin Long became quite close with the whole crew. He recently shared an old picture he took of a FaceTime call with Jake Johnson and other cast and crew members of New Girl and added some praise for Jake's new movie 'Ride the Eagle'.
Justin Long's Adorable Instagram Post Praising 'Ride the Eagle'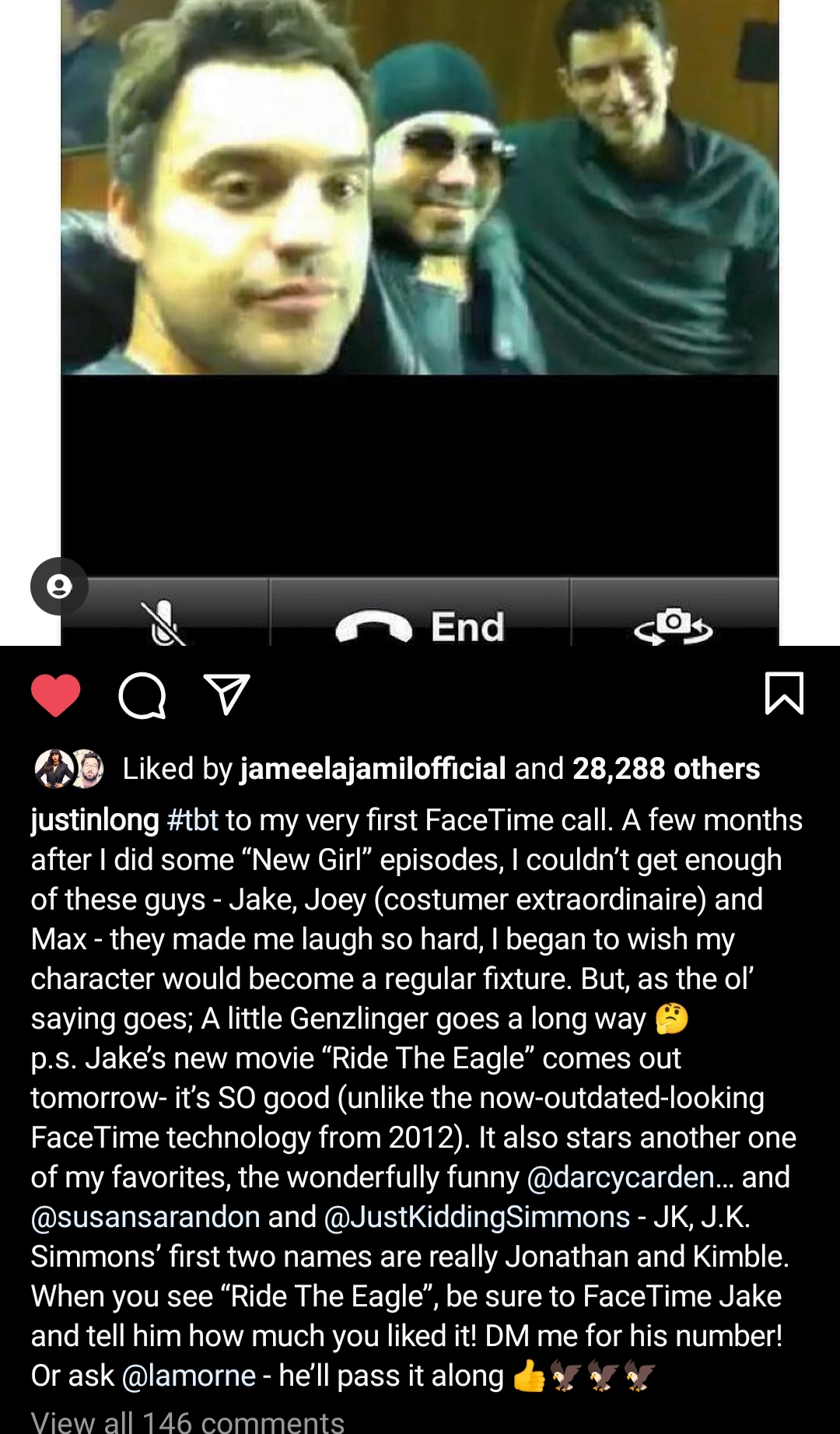 He posted a throwback picture and added that it was at the time that he was guest starring on 'New Girl'. During the time, he would often FaceTime the main stars of the show Jake Johnson and Max Greenfield, and another crew member, Joey. Justin added that he loved being on the show so much he wanted to be a regular cast member but unfortunately that wasn't the case. But he still cherishes the time. Justin Long played the boyfriend of Zooey Deschanel's character on the show and fans loved him on it.
Along with nostalgic memories, he also talked about Jake Johnson's new movie 'Ride the Eagle'. The movie also stars D'Arcy Carden, Susan Sarandon and J.K. Simmons.

p.s. Jake's new movie "Ride The Eagle" comes out tomorrow- it's SO good (unlike the now-outdated-looking FaceTime technology from 2012). It also stars another one of my favorites, the wonderfully funny @darcycarden… and @susansarandon and @JustKiddingSimmons – JK, J.K. Simmons' first two names are really Jonathan and Kimble. When you see "Ride The Eagle", be sure to FaceTime Jake and tell him how much you liked it! DM me for his number! Or ask @lamorne – he'll pass it along 👍🦅🦅🦅
Long jokingly added that everyone should check out the movie and FaceTime Jake Johnson to tell him how much they loved the movie. He even offered to give Jake's number to the public. Or have New Girl co-star Lamorne Morris to share the number…which he did! Underneath Justin's Instagram post, Lamorne Morris commented:
Jake's number (323)466-0269 ask for the johnson special.
Though, D'Arcy Carden commented on the post appreciating the love and support from her friend Justin Long:
Justinnnnnn ❤️❤️❤️❤️❤️🤗🤗🤗🤗 you're the best!
What's 'Ride the Eagle' about?
'Ride the Eagle' written by and also starring Jake Johnson is about his character Leif finding a set of tapes from his late mother who sends him on an adventure. It's a to-do list of things to do before he can get the cabin that she left for him. The mother, played by Susan Sarandon, wants to teach things to her son that she couldn't in her lifetime, so she left a spiritual journey for him which often tests Leif's physical as well as mental capacity. The love interest of Leif is played by D'Arcy Carden, and J.K. Simmons plays the adorable lover of Leif's late mother.
All in all, it seems like a wholesome and entertaining movie! No wonder Justin Long had nothing but praise for it. Check out the trailer here:
Related: Spiderman Star Jake Johnson Messages Children Amidst Pandemic