There are not that many people that Joe Rogan admires from the bottom of his heart. However, David Goggins is one of them. The charismatic influencer is quite accomplished in many fields of his life and is close friends with the podcast host. And for Rogan's birthday, Goggins had a hilarious wish in his mind which made the UFC commentator laugh like nothing else.
46-year-old David Goggins has accomplished a lot in life. He's an ultramarathon runner, ultra-distance cyclist, triathlete, and a retired United States Navy SEAL as well as a United States Air Force Tactical Air Control Party member. He has served in Iraq as well as Afghanistan and on top of that, he's a public speaker as well as an author. He is often known for his charismatic and inspirational speeches that have no holds barred as far as cursing is concerned. And Joe Rogan especially adores him.
The best ever wish that Joe Rogan got on his birthday was from David Goggins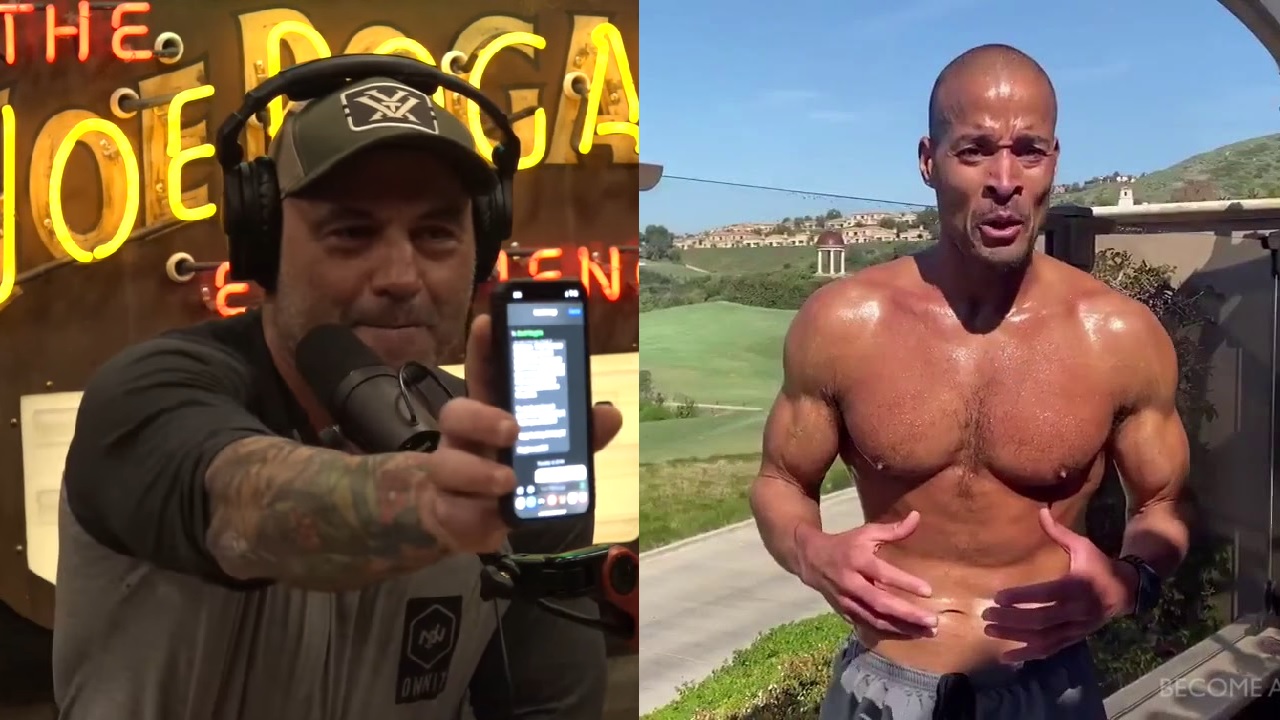 In his recent podcast episode of The Joe Rogan Experience with guest comedian Eleanor Kerrigan, the UFC commentator revealed the hilarious birthday wish that David Goggins sent him on his 54th Birthday. Rogan read the wish from his phone, reading:
This day 54 years ago, you took your first breath. When taking that first breath, it made you eligible to die. I hope you're not enjoying the day by sitting on the f***ing couch, with your feet up. Hopefully out there somewhere suffering. Talking to that inner b***h. See Joe, the inner b***h loves motherf***ers' birthdays, why? Because it makes you an even bigger b***h. Because we feel it's our special f***ing day. So we could chill the f*** out. Most people wake up to just exist on this planet. So Joe, if you haven't gotten the f*** after it yet, maybe you should!!!!! Happy f***ing birthday!!!!! Goggins out!!!!!!
David Goggins has appeared on JRE multiple times, talking to Joe Rogan about his amazing journey from being obese to one of the most highly decorated athletes as well as soldiers in training. Apart from his athletic achievements, he's the "only man in history to complete elite training as a Navy SEAL, Army Ranger, and Air Force Tactical Air Controller," according to Lucy Fuggle. And with such a prolific background in athletics and the military, it makes sense why he bonds well with Joe Rogan. Other than that, the guest Eleanor Kerrigan also admires him a lot, saying how she'd make her mom listen to Goggins when they're trying to do Yoga.
Related: Joe Rogan explains why he turned down interviewing Donald Trump for his podcast, twice