I don't know why but I feel like screaming at the top of my lungs. As Jake Paul is planning to propose Julia Rose really soon. We all know that he and Julia have an on-and-off going relationship. One day they are together, the next day they are seen on each other's social media. And well, on day third, they just part ways.
And before we go into further details. I would like to give you all a little flashback on Jake and Julia's past relationship. Like people who they were dating before they got back together.
People Jake Paul and Julia Rose were dating in the past ten months
Some of you might not know what went down between Julia Rose, Harry Jowsey, and Jake Paul last year in October. Julia was caught having PDA with the 'Too Hot To Handle' star Harry Jowsey. Harry even took Julia on a surprise trip to Las Vegas. And later, he found out through Jake's social media stories that Julia is back with him (Jake). Julia even proposed to Harry on their Las Vegas trip. So we don't really know if she was hanging out with Harry because she was seriously into him. Or if she was only using him to get back with Jake for a couple of months.
Now, let's talk about Jake. Five months ago, Jake started posting photos with Erika Costell. These two used to date back in 2017 and parted ways after almost a year. Erika also made an appearance in two of his vlogs. Jake actually took Erika on a kayaking trip. And in another vlog, Erika surprises Jake with his dog Thor. She flew Thor all the way from LA to Miami so that he can spend time with Jake in the training camp. And then we don't know what really happened between Erika and Jake after that.
Jake Paul says he is thinking about settling down real soon | Is Julia Rose going to be his future wifey?
Well!! We all know that Jake's going in the boxing ring once again. And as per a lot of fans, Julia always shows up at his house to get maximum clout from the fights. Because Jake might be a problem child, but he has probably grown out of that 'clout chasing' phase.
A lot of people noticed that Julia recently changed her name on Instagram. So she might be sticking for a lifetime with Jake Paul.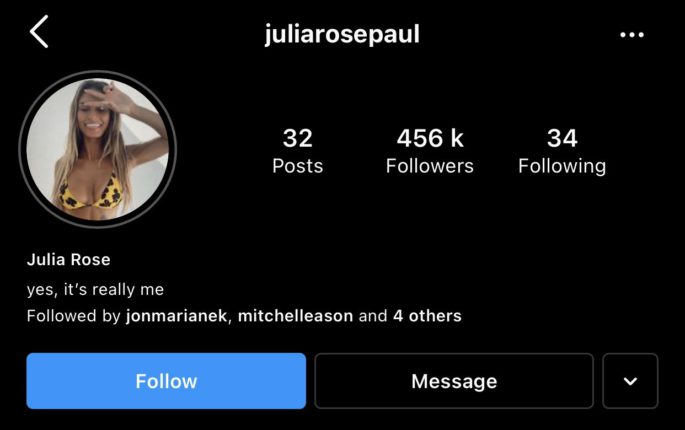 Jake was also asked during a recent interview about Julia's sudden name change and if they got married. The reporter even asked Jake if he is planning to enter the boxing ring to fight Tyron Woodley as a married man?
"Jake: Umm !! We are not married. But I see that coming for sure. I got her a nice promise ring/ pre-engagement ring. I plan on proposing sometime soon."
Well!! This is a piece of really good news. And we can just hope and pray that this engagement/wedding (if it is ever going to happen) is not fake. Julia even re-posted a very cute picture with Jake.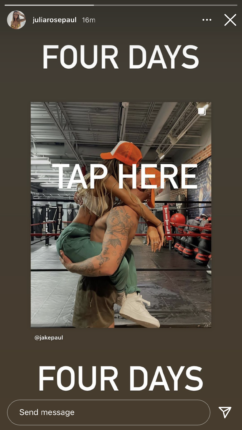 Guess we will have to wait till the 29th of August to find out what Jake Paul's future plans are after his much-awaited boxing fight with Tyron Woodley.