The current year, 2020, has not been good for many so far. The deadly virus hit millions of people around the world and it seems like it's not going away for at least a few more months. While the virus has put many people on break, quarantined inside their houses, some people started digging the history of famous celebrities. You might have heard the major drama that happened in the beauty community a few weeks ago. Shane Dawson has been away from the internet since then. Tati Westbrook has not returned to her social media handles as well. However, Jeffree Star returned with an accountability. He said he is moving on from his past mistakes. And believe it, he is literally moving to Wyoming.
Jeffree Star is looking for a Ranch in Wyoming
To cope up with everything that happened in his life, Jeffree Star has decided to find peace and solidarity in Wyoming. He is currently staying in Billings, where he is buying a ranch for one of his closest friends. In a day, Jeffree will be heading to Wyoming state to look for some suitable real estate.
In his recent Snapchat & Instagram stories, Jeffree confirmed Wyoming is one of his favorite states because of the calm and peace it brings.
I'll be looking for some really cool ranches with a lot of acres and silence. And miles & miles away from anyone, for myself.
Jeffree Star is excited to invest and buy new ranches, one in Billings for his friend and the other for himself in Wyoming. He started his year by breaking up with his boyfriend Nathan Schwandt. And now after the recent beauty community drama, seems like he is moving away from everyone.
I think 2020 has been so crazy. It definitely opened up so many new chapters and things that, maybe, I was not ready to do. But bit*h I'm ready. I'll always be a Californian. Honey, it's time to expand my wings and have a little more solidarity.
Last year, Kanye West also purchased a ranch in Wyoming because of the natural beauty and peace.
Previously in the Wyoming diaries…
Jeffree Star has always been in awe of the beauty that comes with Wyoming. We found these old posts by Jeffree that prove how much he loves the state and the people there.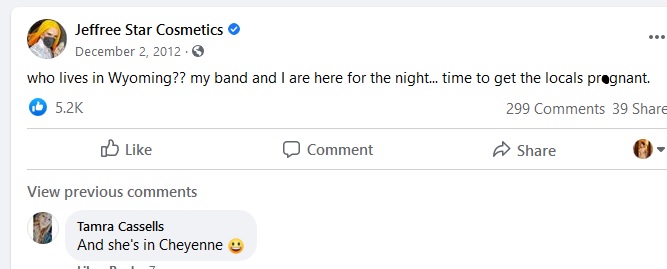 Jeffree Star has not disclosed the exact area he might be moving to. He is also selling his pink mansion. Stay tuned for more updates.