You guys won't believe how Jeffre Star's ex-boyfriend Andre Marhold responded to his accusations. Def Noodles, the satirical news commentator, has been sharing all the updates on Jeffree's latest scandal. And he just shared a post on his twitter. Which has a screen recording of a video from one of Andre's IG account which is now deleted. Jeffree and Andre are confusing everybody by posting stuff on their socials and then deleting it within a few minutes. And what's even more confusing is the fact that Andre literally has 3-4 profiles on Instagram and none of them is verified. He is posting stories on all of them except his business profile and then deleting them within seconds. Def Noodles also shared a couple of screenshots from Andre's IG stories in which he is threatening to expose Jeffree Star. Now, this sh*t is getting really scary. Don't you all think Jeffree should involve his legal team and handle this messy situation? If his claims about Andre stealing his stuff are true?
Why Andre Marhold is threatening Jeffree Star?
By now, you all already know that Jeffree Star shared in a thread of IG stories that Andre Marhold is not his boyfriend anymore. What started off as a speculation was soon confirmed by Jeffree himself. In fact, Jeffree confirmed that he sent Andre home when he realized that Andre lied to him about a lot of stuff. And he even stole a couple of designer stuff from his house.
And then after some time, Jeffree deleted his IG post in which he was accusing Andre of stealing valuable items from him. Right after this Andre posted a bunch of stories in reply to Jeffree's accusation. He is also the reason behind Jeffree's now-deleted posts. Because he threatened to expose Jeffree to the world.
This is how it all started guys. And my brain is literally exploding trying to catch up with everything.
UPDATE: Jeffree Star's ex-boyfriend posts picture of himself with lyrics "Guess this bitch is scared of me." Andre Marhold made the post to his backup account. Song is NBA YoungBoy's "To My Lowest". pic.twitter.com/WADjxBfPLC

— Def Noodles (@defnoodles) October 1, 2020
Andre also shared this picture on one of his IG profiles. And the caption clearly explains that these two were not on good terms for a few weeks.
"This is what being a guy with no bank account and no job could get you."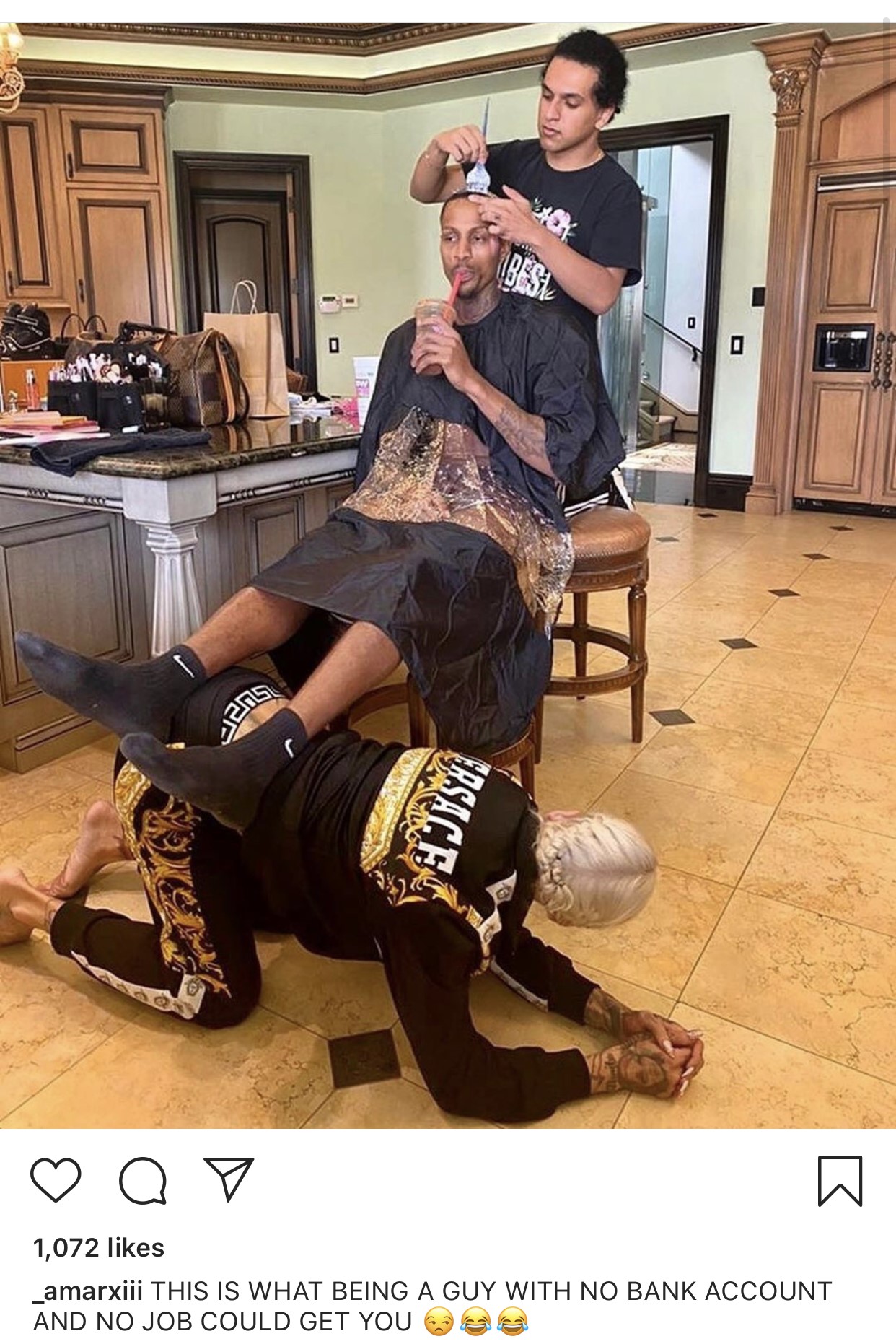 Umm, I am not sure what to make out of this caption. This person clearly owns a model agency. And fans are confused why he is pretending like he doesn't own anything.
Asking JS to delete his Snapchat and IG Stories
Andre Marhold is pretty active on all of his Instagram accounts. And there are literally tons and tons of posts from Andre which are now deleted from all of his IG accounts.
Andre asked Jeffree to delete all of his Snapchat and IG stories as well in which he talked about Andre stealing a bunch of things from his house.
UPDATE: Jeffree Star's ex-boyfriend threatens Jeffree. Andre Marhold says "Shall I tell the people?" and "You got an hour to delete them off Snapchat." pic.twitter.com/uBMwtvWoJx

— Def Noodles (@defnoodles) October 1, 2020
So Andre gave Jeffree an hour to delete his posts otherwise he planned to threaten him with a bunch of things which he found in Jeffree's home.
And there is another tweet from Def Noodles which shares some of the screenshots from Andre in which he shared that Jeffree cheated on his ex-boyfriend Nate.
Let me just summarize this whole thing for you guys. Jeffree shared something on his social media which triggered Andre into sharing a few things on his social media. Though both of them have now deleted all posts regarding each other from their IG and Snapchat stories.
But Andre has literally gotten himself into some deep mess because he broke the Non-Disclosure Agreement by revealing a couple of things about Jeffree which are now circulating on the internet. Andre further mentioned that the things which Jeffree is accusing him of stealing were actually given to him by Jeffree.
What is your thought on his matter? Don't you think Jeffree and Andre should solve this matter in private?