If you are keeping up with the Hype House, you already know by now that one of the original co-founders, Daisy Keech, has left the house both physically and metaphorically. She is even suing Chase Hudson and Thomas Petrou. However, if you do not know the full story by now, then let us give you a briefest summary. Daisy paid $18,000, like Chase did, when they were pooling money for the mansion. However, she was treated as a "sleeping partner" (in business language, you perv!). Daisy never got the recognition of a co-founder and that really hurt her. So she exposed them, specifically Thomas Petrou, and also started her own Clubhouse separately. Meanwhile, Thomas did not like it. So he decided to expose her. But that backfired, and now fans are clear on which team to join.
Hype House's Thomas Petrou Vs. Club House's Daisy Keech | Round 1
Okay, so Daisy Keech was done staying silent. So she posted a video titled "Truth about the Hype House". In response, Thomas Petrou came out with a video of his own, with an OG title: The REAL Truth About The Hype House. While Daisy's video is at 6.3 million views with 451k likes and 8.8k dislikes since its release (March 28, 2020), Petrou's video is currently at 1.37 million views with 87k likes and 48k dislikes. It was released yesterday, so it is still early to compare the views and likes. But woah, he did beat the dislikes. That's the first receipt that his "receipts" backfired.
Now, let's take a deeper look at what he said.
The Hype House & Receipts
Thomas Petrou, he had already discussed his "Bang House" idea with Alex before he even met Daisy. Alex was on-board to create a content house. Next, he met Daisy Keech when he took her photos for the first time. And that led to more shoots and they became good friends. However, Petrou does not like the way he was portrayed in Daisy's video. Using an actual clip from Daisy Keech's video where she says she hired him when he was jobless, Petrou said:
I shot for Daisy from July until September, for free.
And then Daisy started paying him from September 15 to September 31 for YouTube videos editing, Bang videos editing, and taking her photos for Instagram. (yes, he corrected the date in the comments section below his video). Thomas Petrou says he took 90-95% of her photos in those months. He also said that life is very expensive there, so Daisy paying him $250 a week didn't help him out. So, after a few months passed, he talked to Chase Hudson. Petrou was taking photography seriously and he wanted to earn money through it. They met in September randomly at his house. He took some photos of Chase and his friends. (The picture Petrou added as a receipt is dated September 18, 2019. That means "3 days" after Daisy started paying him for weekly work. Dates do not add up. Like, he said he was not happy with the payment for months and wanted to work for others).
Thomas Petrou and more backfiring receipts
Referring to Daisy Keech and the wad of cash she claimed they had in hands while sitting in the car on the lease-signing day, Petrou says it was his money and Chase's money. It was not Daisy's money. And that was $23,000, the security deposit that will be refunded when they leave the house. The rest of the money was for fees and a part of that was rent so that's when that $46,000 came in. Petrou said he invested all of his money ($15,000) and Chase Hudson invested $31,000, making a total of $46,000. Whereas, Daisy Keech agreed to pay $18,000 when her 'bank became available'.
So, lease signing: done, moving in on November 15: done. Later, Daisy Keech reimbursed $13,000 (the screenshot shows less amount, and a next date but amount cropped).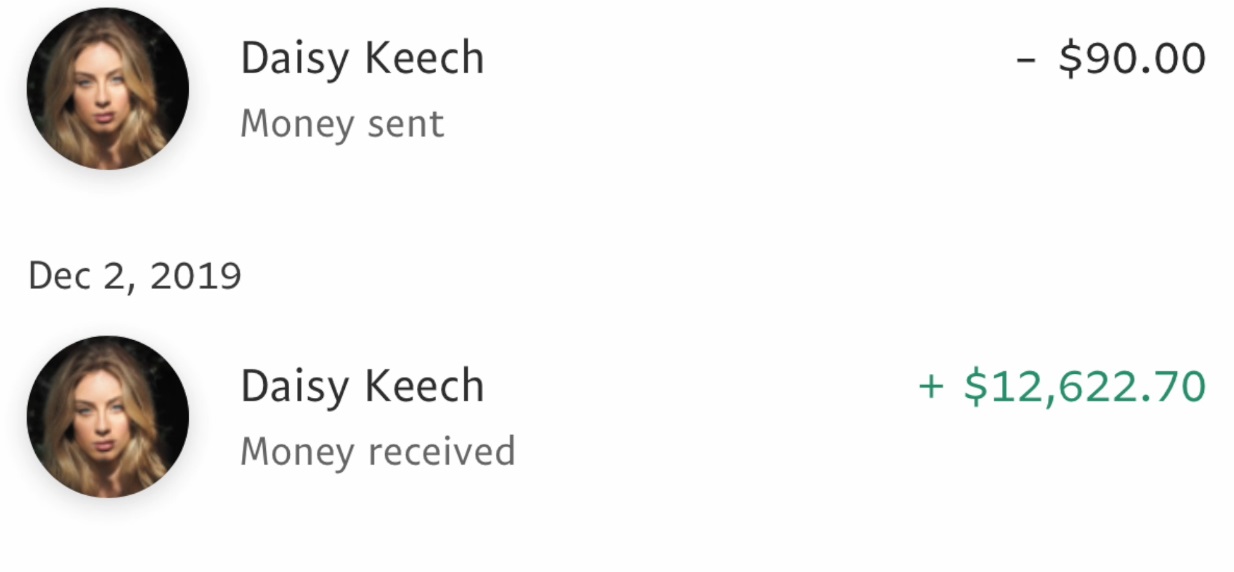 And reimbursed Petrou $5,000.

He also said that Annon and Warren did not pay any money to move into the house. While Daisy said they paid $5000. After moving in and till December 19, they were living as friends. Then by the end of December 2019, they created the Hype House.
Some fans are pointing out if Daisy was not paying Petrou enough money, how he managed saving $15,000 when he was struggling to survive in the city.
Is Daisy Keech Right?
Thomas Petrou says that Daisy Keech only paid for the house. She did not invest the money to be a part of the business. Now, that seems off because why would someone pay that amount of money ($18,000 to be precise even confirmed by Thomas himself), just to live in a house with a bunch of few strangers-on-their-way-to-become-friends. Everyone was there to start the Hype House. And if we do the maths (fans are doing the maths), when Daisy reimbursed $5,000 to Thomas Petrou and $13,000 to Chase Hudson, that reduced Petrou's investment to $10,000 and Chase's investment to $18,000.
We agree that Petrou's investment ($10,000 as per his claim) does not match with what Daisy said in her video (that is, $5,000). It is still less than what Daisy invested. Moreover, Daisy was right about investing equal to Chase Hudson. Both of them paid $18,000 at the end of the day. Or month or whatever.
Though no contracts were signed, whoever paid deserves to be called co-founder. Moreover, Daisy Keech had an issue as things were not organized and documented in the house. Meanwhile, Thomas Petrou was focusing on interviews. She wanted to file for a trademark before someone started using theirs to sell merch. But Petrou took his time, so Daisy ended up filing for the trademark herself. And yes, it feels wrong because she filed as an individual. Later, Thomas filed it as Hype House. And that seems better. But he did it after months of Daisy begging him to do it.
Is this a K.O.?
Now, even though it seems like something Daisy Keech was stealing away from them. However, sources confirm that there was no Hype House liability company formed until then. And only after the company is formed, you can use its name officially to apply for trademarks etc.
Moreover, Petrou said that Daisy did not make many efforts for the Hype House. She did not create much TikToks or indulged in interviews. Meanwhile, don't forget, she was actively giving the Hype House tour, a video created by Entertainment Tonight.
Thomas Petrou also countered Daisy Keech's demand of email password with a reason that no one should have access to those emails, other than the Agency they are signed to. That means, only the agency makes deals with whoever approaches the Hype House.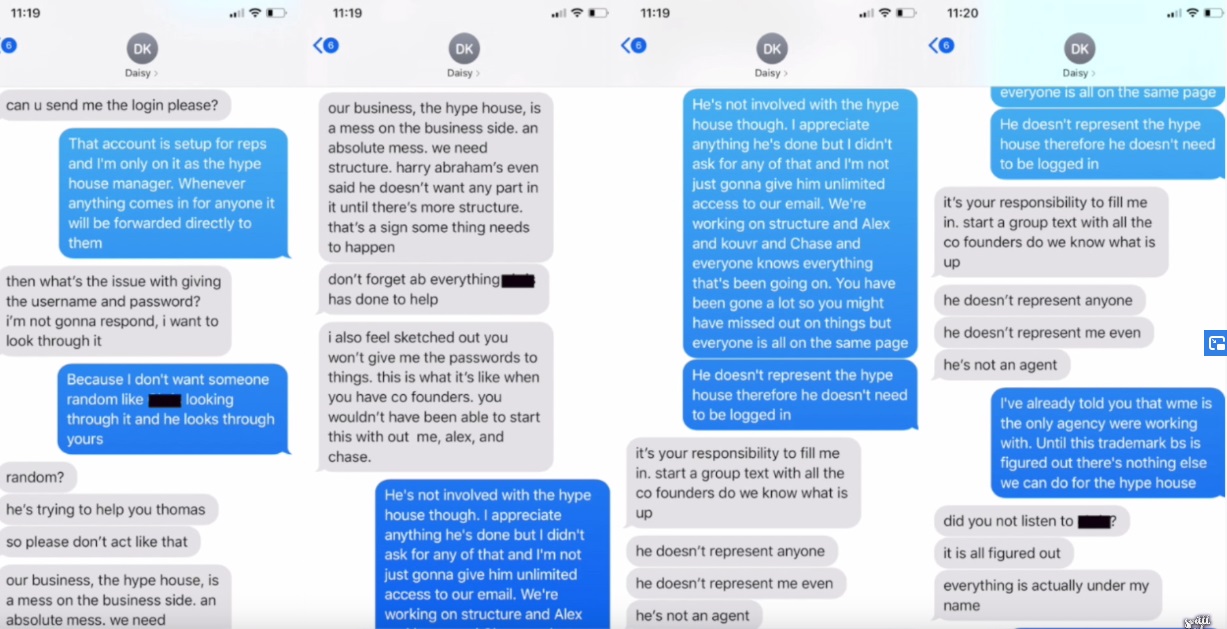 As per the screenshot source Spill Sesh, "Harry Abraham" is a talent agency and if he was not on-board unless a structure was formed, then which talent agency is Thomas Petrou talking about?
Moreover, Thomas Petrou never pointed out to Daisy Keech that her concept of co-founder is incorrect. You can see how she called herself and others the co-founders, and Petrou did not deny that. And about that WME agency, that seems like they were planning to fire the agency if there was really an agency, to begin with. In such a case, he shouldn't be worried about sharing email passwords.
Conclusion: Thomas Petrou or Daisy Keech
Daisy Keech said she was pushed to leave the house. Petrou says she left the house on her own. He also added that nobody is on contract in the Hype House and they can leave anytime they want. That's not good from a business point of view.
Will the Hype House survive now?  After the whole Daisy Keech feud and Charli D'Amelio's breakup? Let us know your thoughts in the comments below.