Hey guys, we are here with a piece of good news for you all. If you have loved the first season of Netflix's Shadow and Bone, based upon the Shadow and Bone book series. Then, we are here to tell you everything about the characters that are going to be a part of season 2 of Shadow and Bone.

Since we all know how happy Netflix is with Shadow and Bone's first season's performance during its release. It's expected the Shadow and Bone season 2 release date will be announced soon.

If you haven't yet read the source material aka the novels and just stumbled upon Shadow and Bone. Then you are in for a big surprise because there are 10 books in total.
Related: Shadow and Bone | Is Mal Oretsev a Grisha?

Season 2 is likely to be based upon the second novel of Shadow and Bone, "Seige and Storm"
Firstly, we are going to talk about the first character that will be a part of the second season of Netflix's Shadow and Bone. And that is everyone's beloved pirate, captain, Privateer Sturmhond.
Related: Shadow and Bone Season 2: A Powerful and Gripping Return to the Grishaverse

Spoilers alert from the novel "Siege and Storm"

Later in the series, readers get to know that Sturmhond reveals his true identity to Alina and Mal. Drumrolls, please !! Prince Nikolai Lantsov nicknamed Sobachka by the court is going to be the former King of Ravka. He is around 20-21 of age in the series, with Golden blonde hair neatly cut to military length and clear Hazel eyes.

I admit, he is the perfect poster boy, our very own "prince perfect" as Mal calls him. He is a fan-favorite among the readers. Even the author Leigh Bardugo admitted that he was one of her favorite characters to write about. So she gave him his own duology as King of Scars and Rule of Wolves being the last book in the Grisha verse.

Many of us ship him with Alina as well. But he is way more than handsome. He is smug, brash, and mysterious as Sturmhond. Not just that, he is also funny, extremely intelligent, fair, and just, and is adored by the public and first army for serving among them in their ranks.

Now only time will tell who is going to get cast and play the role of our very favorite Prince Nikolai Lantsov.
Let's see what Nikolai Lantsov has to say about his character in the show:

"HE'S DAMNABLY HANDSOME. BRAVE IN BATTLE, SMART AS A WHIP. AN EXCELLENT DANCER, OH, AND AN EVEN BETTER SHOT."

The fantastic duo to be introduced in the second season of Shadow and Bone
We are not done yet. As there are two more characters that are going to be introduced in the second season of Shadow and Bone. And they are the Bataar twins, named as Tamar Kir-Bataar and Tolya Yul-Bataar. Around 18-19 years of age in the series, the twins are first introduced as members of Sturmhond's crew. Both of them then join the Soldat Sol, a militia dedicated to the protection of the apparat and the sun summoner aka Alina Starkov.

Despite the fact that both the twins are Grisha (heart renders), they do not solely rely on their powers in combat. Tamar has a military haircut, golden eyes, and bronze skin. His twin Toyla also has similar features. But, the only thing that is different is his long hair that he keeps in a bun.

Both the twins have tatted arms dedicated to the Sun Saint. During their time as members of Alina's personal guard in Siege and Storm, they wear golden sunburst pins. Intensely loyal to Alina and Nikolai, Tolya and Tamar are the two other characters fans of the Grisha verse will be eagerly waiting to see on the screen in season 2 of Shadow and Bone by Netflix.

Since there is also no news about who will be cast as the deadliest Grisha twins according to the books. We can all just hope that some of the story stays true to the novels. And Netflix doesn't change much this time around.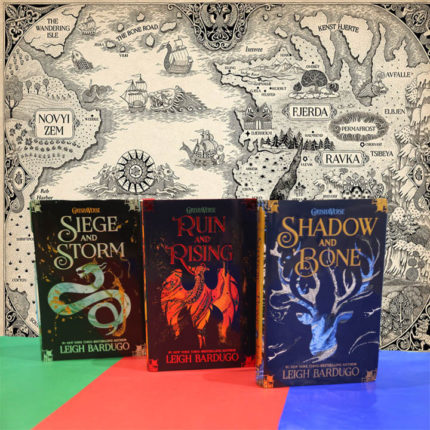 Related: Fans want Evan Roderick or Robert Wilde to play Nikolai Lantsov in Shadow and Bone season 2