If you've been a keen follower of YouTuber dramas, feud, and squads, you would know about the sister squad. When last year James Charles was facing a huge scandal initiated by his friend Tati Westbrook (and aggravated by Shane Dawson and Jeffree Star as per Tati), James lost a lot of his close friends. He was facing allegations that he was harassing straight men and it got way out of hand. Although the allegations were all cleared up, all the dramas resolved with Tati, Jeffree, and Shane all apologizing to James, we still noticed something. James Charles was no longer seen with his old friends Dolan Twins and Emma Chamberlain. The four of them all formed the sister squad. And it seemed like all of them parted ways and were not going to befriend each other again. But thankfully, that has changed!
Emma Chamberlain and James Charles share that they rekindled their friendship privately a while back thanks to Larray
Emma posted one video on her channel where she was doing her makeup look on James. Meanwhile, James posted one on his channel where Emma styled him for a whole week. Both the videos were entertaining but most importantly very nostalgic.
In fact, James Charles even tried to contact Emma Chamberlain a few times but Emma had changed her number and he didn't know.
But thankfully, they have reunited thanks to a mutual friend of theirs: Larray.
Larray is a YouTuber and TikToker that has a lot of friends in the influencer community. So, it was not a surprise that Emma Chamberlain and James Charles both were good friends of his. When Larray and Emma were hanging out, they ended up calling James over. Emma shared the whole story:
Larray came over to my house which was weird because I never hang out with anyone. He was saying that he filmed a collab with James where they prank called people. And I was like 'why didn't you prank call me' and he was like 'Emma you haven't spoken to James in like a year'. I just didn't even think of it like that anymore. Like it wasn't like there was anything weird at all. It was just like we hadn't spoken and we were just doing our own thing. And then he was like well, 'We should call James' and I was like 'okay okay'. And then we called James and then James talked and then James came over we like hung out we talked and we caught up. I was like wait a minute I missed you sister and then he's like I missed you and then we hugged each other.
In fact, James Charles even tried to contact Emma Chamberlain a few times but Emma had changed her number and he didn't know. Emma shared that she always responds to people's texts, she only didn't then because she never got it.
They caught up on the past two years!
The two shared that it had been almost two years since they did a video together and both were very emotional about it. Throughout the collabs, both Emma and James kept sharing how they missed each other so much.
During their videos together, their friendship was evident. Emma and James were constantly hyping each other up. When James Charles shared that he happy cries more than sad crying, Emma declared:
that's the energy that's 2020 James!
Both of them also talked about new changes in their lives. For instance, Emma Chamberlain now hired an editor and doesn't have to edit her videos herself. That definitely helped her out a lot to grow as a YouTuber and influencer because previously she was just exhausted from editing all the time.
Meanwhile, they talked about James buying a new house and renovating it. When Emma asked about what his time was like without their friendship, he shared that he just kept a very small circle and focused on his projects like his reality show 'Instant Influencer.
They also talked about Emma Chamberlain's new business ventures like her new coffee company 'Chamberlain Coffee'.
James Charles also opened up about how his dating life was going, and how the last guy he was hanging out with was very disappointing because the guy said that he was not actually gay and even if he was James Charles is not his time. To this, Emma was shocked and rightfully so. She also shared that she used to give James a lot of relationship advice when they were friends.
Check out their videos together!
Emma ended up doing a really great job at doing James' makeup:
https://youtu.be/zsXhHhSPrnc
This is James' video where he dons on stylish outfits picked by Emma, and one, in particular, is my favorite:
The videos are definitely worth a watch, I mean who would not want to watch James do the Baby Shark and the WAP dance in this attire: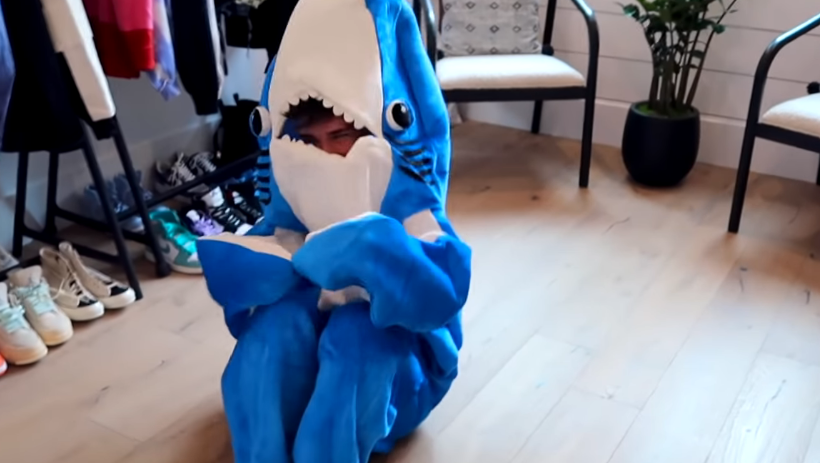 James in a shark costume is the most adorable 2020 thing ever! So is his reconnection with lost friend Emma. Let's see what the Dolan twins think of this and if they'd resurrect the sister squad back again or not.
Previously, the Dolan twins only lightly addressed it and didn't mention anything about getting back together.