Dungeons and Dragons Honor Among Thieves, it's finally happening! The much-anticipated Dungeons and Dragons movie is finally coming to theaters. Fans of the classic tabletop role-playing game and fantasy enthusiasts everywhere can finally breathe a sigh of relief as official announcements have been made about the release date and a thrilling trailer has been unveiled.
This is a great year for Dungeons and Dragons fans, with plenty of exciting events and interactive experiences surrounding the upcoming film. From San Diego Comic-Con to CCXP, fans have been treated to a wealth of information and fun relating to the movie.
Of course, no Dungeons and Dragons movie would be complete without an amazing cast of characters, and we're thrilled to see the talented actors who will bring them to life in the 2023 film. We're particularly excited to see the inclusion of a Dungeons and Dragons 5e Warlock, a powerful class that is sure to bring plenty of excitement to the screen.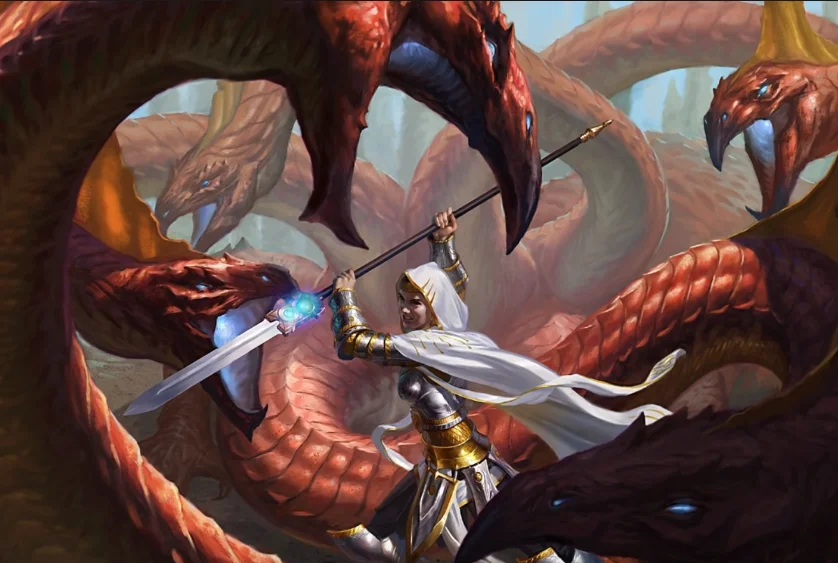 But it's not just the characters that are getting us excited. We can't wait to see what kind of epic adventure the film's story will take us on, and we're hoping to see some familiar faces from the world of Dungeons and Dragons, such as the powerful lich Vecna.
And let's not forget the influence that Dungeons and Dragons have had on popular culture, with shows like Stranger Things referencing the game and its influence on the characters. With the Dungeons and Dragons movie set to hit theaters in 2023, we're eagerly counting down the days until we can dive back into the world of fantasy and adventure that we know and love.
Embark On A Quest: What's the Story Behind The Dungeons And Dragons Honor Among Thieves
Listen up, adventurers! The plot of Dungeons And Dragons Honor Among Thieves has been revealed and it's a thrilling ride! Get ready to join a team of skilled thieves who find themselves in hot water after assisting the wrong person in stealing the wrong thing. But these rogues aren't about to let their mistakes lead to the end of the world. They may be experts in theft, but they're also skilled fighters, ready to save the day.
Meet the squad: Elgin, the group's bard, and mastermind, is the one with the plan. Holga, a fierce barbarian, is not afraid to get her hands dirty. Xenk, a holy paladin, is devoted to justice and righteousness. Simon, the group's sorcerer, has a few tricks up his sleeve. And last but not least, Doric, a Tiefling druid, who's not afraid to use nature's powers to get the job done.
But that's not all, dear fans of the tabletop game! Director and writer John Daley promise that there will be plenty of nods to classic Dungeons & Dragons spells, items, and tropes. So, get ready for a wild adventure, filled with Easter eggs and references that will make any D&D enthusiast's heart sing.
Trailers For Dungeons And Dragons Honor Among Thieves
Are you ready for some D&D action? The highly anticipated film "Dungeons and Dragons Honor Among Thieves" has been giving fans plenty to get excited about. First, we got a teaser trailer that left us wanting more. Then, the full trailer dropped and it did not disappoint. Led Zeppelin's "Whole Lotta Love" sets the tone as we see our heroes battling it out with some classic D&D monsters, including an owlbear and a mimic chest. The mix of action and comedy promises to be a hit with fans of "Guardians of the Galaxy."
But the excitement didn't stop there. A behind-the-scenes featurette gave us a closer look at the story and the film's villain, played by the one and only Hugh Grant. And just in time for the holidays, we got a festive featurette showing the cast exchanging gifts.
The second trailer gave us even more background on the characters, revealing that Chris Pine's character has lost his wife and daughter. And during the Super Bowl, we got a TV spot that leaned further into the action.
div class="youtube-embed">
But wait, there's more! An exclusive clip showed our heroes questioning a reanimated corpse, and an international trailer gave us even more footage to drool over.
And finally, the last trailer dropped, highlighting the rave reviews the film has been receiving. It looks like "Dungeons and Dragons Honor Among Thieves" is shaping up to be an epic adventure that both casual audiences and diehard D&D fans will love. So, grab your dice and get ready to roll.
The Talented Crew And Cast Of Dungeons And Dragons Movie 2023
Get ready to see some familiar faces in a new fantasy adventure movie! Chris Pine, who played Captain Kirk in the Star Trek films, stars as a party planner named Elgin. Michelle Rodriguez, known for her roles in Lost and the Fast and Furious franchise, plays a barbarian named Holga. Hugh Grant, famous for his charming roles in movies like Bridget Jones's Diary, is cast as an aristocratic rogue named Forge Fletcher.
Justice Smith, who appeared in Jurassic World: Fallen Kingdom and Detective Pikachu, takes on the role of Simon the sorcerer. Regé-Jean Page, who played Simon Basset in Bridgerton, plays a paladin named Xenk. Sophia Lillis, who starred in Sharp Objects and It Chapter Two, is a tiefling druid named Doric.
The film's directors, Jonathan Goldstein and John Francis Daley, also wrote the screenplay along with Michael Gilio. The movie was filmed in Northern Ireland and Iceland and features characters from a beloved animated series.
The Release Details of Dungeons and Dragons Honor Among Thieves
Get ready for an action-packed adventure-comedy hitting theaters this Spring! The highly-anticipated film has been kept under wraps for some time, but now we finally have some exciting updates. Fans can expect a runtime of 2 hours and 14 minutes, putting it in the same league as recent blockbuster hits.
The film premiered at SXSW Film Festival and had an early screening with a Q&A for lucky fans in Los Angeles. Plus, Amazon Prime members across the US were treated to exclusive early screenings. With a great trailer and a panel at San Diego Comic-Con, this film is sure to be a hit. Don't miss out on the fun and excitement!