Now, we all know that a massive cult following the kpop group BTS has. It has earned an international following thanks to its relatable lyrics and elaborate dance sequences. However, a conspiracy is surrounding the BTS band. A popular YouTuber Keemstar, known to expose secrets and truths, has shared that BTS' Jungkook caused a car crash. What's more, is that the BTS fans are adamantly trying hard to bury this news by using excessive BTS hashtags.
What's The Real Story?
A Youtuber by the names of Kavos was actually the first one to share the news regarding the incident.
On His Twitter, he shared a series of pictures. One of the pictures shows that one person is reporting on the car crash caused by BTS' Jungkook: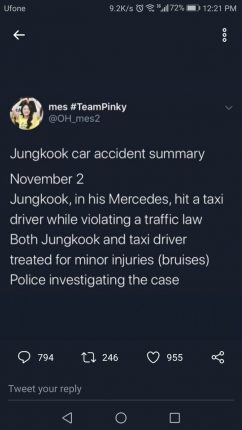 Then he talked about how BTS stans are trying to hide this news by posting other stuff about the band such as this: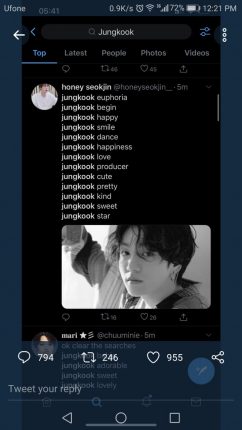 Regarding this, Kavos pointed out about the harms of stan culture. The idolizing of any celebrity or musician can lead you to believe they can do no harm and not hold them accountable for their misdeeds: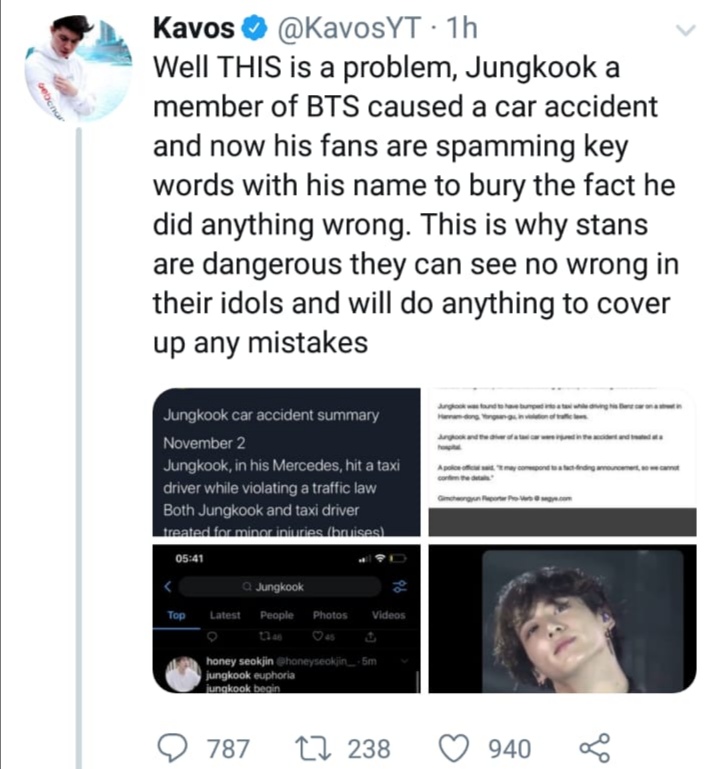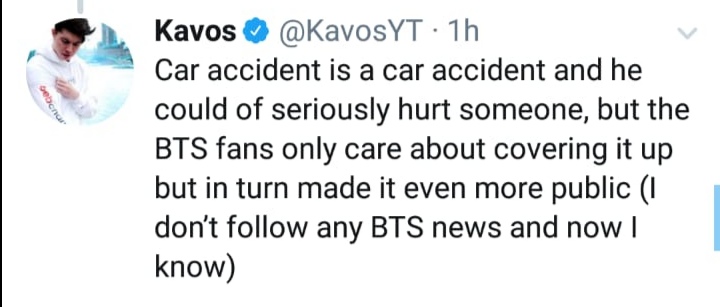 Later on, a notable YouTuber known for his channel Drama Alert posted about the news as well.
Has the Car Crash With Jungkook Really Happened?
According to proper news sources, the crash indeed happened. Metro reported that the minor accident occurred on 2nd November at the Yongsan District of Seoul. BTS member Jeon Jungkook took responsibility for the car crash and admitted it was his fault.
Big Hit, the South Korean Entertainment company that manages BTS, stated:
The police have not closed this case yet, so we cannot reveal the exact details, but Jungkook was driving his car last week when he had a minor collision with another vehicle due to his own mistake. Both the victim and Jungkook did not sustain any major injuries.
Are BTS Fans Really Trying to Hide the News?
It's easy for the fans to just idolize their BTS members and try to hide this news where Jungkook made a fatal mistake. However, the BTS stans are always posting on Twitter about their favorite kpop bandmates that calling it a conspiracy that doesn't line up.
Plus, there are many of the stan accounts posting about Jungkook's accident:
https://twitter.com/scenerycyj/status/1191238380140429314
https://twitter.com/vanilataehyungg/status/1191257463074344960
seeing the words "jungkook" and "accident" in the same tweet was a very stressful 5 seconds

— sona⁷ (@rkiveofmylife) November 4, 2019
What do you guys think?