Recently, the President of the United States, Donald Trump was hospitalized after testing positive for COVID-19. After a three-day stay, he was released from the hospital. Upon release, Trump had something to share with the American people. He urged everyone to not be afraid of the disease. This statement did not go over well with many of Trump's critics, of which there are plenty in Hollywood. One of them was Chris Evans. And he did not hold back in slamming Donald Trump for his words.
Chris Evans slams Donald Trump without holding back
Donald Trump tweeted this when he was released from his hospital:
I will be leaving the great Walter Reed Medical Center today at 6:30 P.M. Feeling really good! Don't be afraid of Covid. Don't let it dominate your life. We have developed, under the Trump Administration, some really great drugs & knowledge. I feel better than I did 20 years ago!
This was also after he was defending his choice to not wear a mask during a photo op:
We're going back to work, we'll be out front. As your leader, I had to do that. I know there's danger to it, but I had to do it. I stood out front, I led. Nobody's that's a leader would not do what I did. And I know there's a risk, there's a danger, but that's okay. And now I'm better, and maybe I'm immune, I don't know.
Chris Evans was very quick to point out how reckless Donald Trump was being with his statement:
Don't be afraid of Covid?! You've been under round-the-clock care by the best doctors using the best drugs. Do you really think everyone has access to that?! Sadly, I'm sure you're aware of that disparity, you just don't care. This is reckless to a shocking degree, even for you.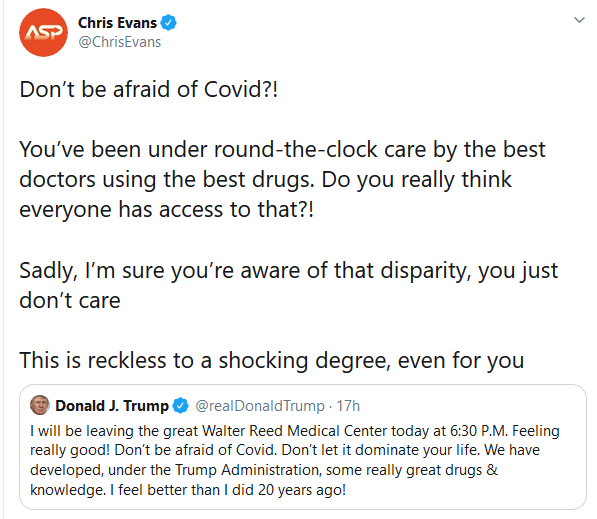 Captain America star Chris Evans rightfully pointed out that much of the public do not have access to healthcare services that Trump had. There is a huge disparity that occurs and inadequate healthcare leads to loss of life and deterioration of health for many of the public.
The disparity in Healthcare
In fact, experts such as Lakshman Swamy, an ICU physician at Cambridge Health Alliance in Massachusetts, say that 'COVID is all about privilege':
"Covid is all about privilege. The more privilege you have, the more you can ignore some of the rules of Covid. Where one person would need to be in the hospital, another person can have the hospital come to them. That's privilege."
Another expert, Josh Barocas, an infectious disease physician at Boston Medical Centre shares:
"That's the most heartbreaking thing about this virus. A portion of the people who are severely symptomatic don't have access to health care … and they are the population that is just being decimated by this."
The Boston Medical Centre often caters to the population that does not have access to medical care that the privileged population does.
Furthermore, due to the prejudices of the healthcare system, some portions of the population suffer more:
State data analyzed by the nonprofit Kaiser Family Foundation revealed that the death rate is more than twice as high for Black patients, and nearly twice as high among patients identified as Native American or Alaska Natives. The data also show that people with lower incomes are much more likely to become seriously ill. About 35% of patients with household income under $15,000 became seriously ill, compared to just 16% of patients with income over $50,000.