Charlie Hanson, the producer of  Ricky Gervais's black comedy series After Life season 2 has clarified all the doubts about the bizarre swimming shot. Viewers, in fact, are claiming that the scene displays an apparently overlapped head placed over a different body. Netflix has dropped the entire series on April 24.
Charlie Hanson Tweeted About The Bizarre Swimming Shot From After Life Season 2
The Sketch Show creator Charlie Hanson shared a tweet explaining that it was just an overexposure of the camera that makes the head superimposed, otherwise, nothing is unusual in that swimming scene.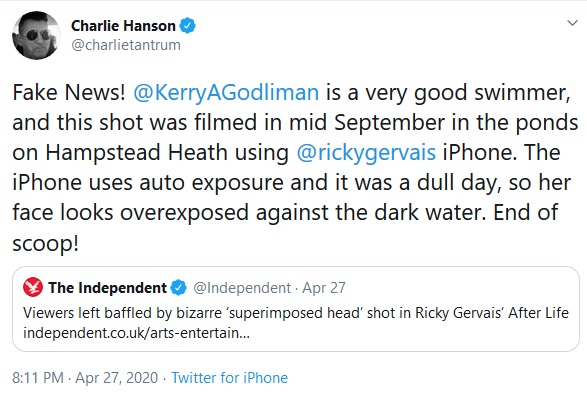 After Life season 2 is the second season of the Netflix black comedy. This Ricky Gervais show, in fact, generates an oddball controversy. it's about a specific swimming scene from the fifth episode.
Gervais played a guy who crafted a suicide plan after his wife, Lisa, (Kerry Godliman) dies of breast cancer. Lisa, however, is shown in flashbacks. In the fifth episode of After Life season, 2 Gervais is wondering about Lisa swimming in the local ponds. The swimming shot in which Lisa is smiling back to her husband reflects as if a different head is placed on Lisa's body. 
Viewers Spotted The Eccentric Shot And Posted On Twitter
At first, Sarah Sumeray, a popular writer and voice over artist tweeted on this After Life scene: "HAS KERRY GODLIMAN'S HEAD BEEN SUPERIMPOSED ONTO SOMEONE ELSE'S BODY???"
The tweet went viral, hence, gathering countless replies and retweets reporting the same vision. One amplifying comment is the comparison of the scene to a popular shot from David Lynch's 2006 film Inland Empire, showcasing Laura Dern smiling psychotically.
Hence, After Life director Charlie Hanson took notice of the subject and picked social media to clarify the issue. He, thus, tweeted back that the shot just rendered an errored visual effect. Moreover, the Extras producer stressed on the originality of the scene without any CGI trick.
After Life season 2
Netflix dropped all episodes of the After Life season 2 on Friday, April 24. After Life features Ricky Gervais as  Tony, who works as a journalist at the local free newspaper in the fictional town of Tambury. His life, in fact, became after his wife dies from breast cancer. Primarily, he contemplates suicide but then decided to live to take revenge from the world for his wife's death.
Fans have, however, enjoyed the show with its sensitive subject of grief, anxiety, and helplessness. The show addresses the common aspect of  Death is easy. According to the reviews, viewers have ranked Afterlife season 2 as one of Gervais's master performances.