Back in the days, Jordyn Woods & Kylie Jenner were  some serious BFF goals. However, the title has been given to Stassiebaby and Kylie Jenner now. Both off them are so much in sync, that it feels like you are looking at non-identical twins. While Kylie and Stassie are melting the Instagram with their bikini photos these days, the duo just turned up the heat on TikTok. If you have not seen their TikTok collabs yet, you are missing out on all the fun.
Kylie Jenner & Stassiebaby in sizzling bikinis, doing Tiger King x Savage dance
The Savage challenge on TikTok has some pretty tough moves. It takes hours to remember and prepare yourself for the dance moves. Probably, that's why Kylie & Stassie decided to do their own thing (twerking) and still join the Savage x Tiger King club. The duo looked too hot to handle in sizzling bikinis.
In fact, turns out that Stassie also believes Carole Baskin murdered her "first husband". The caption says it all:
You need to watch Netflix's Tiger King to know who Carole Baskin is.
Vibing on DaBaby's track
Kylie Jenner & Stassiebaby made two versions of this TikTok, dancing on Vibez by DaBaby while wearing sports bra. One is uploaded on Stassie's account while the other one is on Kylie's account.
Kylie Jenner is not just a billionaire. She is talented and her dance moves prove it.
And she is a quick learner.
Kylie Jenner can act
Seeing Kylie acting in anything other than KUWTK, is always a cute sight. Stassiebaby and Kylie did not just turn up the heat on TikTok with their "attire". The duo also reenacted the famous "You're cute jeans" scene of KUWTK. Kylie became Kris Jenner while Stassie was Kendall Jenner.
Both of them are cute jeans. And of course, Kendall Jenner loved this.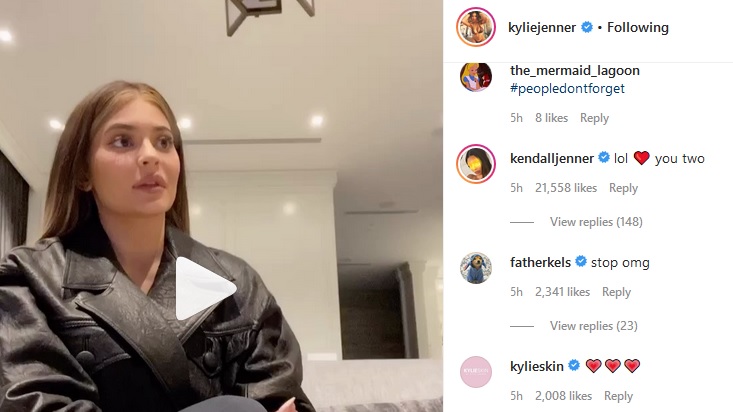 Here's the original scene from KUWTK.
https://twitter.com/KUWTK/status/1025897377394319360?s=20
And now,  fans are demanding that Kendall Jenner should join the TikTok as well. Let's keep our fingers crossed.