The United States Congresswoman Alexandria Ocasio-Cortez has been quite firm on her stance of taxing the rich. She has repeated these words in her campaign addresses, in Congress, and on every platform she receives. Now, she has also brought these words to the MET Gala 2021, on the back of her white dress. However, this time, it seems like AOC's 'Tax the Rich' dress at the MET Gala 2021 has stirred controversy on Twitter, even from leftist circles.
Alexandria Ocasio-Cortez rocked a 'Tax the Rich' dress at MET Gala 2021
AOC has served as the U.S. Representative for New York's 14th congressional district since 2019 and has been somewhat of a rock star ever since. She is one of the young new faces that have emerged among the Democratic party who are raising a voice for the working class in America. One of the many policies that she promotes is increased taxation on the top 1%, apart from the Green New Deal, and other progressive agendas. But this time, AOC took it to another level as far as slogans were considered.
She was invited to the MET Gala 2021 and wore a dress that has again divided Twitter over political lines. It was a beautiful white off-the-shoulder gown by Brooklyn-based designer brand Brother Vellies, but with a huge political statement on the back. Scrawled in red, it read "Tax the Rich". It was certainly eye-catching, as this dress seems to be the one that gained the most traction on social media.
Later, Alexandria Ocasio-Cortez also shared the purpose behind the dress as well as the team of designers, writing on Instagram:

Proud to work with Aurora James as a sustainably focused, Black woman immigrant designer who went from starting her dream Brother Vellies at a flea market in Brooklyn to winning the CFDA against all odds – and then work together to kick open the doors at the Met.
.
The time is now for childcare, healthcare, and climate action for all. Tax the Rich.
Related: How Celebrities & Twitter congratulated AOC on her Re-Election!
Her dress received criticism – from both the left and the right
Now, Tax the Rich has always received hoards of criticism from the right who do not believe in progressive taxation. However, the difference this time is that AOC received criticism for the dress from the left as well. Many Twitter users highlighted that this was merely 'performative activism' and that AOC had no intention of doing anything meaningful by wearing this dress. Many highlighted that the only immigrant labour AOC promoted with this stunt was a Canadian fashion designer, as some of the tweets said:
Moreover, many users highlighted that AOC wore an expensive dress to a gathering of the wealthiest elite in the United States while saying 'Tax the Rich'. To them, that was just blatant hypocrisy. A ticket to the MET Gala 2021 cost around $35,000 alone, making her dress extremely ironic. Even Piers Morgan called her out for being a hypocrite, writing in his column:
The socialist Congresswoman has spent the past few years lecturing the entire world on the planet-ending evils of materialistic, vacuous, obscenely ostentatious capitalism.
Yet here she was prancing about on the red carpet at the most materialistic, vacuous, obscenely ostentatious example of capitalism imaginable – surrounded by hundreds of the wealthiest and most privileged people in American society.
That said, it is important to note that Alexandria Ocasio-Cortez was invited to the 2021 MET Gala. She clarified in a tweet:
And before haters get wild flying off the handle, New York elected officials are routinely invited to and attend the Met due to our responsibilities in overseeing and supporting the city's cultural institutions for the public. I was one of several in attendance in this evening.
Some supported AOC and her 'Tax the Rich' dress too, but most people thought of it as shallow
Despite the outrage, there was a fair share of her supporters as well. Many people believed that this outrage over a mere dress that still got its message across hinted towards sexism. Moreover, even if it is performative, it didn't really hurt anyone and most just went by unbothered.
However, there was a general recognition from most belonging to the left that this political statement by AOC felt a bit tone-deaf and performative at best. They further said that AOC just wanted to be in the "rich people party". They weren't particularly outraged by what she said, but they understood how shallow the message came across.
AOC responds to the criticism
Unlike other politicians, AOC does not shy away from criticism and tries to face it head-on. For someone who has faced relentless criticism in the past, this is not something new to her. She said that she is used to being "relentlessly policed" from the entire political spectrum, but is not one to be cautious in her actions. She said in her Instagram story:
I thought about the criticism I'd get, but honestly I and my body have been so heavily and relentlessly policed from all corners politically since the moment I won my election that it's kind of become expected and normalized to me. The irony is that when women in power take the prospect of criticism to be cautious in their actions, they are then criticized for being "inauthentic" and "too calculated." Ultimately the haters hated and the people who are thoughtful were thoughtful. But we all had a conversation about Taxing the Rich in front of the very people who lobby against it, and punctured the 4th wall of excess and spectacle.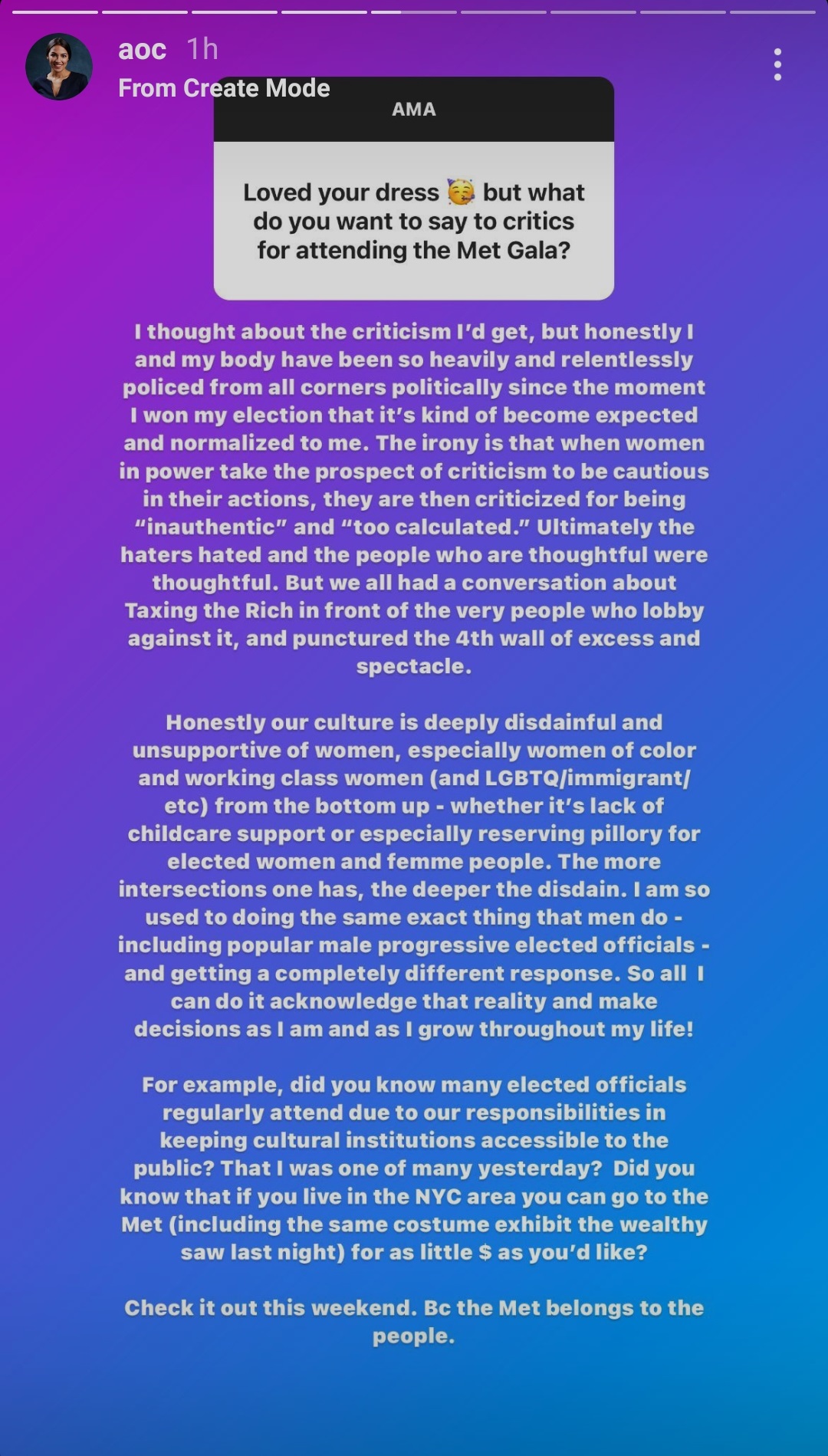 Moreover, Alexandria Ocasio-Cortez criticized the American culture, saying it is particularly hateful towards women, especially women of color. She pointed out the hypocrisy of the people who do not criticize men for similar actions, continuing:
Honestly our culture is deeply disdainful and unsupportive of women, especially women of color and working class women (and LGBTQ/immigrant/etc) from the bottom up – whether it's lack of childcare support or especially reserving pillory for elected women and femme people. The more intersections one has, the deeper the disdain. I am so used to doing the same exact thing that men do – including popular male progressive elected officials – and getting a completely different response. So all I can do it acknowledge that reality and make decisions as I am and as I grow throughout my life!
The Congresswoman reveals she was not the only elected official at MET Gala 2021
AOC then also revealed that she was just one of many elected officials at the MET Gala 2021. And that NYC residents can visit the Gala in very little money, concluding her response with:
For example, did you know many elected officials regularly attend due to our responsibilities in keeping cultural institutions accessible to the public? That I was one of many yesterday? Did you know that if you live in the NYC area you can go to the Met (including the same costume exhibit the wealthy saw last night) for as little $ as you'd like?
With the discourse around socialism growing every day in America, it is difficult to get away with antics like these. As the public becomes more aware, they'll hold their leaders to a higher standard than the rest. Therefore, if Alexandria Ocasio-Cortez does want to perpetuate her agenda of Taxing the rich, she will have to do that through meaningful channels and not through an expensive gown worn at an event exclusive to the elites.
That said, the criticism she received did seem exceptionally vile compared to how any other elected representative receives.