Yesterday, a drama alert channel known as Keemstar reported that Shane Dawson was hacked. It looks like those same hackers found another victim: James Charles. A series of questionable tweets showed up on Charles' feed and fans speculated it has been hacked as well. Plus, the identity of the hackers has been revealed as well. By who? Well, the hackers themselves.
James Charles Questionable Tweets
They were mostly retweeting the account of the hacker known as Aqua (@aqua8172) where they were using the hash tag #chucklingsquad.
Other than that, there was a picture praising Ted Bundy, a serial killer that murdered countless of women.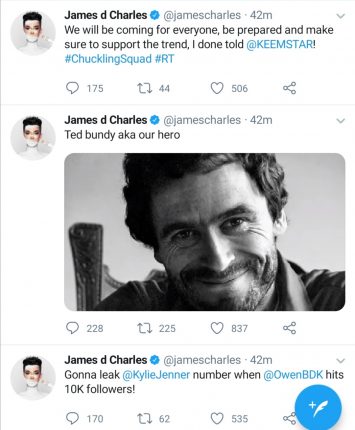 The hacker even threatened to expose the nudes of James Charles himself if the tweet gets a certain number of retweets.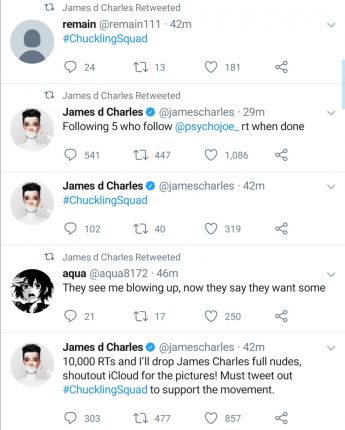 Hackers: Chuckling Squad ?
The hacker is using these incidents to generate fame for their group known as the Chuckling Squad. It is still unclear what their main aim is but right now it seems like they want popularity.
https://twitter.com/aqua8172/status/1165333217475518464
Though, there were some other tweets as well about the identity of the hackers.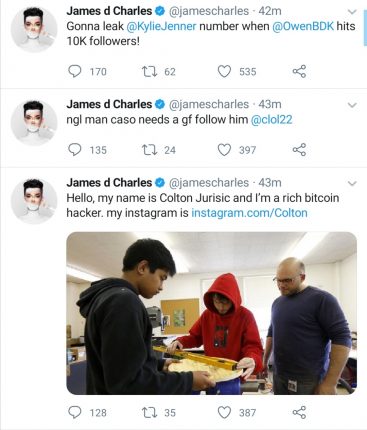 One of the hackers' is revealed to be @OwenBDK. It's a new account which only has 6 posts until now. Whoever he is, he's part of the same group as the chuckling squad.
https://twitter.com/OwenBDK/status/1163253790017032198
The other hacker is said to be Colton Jurisic, who was actually part of the hacking group that stole sim card details and crypotcurrency.
It's not confirmed whether Colton was actually a part of the hackers or not.
AT&T Had Something To Do With It Too
Though, this did not happen just randomly. Apparently, the telecommunications company AT&T was behind it. Keemstar reports that due to their errors, the hacker got a hold of information of notable YouTubers such as Shane Dawson, Amanda Cerny and now James Charles.
Yeah @ATT is looking at a major lawsuit for allowing hackers to call in and SIM card switch over big celebrity account! @KingBach @AmandaCerny @Etika @shanedawson

& now @jamescharles all hacked due to ATT human error ! New #DramaAlert today explaining!

— KEEM 🍿 (@KEEMSTAR) August 24, 2019
In fact, it was reported that AT&T insiders had been bribed by a group of hackers that stole information to gain access to phones associated with the telecommunications company.
James Charles has not made a response as of yet. Let's see if the 'chuckling squad' hacks someone else.