Do you guys need an introduction to Nikita Dragun and Tony Lopez? If you are into TikTok and YouTube, you won't need it. We all know Nikita Dragun is a very dedicated makeup influencer and CEO of 'Dragun Beauty'. And Tony Lopez is a TikTok influencer who is a part of the famous Hype House. These two are spotted together on many occasions. And it's one of the reasons why fans assume they are dating. Some fans are even thinking if Nikita is going to throw a huge birthday party like she did for 'Larray'. Or is she going to stay home and follow the COVID-19 SOPs? Guess you all don't need to worry about it anymore because Nikita just friendzoned Tony.
What Was Cooking Between Tony Lopez And Nikita Dragun?
You guys must be thinking why is Tony being shipped with Nikita. As he is not the only guy from the Hype House who hangs out with her. Nikita is also seen hanging out with Ondreaz on a couple of occasions.
So let me tell you what makes Tony different from the others. You can see Tony Lopez all over Nikita's social media. He has done her makeup along with his brother Ondreaz. Oh, and he was also there when the whole Hype House filmed a video with Nikita for her merch 'Bad Bitch'.
During the 'Hype House Does My Makeup' video both Tony and Nikita made it official for fans that they are 'Tikita' not 'Tokita'. Like fans named Addison and Bryce as 'Braddison'. There are lots of pictures of Nikita and Tony on social media in which they are twinning.
In fact, fans started shipping Tikita more after Tony kissed Nikita in a TikTok video. And BFFs don't kiss each other on the lips, normally. So some fans thought that maybe they are taking things slow. Nikita was also seen twerking against Tony in a couple of videos from Larray's birthday bash.
Friendzoned
Well, Nikita Dragun has posted a few pictures with Tony and wished him a very happy birthday since he just turned 21.
https://www.instagram.com/p/CEFPQ9gleAz/?utm_source=ig_web_copy_link
"Happy bday baby boy. love you friend".
Here is a thread of fans reacting to Nikita's comment on Tony's birthday post. This was posted before the birthday post on Nikita's own profile.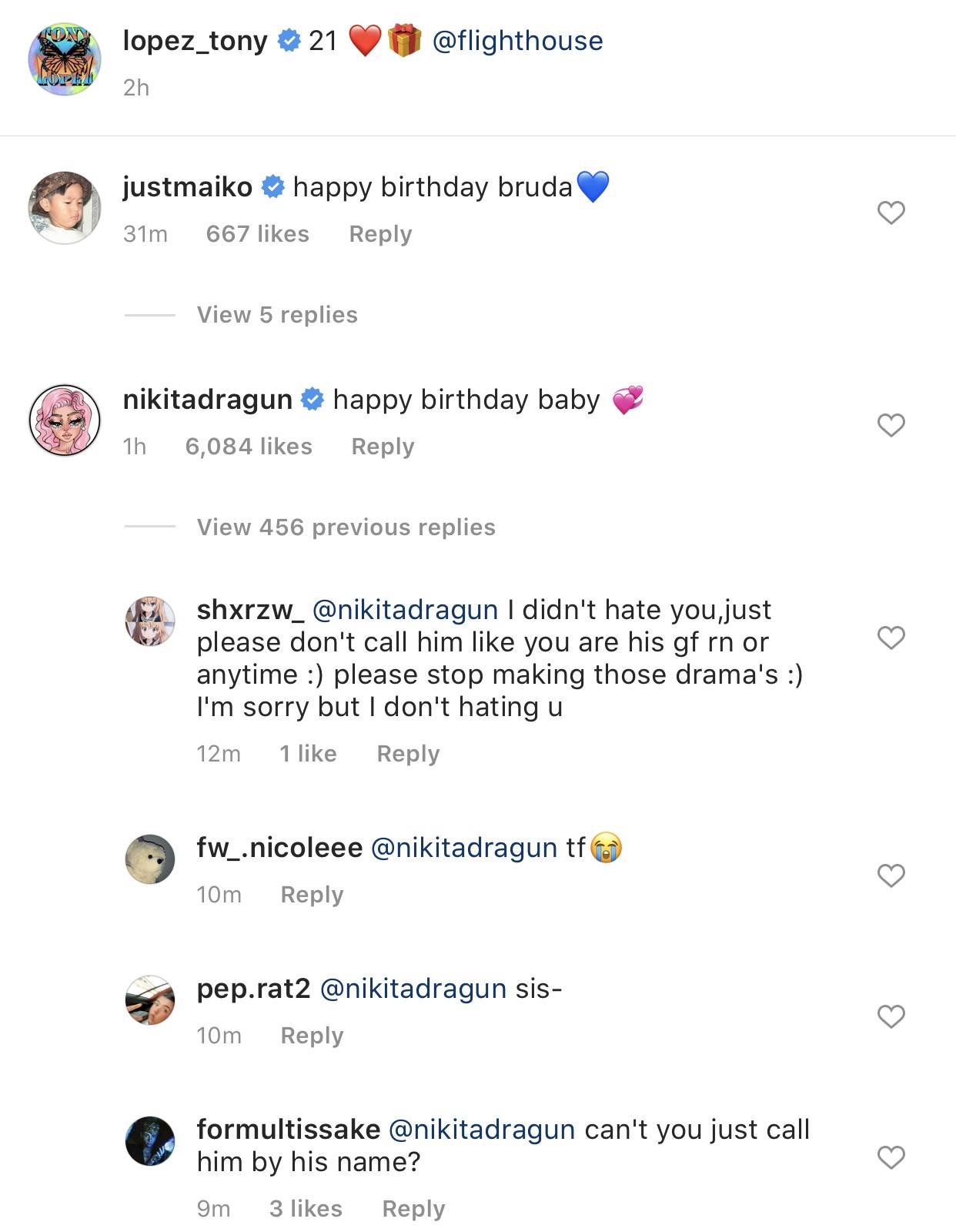 Sometimes we all get really confused. Yes, there is nothing wrong with calling your friend 'baby' or making 'heart emojis' on their pictures. But maybe they should just make it a little more clear to their fans that they are not together-together.