Kill Boksoon: This action-packed, drama-filled, crime-action film is a must-watch on Netflix's official Drama list. You'll be scratching your head and sitting at the edge of your seat as you follow the story of Boksoon, a career assassin with a unique surname that's also the movie's title. This Korean Thriller, with its progressive take on a formulaic plot, will keep you hooked from start to finish.
Story And Cast Of Netflix's Kill Boksoon
Join Boksoon (played by the talented Jeon Do-Yeon) on a journey that takes you through the world of MK Ent. – a white-collar organization that deals with the gory business of contract killing. You'll be amazed at how they refer to their assignments as "shows" and arrive at the kill location as "being on set."
But that's not all – Boksoon has a teenage daughter, Jae-young (played by Kim Si-a), and is a single mother. Will she be able to juggle her work and family life? Or will it all come crashing down as she tries to secure her contract renewal with MK Ent.?
Don't miss this one-time opportunity to experience the thrill of Kill Boksoon, and witness Jeon Do-Yeon's remarkable departure from her usual emotionally layered dramatic roles. Remember, she's the first Korean person to receive an acting award at the Cannes Film Festival – and for good reason.
The film boasts several commendable aspects. The lead character, Boksoon, is an empowered woman who is self-assured, driven, and successful in her work. Her impressive track record, with a 100% success rate as a contract killer, earns her the admiration of her colleagues, at least initially.
Boksoon is a force to be reckoned with, deftly executing her deadly job with precision and skill. She is undaunted by the demands of her dual roles as both a dedicated professional and a loving mother. In fact, she is equally adept at kicking and punching her way through her workday as she is at caring for her daughter at home.
Kill Boksoon- A Succesful Assasin
Kill Boksoon showcases Boksoon's strength and resilience, highlighting the fact that she is a capable and confident woman who commands respect in both her personal and professional life. The audience is left in awe of her abilities and rooting for her as she navigates the challenges that come with being a successful assassin and single mother.
Kill Boksoon is a film that tells the story of Boksoon, a highly successful contract killer working for MK Ent., a white-collar organization with a code of conduct and a sophisticated facade. However, Boksoon's life takes a dramatic turn when she fails to complete a hit and finds herself on her company's kill list. Pursued by her colleagues and her ruthless boss, Boksoon must navigate treacherous waters to stay alive.
At the same time, Boksoon's daughter, Jae-young, is struggling with bullying and blackmail at school, as her classmates discover that she is a lesbian and attracted to her best friend. As Boksoon's personal and professional life collide, she must find a way to protect herself and her daughter.
The film's strongest moments come when it invests in the emotional arc of its cast, particularly in the relationship between Boksoon and Jae-young. Veteran actress Jeon Do-yeon delivers a stunning performance as Boksoon, while Kim Si-a shines as her daughter. The gang of contract killers at MK Ent. is also notably talented, with rising stars Koo Kyo-hwan and Lee Yeon making the most of their limited screen time.
However, the film falls short in its overly showy and excessively long action sequences. While director Byun Sung-Hyun has several impressive shots in his wheelhouse, character development, and dialogue are often sacrificed in favor of dizzying action. As a result, the film can feel formulaic and predictable at times.
The film's tender and nuanced relationships would have been more effective if Boksoon had a more redeemable occupation. The film's philosophical thought experiment is an exploration of how to behave ethically or according to one's conscience in a world where the moral code is turned upside down and laws seemingly do not exist. Boksoon's character is not completely at ease with what she does beneath her unflappable, accomplished assassin veneer.
Kill Boksoon's Pivotal Moments
The film's pivotal moment is when Boksoon fails to complete an assignment, which shatters the sacred curtain between her work and personal life. This moment drives the emotional momentum for the rest of the film as Boksoon grapples with the weight of her vocation, conscience, and identity. Boksoon fears that her daughter, Jae-young, will find out about the nature of her occupation, and she tries to dodge or redirect her questions. As Boksoon acknowledges that her life's priorities have changed, Jae-young struggles to accept the developments in her romantic relationship. The two characters slowly gravitate toward each other, forming a newfound bond in their respective existential journeys.
The film's morally questionable premise makes it difficult for the audience to fully embrace the empowering narrative of the main character, Boksoon. She is a skilled assassin, which creates an inherent ethical challenge for viewers who are meant to find inspiration in her character. Despite Boksoon's competence and charm, her profession remains troubling and uncomfortable for the audience to reconcile with the overall positive message of the film.
However, the film also poses a thought-provoking philosophical question: how does one maintain their ethics and conscience in a world where the moral code is turned upside down, and laws are seemingly nonexistent? This question is particularly relevant given the absurdity of the film's circumstances, as the characters' occupations as killers seem to be accepted norms.
Despite the film's questionable premise, the relationship between Boksoon and her daughter Jae-young serves as a redeeming factor. As Boksoon struggles to keep her professional and personal lives separate, the tension between her desire to keep her daughter in the dark about her occupation and her need for her daughter's love and support creates an emotional backbone for the film. Through their shared struggle, the mother and daughter develop a newfound bond that provides a glimmer of hope and redemption in an otherwise morally murky storyline.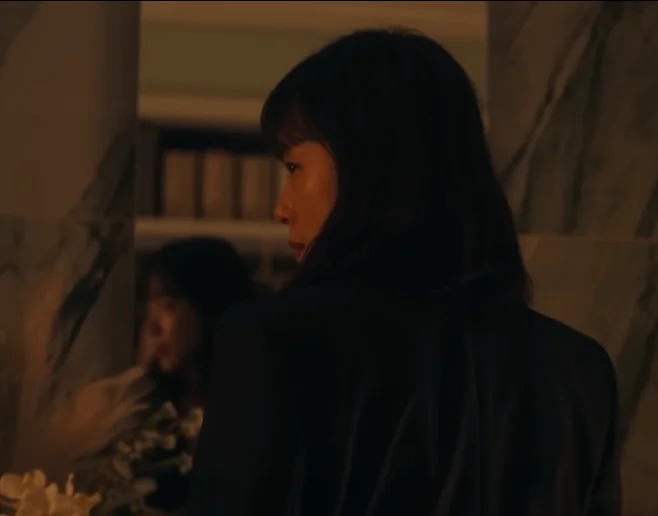 Overall, Kill Boksoon is a progressive yet formulaic Korean thriller that veers between action and family drama. While the emotional layers of the final scene between mother and daughter are well-crafted, the film's excessive focus on action can detract from its character development and narrative. Nonetheless, it is a worthwhile addition to Netflix's official Drama and Korean Thriller offerings, with a talented cast and a compelling premise.
You can stream Killboksoon on NETFLIX and let us know in the comments if you liked it or not.
Related: Must Watch Korean Movies on Netflix