Lily Collins, the star of the upcoming Tolkien movie, can be safely called has the official princess of the annual Met Gala. With her debut look at the 2008 Met Gala to her most recent at the 2018 Met Gala, Lily Collins has never failed to dazzle us.
The Spunky Princess
At the 2013 Met Gala, Lily Collins looked utterly beautiful in her Moschino look. That year many celebrities failed to follow the theme, but Lily was an exception. She fit just right in with her black gown paired with a sequin jacket and her blue streaked hair.
The Glittered Princess
Lily Collins before at the 2015 Met Gala captioned her look as Glittered, Glammed, and Grateful. She was all dolled up in a Chanel ensemble and rocked a birdcage veil. With her Chanel Couture blouse and skirt, she almost reminded us of Audrey Hepburn.
The Scarlet Witch
With her plunging scarlet Valentino gown and tiny crop top, Lily once again took our breath away at the 2016 Gala. The Grecian inspired look and the plunge in her sheer red gown blended perfectly with the them of that years Met Gala.
The Goth Princess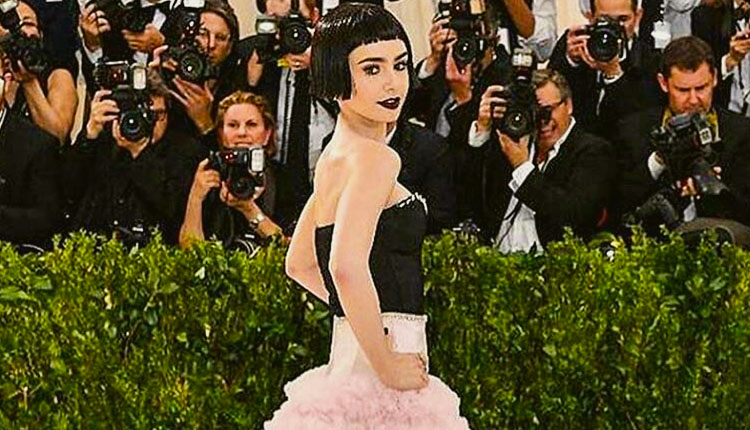 At the 2017 Gala, Lily looked nothing less than an actual princess. Her dress was a pink princess skirt paired with a black corseted top. Adding to her look was the blunt hair cut and the matching black lipstick.
The Heavenly Princess
Lily Collins at the 2018 Gala was without the doubt the best look she has ever worn. Wearing the Givenchy Couture with its inky color and sheer panels, paired with the headpiece and her makeup, Lily Collins looked like a vision. Her glittered-rimmed eyes with a red teardrop added to the little detail of her look and made her the best dressed person at the 2018 Met Gala.
With the 2019 Met Gala just around the corner, we'll surely have yet another princess worthy look from her. You can catch Lily Collins in her new movie Tolkien releasing soon. She's also part of some Netflix movies, Okja, To the Bone and Extremely Wicked, Shockingly Evil and Vile.